How to Buy Weed in Thailand: A Guide for Expats & Tourists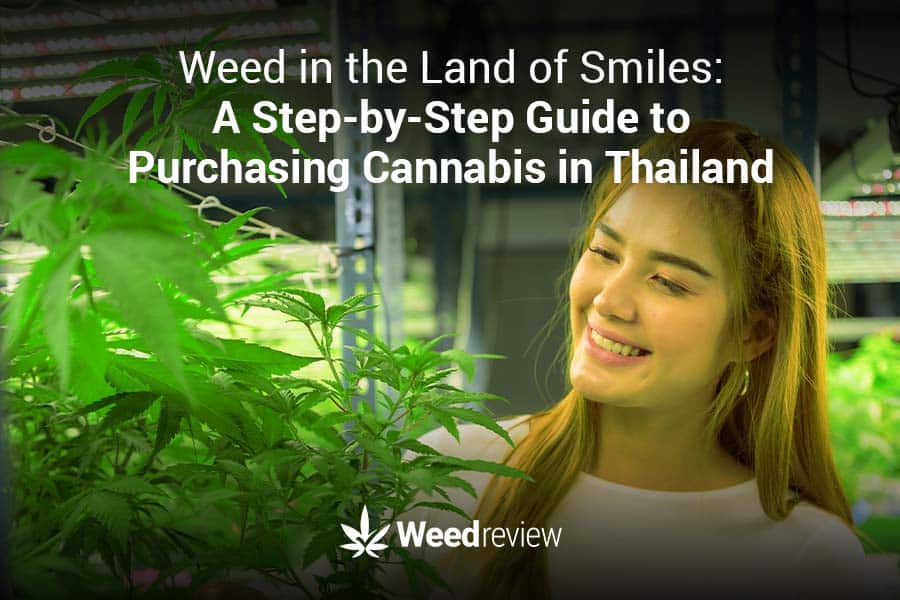 If you have found your way to this article, you probably heard that cannabis is now legal in Thailand. The country has taken a 180-degree turn – from having some of the strictest laws around marijuana in the world to bustling weed trucks and cannabis dispensaries, the nation is leading the way for the open cannabis market in Asia.
Note that the industry is in its early stages. Lawmakers and authorities are forming rules to regulate the market to ensure quality control and responsible use of cannabis. To a newcomer, navigating the local weed scene can still be overwhelming. Weed Review has put together this handy guide on how to buy weed in Thailand as a foreigner and a Thai citizen.
What you will find: Cannabis products available
Like any country where weed is legal, Thailand has plenty of jaw-dropping weed products. They are all relatively easy to buy; you can visit a physical dispensary or an online weed shop.
Note that marijuana was decriminalised to promote its medicinal uses, not recreational ones. Of course, the reality is different, and people are consuming cannabis for fun too.
So, ask yourself the following:
Do you need weed for medicinal reasons – chronic pain, inflammation, glaucoma, etc.?
Do you need weed to get high and have a good time?
If you are in the first category, then the following products may be better suited for you:
Cannabis oil & tinctures like cannabidiol oil, THC oil
Topical cannabis products like pain relief salves & balms, ointments
CBD flowers
CBD edibles & gummies
As a recreational user, you can enjoy:
THC flowers – sativa, indica, hybrids; their THC content can be as high as 30% and more
Thai landrace strains – Pure Thai Sativa flowers, 100% local
Cannabis edibles like brownies, beverages, candies, jellies, chocolates, honey, tea, popcorn, ice cream
Pre-rolls
Smoking accessories like rolling papers, filter tips, pipes, bongs, vaporisers, etc., are also readily available.
Quality of weed
From a quality point of view, you will find all sorts of THC buds. Top-shelf, AAA, Cali, mid-shelf, low-shelf, exotic, premium, bottom-shelf, low-quality – whatever you can think of, chances are you will find it.
If you come from a country where cannabis is strictly illegal, you will be happy with the quality of Thai weed. Any and every flower will do the job and give you a good time. On the other hand, if you live in nations like Canada, the US, or the Netherlands where good weed is found, you will need to dig a little deeper to find weed that matches or exceeds your expectations.
The market has no baseline of what good or bad weed looks like (this will change as the industry grows) – so any weed that hits the shelves is already a godsend. Growers and farmers can grow decent products, but often, many of them skip the last step of letting the weed cure. Once the marijuana plant flowers, it is harvested and cleaned (very poorly, at times) and sent to the shops.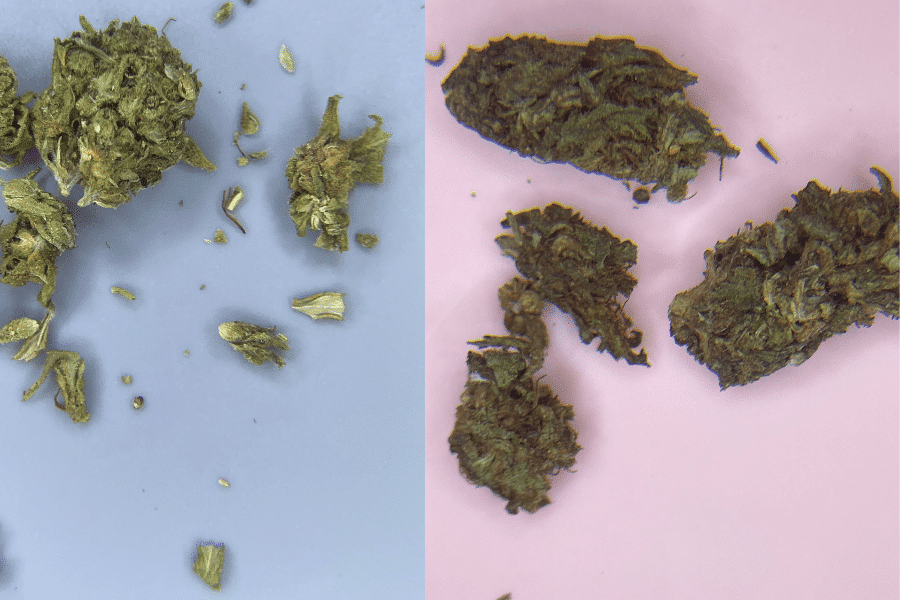 As a result, you may find stems, seeds, and leaves in your buds. The bud may not even get you high if you are a seasoned consumer.
However, a few big players and passionate businesses are growing their own flowers with utmost dedication and care. The same also reflects in the flowers; they are rich in trichomes, have a strong smell, exceptional taste, and can provide an amazing experience. This kind of weed can match what is grown in the West.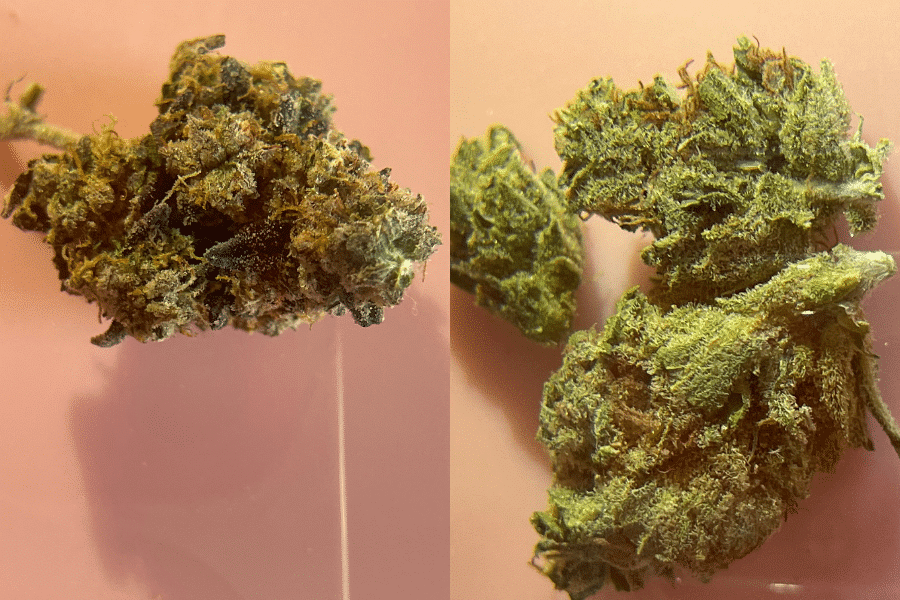 Here are a few tips you can follow in your quest to find the best weed in Thailand:
Good weed will cost upwards of 500 THB per gram and can go up to 1,000 THB (exceeding the prices in the West, but as the industry matures, the prices will come down)
It will likely be colourful and trichome-rich with a strong flavour and smell profile
You are more likely to find such weed in dedicated dispensaries that have expert budtenders
That said, you can find good weed in places where you least expect it, but when you go to elegant, classy-looking stores, your chances of finding primo bud are higher.
Buying weed in physical stores
Bangkok, Chiang Mai, Phuket, Pattaya, Koh Pha Ngan, Koh Samui – any and every major tourist city in Thailand has weed stores and small shops.
Some sell cannabis flowers to make a quick buck until regulations and control measures kick in. These may not follow the law to the letter and source their pot from all over the country and, in some cases, even internationally (note that importing cannabis flowers is strictly illegal here).
Examples of these can be your weed trucks that pop up in popular tourist spots and small-time cafes and stores. These sell pre-rolls and flowers that suit your party-time or pub crawl experiences.
If you are a serious cannabis connoisseur who prefers to consume only the best weed out there, you will want to visit high-end dispensaries and clinics. Many are big, multi-million dollar entities with massive grow space and specialised equipment. These are also the brands that are in it for the long run. They grow and sell weed in compliance with local norms.
Taratera, Bloom, Greenhead Clinic, and Hi Kush are a few examples.
To buy your weed, simply:
Visit the store/truck/dispensary of your choice
Pick your weed
Pay for it
Enjoy!
Some weed cafes also sell alcohol and have a dedicated lounge area for you to enjoy the pot. You can drink and smoke at the same time but remember to do it responsibly.
Medicinal marijuana
Medicinal marijuana is the future of weed in Thailand – it is how the government and authorities are looking to regulate the use of cannabis among the population. The idea is that anyone buying and consuming weed must do it under a doctor's supervision.
Therefore, you may see a few doctors present inside the dispensary. You do not need a consultation or a prescription card; the doctors are present there to abide by the law and promote responsible use.
You can talk to them, and they will help you find the right weed. While it is rare at this point, it may be a common sight to see a doctor as your budtender in the future.
However, you will need a prescription for cannabis oil with over 0.2% THC. This is because cannabis extracts and products that contain more than 0.2% THC are regulated and require a doctor's prescription.
You will also find several hospitals and clinics- approved by the government – specialising in medicinal marijuana. You can speak to a doctor about your condition, and they will recommend a suitable product for chronic pain, inflammation, glaucoma, epilepsy, or other conditions.
Buying cannabis online
Thailand is also one of the few countries where you can buy THC flowers online.
Visit any of the dedicated weed stores, select a product you like, enter your delivery details, make the payment, and the weed will be delivered to your doorstep. Depending on where you are in the country, your order may be delivered in three to five working days in discreet packaging. This option is recommended if you stay in Thailand for a long time, as it requires a local number and a fixed address. It can be your hostel, hotel, or any other accommodation.
Some stores – like Bloom and Organic Village – have no age verification norms, so you can order weed easily.
Other weed shops like OG Thai have a verification system in place. For example, to access the weed menu, you need to verify that you are above the age of 20 via Line ( a popular social media app in Thailand). Similarly, before you make the payment, you must upload your ID proof (passport), so they can verify your age.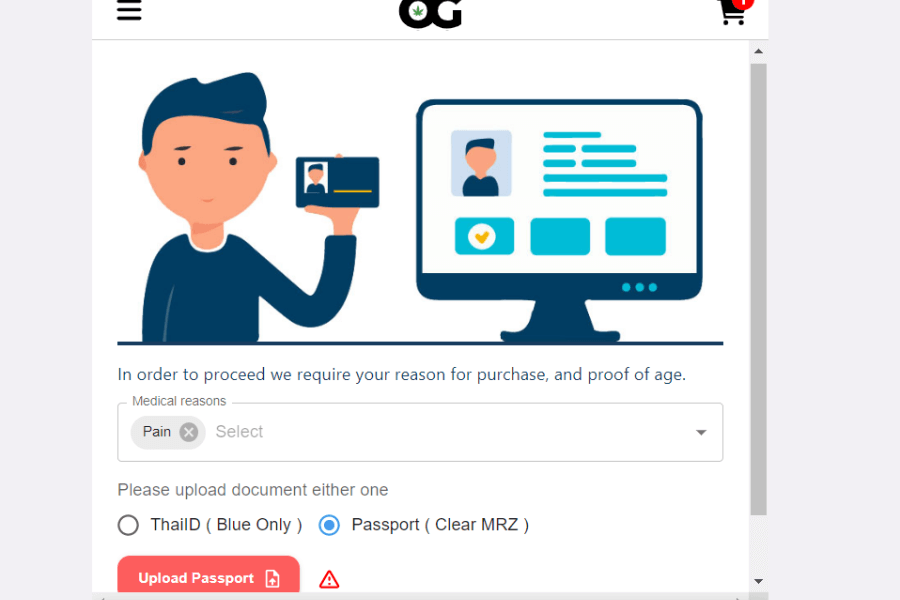 As Thailand looks to implement an online system to track cannabis flower sales, measures like those implemented by OG Thai may also become a common practice in other online shops.
Payment-wise, a good majority of these stores accept international payment options like Visa, MasterCard, and Paypal. Others also offer cash on delivery.
Line: an easy way to get weed delivered
Line is where the business happens in Thailand. Many weed shops and dispensaries deliver their products to your doorsteps, provided you place the order on Line. The Line ID/QR code is mentioned on their business card. Like Instagram, you visit the store's official page, tell them what you want, and give them your delivery details.
If you are in the same city as the dispensary, the buds and products will be delivered via the Grab Superapp, where a Grab driver drops your order and collects the payment in cash. The weed will likely be sent via Kerry Express (a well-known delivery platform) or Thai post if you are elsewhere. In this case, you may have to make the payment before – usually via the Thai QR banking system.
Smoking etiquette: What to remember
Thailand has a rich, exciting relationship with cannabis. While people are familiar with it, it is good to be respectful of the local culture. To that end, Weed Review recommends the following:
Do not smoke weed in public. As per Thai law, smoking weed in the open may attract a fine of up to 700 USD and one month of imprisonment.
While some tourists have been known to flout the public weed smoking rule, take the higher road and smoke weed at your home/hotel (in the smoking area) or the dispensary itself – if they have a dedicated smoking lounge.
Do not be one of those who get crazy on weed and make a scene. You can do that in party streets like the Khao San Road in Bangkok but in other places, respect your surroundings.
Consume weed responsibly; be mindful of the side effects of chronic use and health implications.