21 strains from ฿200
Visit store
---
International cards accepted (Visa, MasterCard)
Quick delivery (2 working days)
Smooth site navigation
Live chat feature
Excellent selection of organic supplies and produce
Lab-test certificates not available
More varieties can be added to CBD oils and topicals
No cash on delivery
---
When shopping at Organic Village, you agree to the cannabis laws of Thailand.
Overview
---
Strains available:

Green Crack, OG Kush, Jack Herrer, Amnesia Haze

Unique offerings:

THC oil, cannabis beverages & ice creams
Organic Village Review
Organic Village is one of Thailand's leading online stores for organic produce. Unlike other stores, it is not a dedicated cannabis shop as it offers many organic items like fruits, vegetables, meat, dairy, and vegan alternatives alongside weed.
If you want to add cannabis to your sustainable lifestyle, this store has many products to try.
The range of products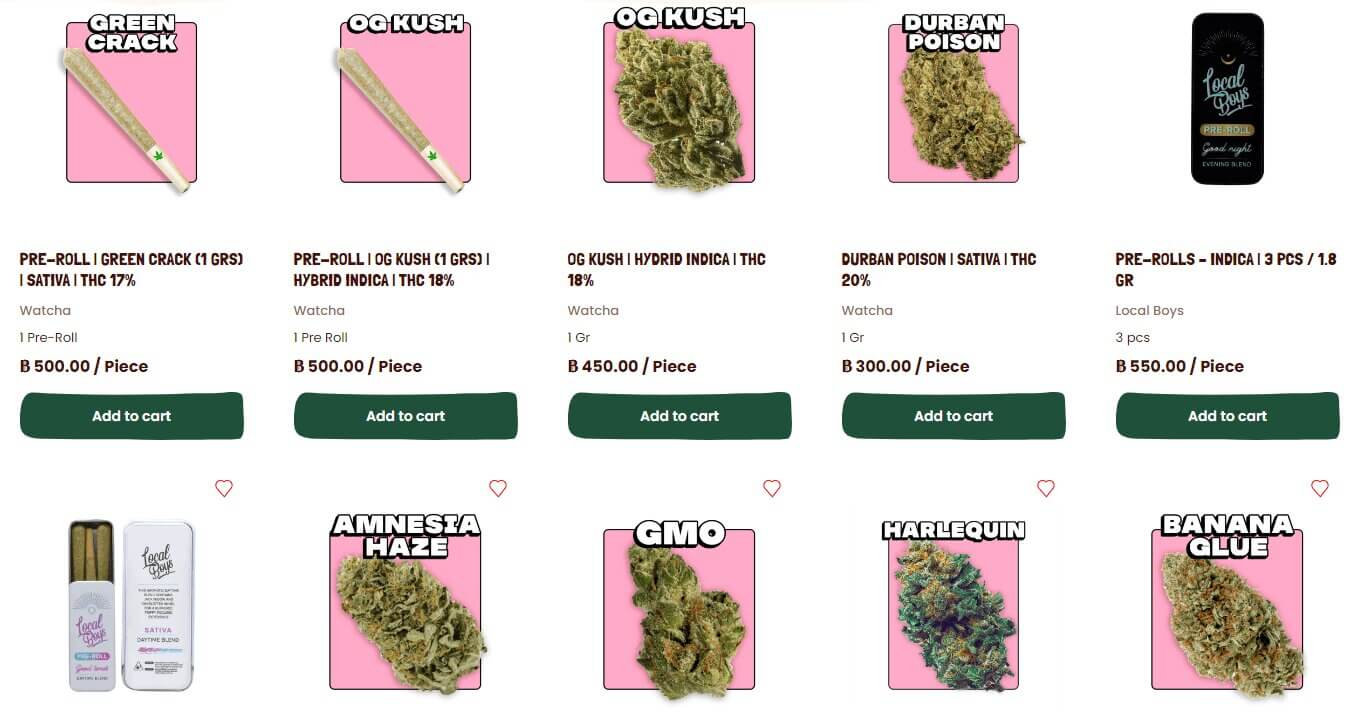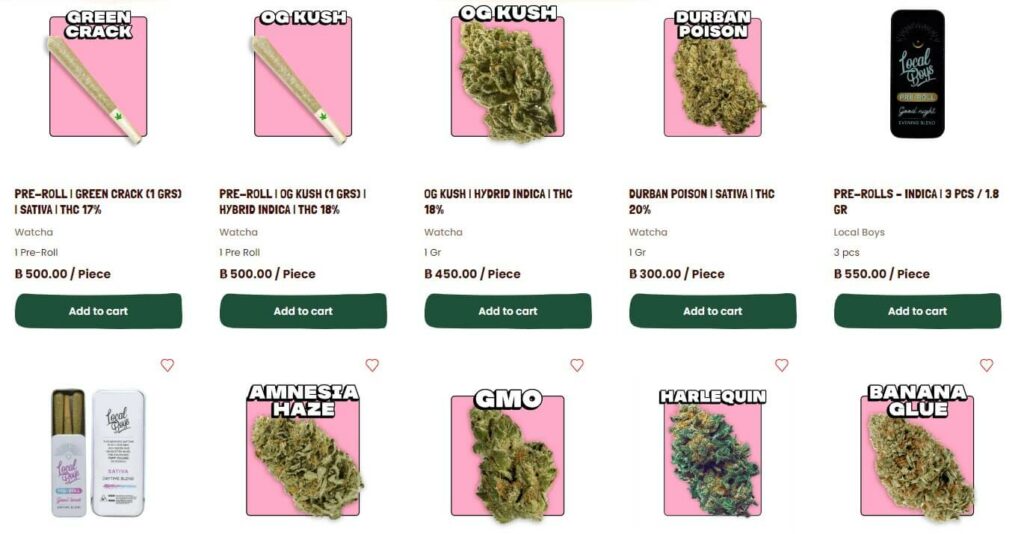 All of their cannabis products are listed under the 'Cannabis | THC & CBD,' which you can find by hovering over the 'Shop by Aisle' section in the top left.
Depending on your needs, you can browse through gummies, cannabis oil, cannabis flowers, smoking accessories, and beverages.
CBD oil
There is a good selection of cannabidiol oil; popular brands like Raksa, Seya, and Midnight are all available here.
However, there are a few things that they can improve upon:
Lab-test certificates are not attached to the product pages
Product images can be better
More concentrations and flavours can be added
THC flower
With more than 15 weed strains to choose from, you will be spoiled for choices at Organic Village. There is a lot to find, from big hits like Jack Herer, OG Kush, and Amnesia Haze to THC-dominant strains like OG 22 (29% THC). You will also find pre-rolls and a three-joint pack of sativa or indica buds from Local Boys.
Edibles
The edibles feature an exciting selection of flavoured gummies, including strawberry, mango, green apple, and grape. You also have THC-dominant edibles like sativa gummies, indica gummies, and cookies from Local Boys and Watcha.
If you want to try something new, check out their novelty items like cannabis popcorn, kombucha, cannabis ice creams, and soju cannabis beverages (non-alcoholic, infused with CBD and THC).
Caution
Some edibles and cannabis oils listed on Cannabox Store contain THC over the prescribed legal limit – 1.6 mg THC per unit for food items and 0.2% by weight for extracts. As a result, they are not deemed legal as per the present Thai marijuana laws. Weed Review recommends exercising caution when buying such products which are outside the scope of law.
Topicals
There is a small selection of cannabis-infused topicals that are worth your attention. Popular products are CBD massage oil, CBD vitamin C serum, CBD anti-aging serum, and CBD anti-acne serum. Some of these products are claimed to be lab-tested, but we could not find any proof of them on the product page.
Checkout & payment options
Organic Village can improve the mobile version of the site. Still, it is possible to buy their products online.
Here's something to note:
You have the option of subscribing to the product by getting it delivered every week or every month.
However, the prices remain the same – even if you opt for a long-term subscription. Ideally, the prices should reduce if you are buying the product from them regularly.
The payment page has multiple options and accepts all leading debit cards and credit cards. Unfortunately, Organic Village is yet to offer cash on delivery, so ensure that you enter the delivery address correctly to receive your order in time. The prices shown on the page are inclusive of VAT and delivery fees.
Note: You will be prompted to enter the delivery date and time at the checkout page. If you choose the next-day slot, chances are your product may not be delivered in that slot – especially if you live in cities other than Bangkok.
Customer support
Organic Village's live chat feature directs you to their Facebook Messenger or Line channel. We contacted their support team for a few questions, which were answered in under 15 minutes.
Organic Village physical store
If you are in Bangkok, you can drop by their physical outlet in the lively area of Siam Square. It is rated 4.9 with 140 reviews on Google.
Their cannabis aisle only takes a small space in the shop, with the rest occupied by a diverse range of organic supplies and produce.
Unlike other cannabis dispensaries in Thailand, Organic Village is not a dedicated weed shop per se. They do not sell their weed 'in-house' and will have it delivered to your address in Bangkok within 1-2 hours.
Address:
Siam Square Soi 5 392/27 & 28 1/F Rama I Rd, Pathum Wan, Bangkok 10330, Thailand
FAQs
Does Organic Village have a dedicated smoking area?

No, you cannot smoke weed at a dedicated space near Organic Village as the shop is in a public area.

Are Organic Village products legal?

A majority of the products available on Organic Village are compliant with Thai cannabis laws. However, some edibles and extracts may fall outside the scope of these laws.

How to get tracking details for your order from Organic Village?

To get tracking ID, simply reach out to their customer support team via live chat on Facebook or Line. Share your order ID and they will share the tracking details for the same.