Thai cannabis laws 2023: The Legality of Weed in Thailand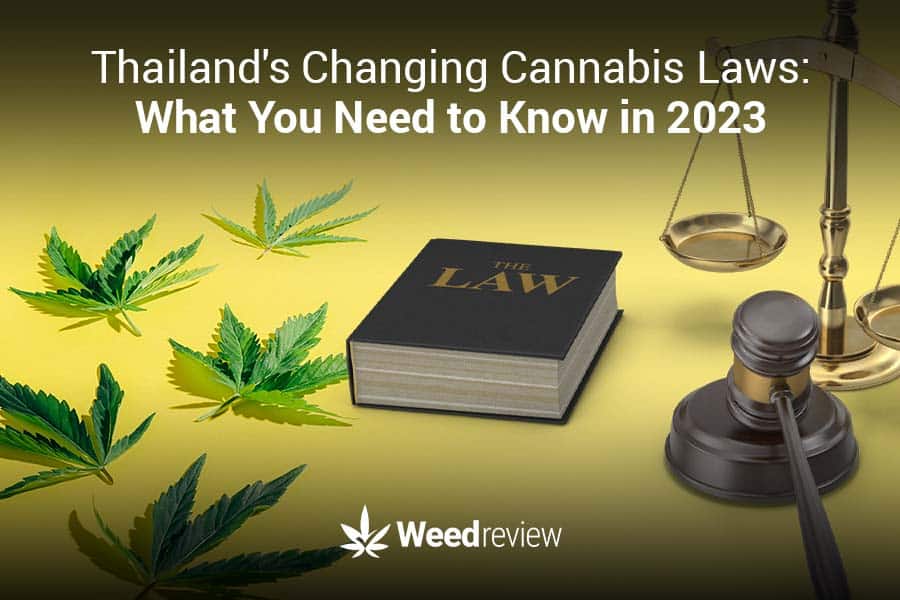 In June 2022, Thailand decriminalised cannabis by removing it from the Category 5 Narcotics list. The move surprised many outsiders as the country has been known to have some of the harshest marijuana laws in the world.
Not too long ago, smoking a joint or selling weed would land you in trouble. Now, cannabis dispensaries have popped up throughout the country – from Phuket to Bangkok to Chiang Mai – where you will find high-quality, potent strains and cannabis products.
The legal landscape of weed in the country, however, is still hazy. Although cannabis is no longer deemed a narcotic substance, there is a massive vacuum regarding its regulation and sales. New amendments are popping up frequently, causing businesses to adapt and pivot to keep their blossoming businesses going.
The article was last updated on April 17, 2023. This includes updates on rules for edibles & beverages, and new cannabis use guidelines released by the government. New amendments may be implemented by the government thereafter. You should check the local cannabis laws before using marijuana in the country.
An outlook into the cannabis laws
The liberalisation of cannabis began three years ago, in February 2019, when the Narcotics Act was amended to make way for medical marijuana. This laid the groundwork for using cannabis as a health remedy, with certain caveats.
Over the following years, lawmakers gradually relaxed the act to open up the use of cannabis plants. The idea was to tap into the potential of marijuana as a cash crop, empower the farmers and growers, and leverage the medicinal benefits to promote medical tourism and healthcare.
Fast forward to June 2022, when the delisting of hemp and cannabis from the Narcotics Act permitted the following:
Personal carry and use of cannabis and hemp seeds, whole plants, unprocessed flowers and resins are legal in the country. Importing these, however, is strictly prohibited.
Thai citizens can grow marijuana plants at home; it requires signing up on a government-operated app called Plook Ganja.
Cannabis beverages and food products like edibles and gummies are legal – provided the tetrahydrocannabinol (THC) concentration does not exceed 1.6 mg per unit/0.2% by weight of the product content.
Extracts that contain THC of more than 0.2% by weight, like cannabis oil, will require a prescription from a doctor as it falls under the ambit of medical marijuana.
Using cannabis flowers and other parts of the plant for research, export, import, and commercial purposes requires official permits.
You can smoke weed at dispensaries (if they have a dedicated smoke area) or at home. Smoking weed in public – including schools, temples, and shopping malls – is prohibited, further enforced by a hefty fine of 700 USD (25,000 THB).
A license is needed for businesses to sell cannabis products.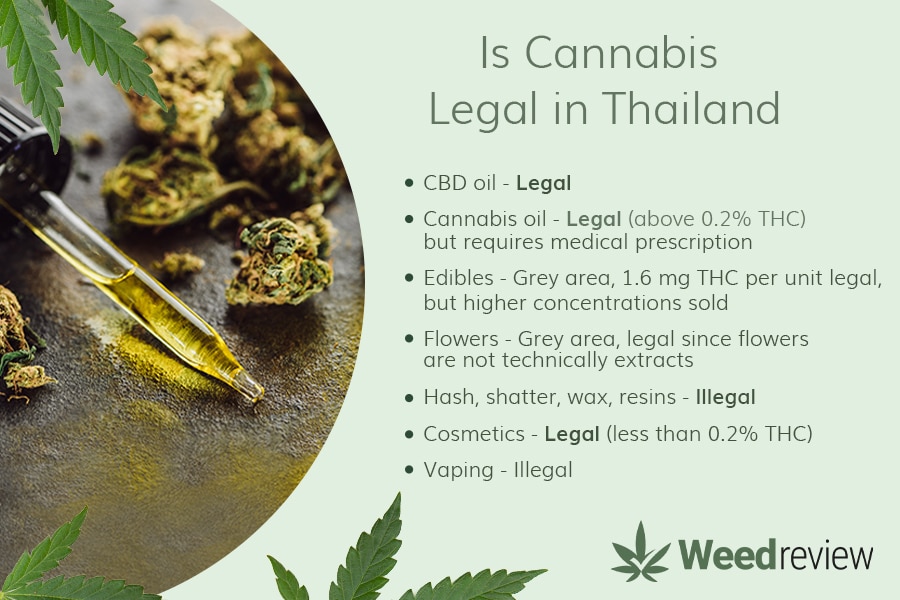 A different reality on the ground
When cannabis was decriminalised in 2022, it was done so without providing a robust regulatory framework and legislation to govern its sales, trade, cultivation, and consumption. Effectively, weed is legal as the bill did not outlaw recreational smoking. Still, there were no laws governing how and in what ways it is legal. It is a grey area.
As a result, businesses have quickly capitalised on this lack of control and started selling weed with absolute freedom. The laws are not being enforced simply because there are no concrete guidelines.
To give you a perspective:
There are dispensaries selling edibles and extracts with THC well over 1.6 mg per unit/0.2% rule, even though the law says otherwise.
The law says weed cannot be sold within 300 metres of temples and schools, but many weed stores operate nearby.
It is also not uncommon to find US-grown strains in dispensaries, even though importing cannabis is strictly controlled and prohibited.
As a result of these loopholes and large-scale recreational use, the Thai government has been forced to act on regulating the cannabis space further. Fears and concerns are emerging that many people may end up abusing cannabis rather than using it responsibly for its medicinal benefits.
A draft Cannabis and Hemp Act is in the works; this legislation aims to fill the void by giving the weed industry much-needed governance and guidelines. Recreational use may come under the hammer, and regional politics are also at play here. In short, it is a work in progress, and lawmakers are quickly adapting to the blooming market.
Legal and illegal products
Considering that there is no actual enforcement of the cannabis laws, anything and everything may seem legal. However, knowing what is allowed under the law and what falls under the grey area is a good idea.
Cannabidiol (CBD) oil
Status: Legal
CBD oil is popular in Thailand as many people use it to relieve their symptoms without dealing with the intoxicating nature of THC. In fact, CBD tinctures were among the first products to hit the market when cannabis was decriminalised, mainly owing to its medicinal benefits.
It is readily available – you can buy cannabidiol oil online and offline in various concentrations.
CBD is also legal in the eyes of the law, provided they do not contain more than 0.2% THC by weight. You will require a doctor's prescription if it contains more than 0.2% THC.
Cannabis flowers
Status: Technically legal, but in a grey area
Northern Lights, Jack Herrer, Sour Diesel, Blue Dream – these are just four of the many THC flowers that have hit the weed dispensaries in Thailand. Since these buds came from plants without processing or extraction, they are technically legal.
However, weed flowers come under the scope of recreational marijuana, which lawmakers may regulate soon. CBD flowers, however, may be untouched as they are non-psychoactive and non-intoxicating.
You can easily get weed – including pre-rolls – online and in dispensaries, but as more regulations come into play, expect this market to be slightly more controlled. For now, weed is everywhere in Thailand. Kief is also legal as it is not technically an extract but the leftover power dust of cannabis flowers.
Remember that you cannot carry your buds from a foreign land into the country or smoke it openly in public places. You can buy weed online, even though the government deems online sales illegal.
Food, beverages & edibles
Status: Legal, but high concentrations are sold
Before the new amendments came into play, the following was valid for weed-infused food and drinks: "Food items, drinks, and edibles such as gummies are legal, provided they do not contain more than 0.2% THC by weight."
In November 2022, new edicts were issued governing the amount of THC and CBD in food items. The same has been summarised below:
In food products, the total THC content must not exceed 1.6 mg per unit of the product content. For CBD, the limit is set at 1.41 mg per unit of the product content.
In food seasonings, THC must not exceed 0.032% by weight, while the overall cannabidiol content is capped at 0.0028% by weight.
The concentrations of CBD & THC must be stated clearly on the product label and packaging.
Regarding the use of cannabis seeds in food, there is no cap on the amount of CBD.
As you can see, there is some confusion around this rule, so for now, it is the wild, wild west of anything goes.
You can find brownies & edibles in several dispensaries where the THC content is way above this limit, which makes it technically illegal. However, like many things, the authorities do not seem to enforce it strictly.
Cosmetics
Status: Legal
CBD topicals like skin creams, lotions, bath bombs, and massage oils are flooding the Thai cosmetics market. It is not surprising, considering that CBD has shown some promise in promoting healthy skin.
The rule of 0.2% THC by weight remains intact here as well. Unlike edibles and beverages, it is uncommon to find cosmetics with a fair amount of THC, as many big players manufacture their products by the books.
THC oil
Status: Legal, but requires a prescription
Cannabis oils with a far higher concentration of THC fall under medicinal marijuana. You can get potent THC oils and tinctures, provided you have a doctor's prescription.
The use of this product is geared mainly towards treating severe health remedies. Therefore, the doctor will need to diagnose your condition before writing you the prescription for THC oil. You can get it at any of the state-approved medical cannabis dispensaries.
Cannabis concentrates
Status: Grey area
Hash, shatter, wax – these are some of the common marijuana concentrates (also known as dabs) that you will find in dispensaries in the West. In Thailand, it may not be the case.
Since concentrates are extracts which are obtained from specific processing techniques to increase the THC concentration, they come under the scope of the 'extracts with more than 0.2% THC' rule and require permission for purchase. Moon rocks also come under this rule as they employ a mix of kief, flowers, and cannabis oil.
In reality, marijuana concentrates may be readily available. You can find THC oil, vape cartridges, and other high-THC extracts in certain dispensaries.
This means you can also indulge in enjoying dabbing – provided you can find the dabs and the dab rig. That said, given the cannabis market is still in its early stages in Thailand, nuanced concentrates like moonrock, wax and shatter may not hit the shelves anytime soon.
Of course, discretion is strongly recommended as consumption of these products without permission is not legal in the eyes of the law.
Vaping
Status: Illegal
Nicotine vapes and e-cigarettes are illegal in Thailand; it has been the case since 2014 and is punishable with a fine of up to 30,000 Baht or jail time.
The law is unclear on whether it also applies to dry herb vapes/vaporisers, nicotine-free vape pens, and cannabis oil vape cartridges.
If you are caught by the police with a device that looks like a vape pen, even though it is free of nicotine, you may be fined. If you want to use vaporisers to smoke cannabis, it is recommended you do so in a private space.
Thai weed laws summarised
Critics in Thailand are suggesting that cannabis should be returned to the narcotics list and regulated until there is a proper framework for its use and trade. Some lawmakers want to ban or control recreational use but allow medicinal use. Doctors and parents are also worried about the high usage of cannabis among young people.
Cannabis businesses in Thailand must keep a sharp eye on these fluid developments and laws. After speaking to a few of them, it seems to be business as usual for them – until it becomes mandatory to comply with the norms. For the time being, you can blaze and enjoy weed – but not like you would do in Amsterdam. You must be respectful of those around you.
In the meantime, the Ministry of Public Health has released certain guidelines for tourists and Thai citizens concerning cannabis use. Until the time cannabis laws in Thailand become clearer, you can take these points as a reference.
The cannabis plant is no longer a narcotic. However, it is prohibited from selling to youth under 20 years old, pregnant women and breastfeeding women – unless it is supervised by a doctor.
Sales via vending machines and online channels are prohibited.
ID checks in dispensaries are mandatory. You must show your passport or a valid Thai identification card when buying cannabis at a physical shop.
Carrying seeds, flowers, and other parts of the plant from and to Thailand for personal use is not allowed.
You can fly/travel with cannabis products anywhere in the country.
Be respectful of the local culture and people. Thailand is still conservative in many regards, and flouting weed smoke in public may seem rude and can attract heavy fines.