Best Cannabis Dispensaries in Phuket: Top Rated Weed Stores & Online Delivery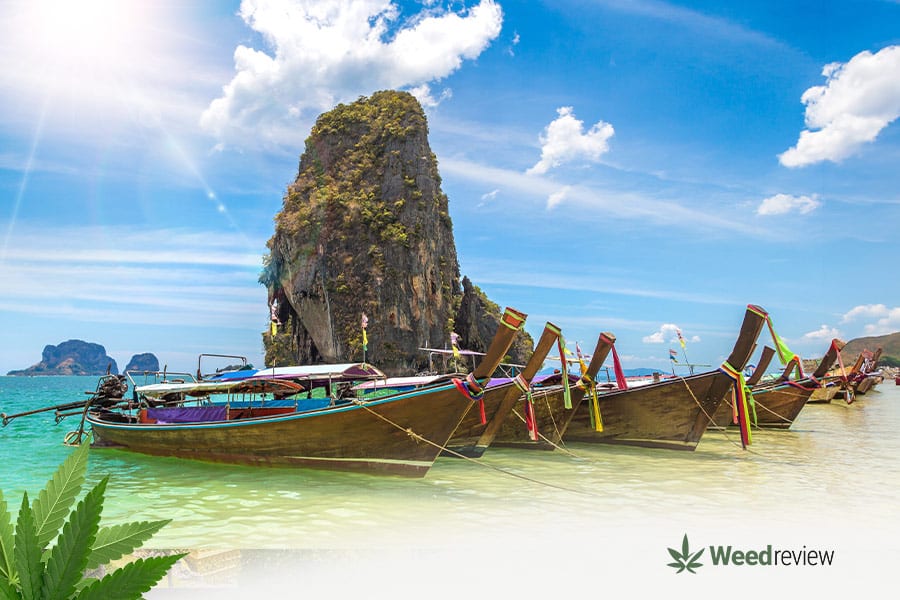 Phuket, renowned for the lively streets of Patong, the serene Kata Beach, and the historical charm of Old Town, offers more than just stunning landscapes and cultural allure. The island's expanding cannabis scene is becoming a notable attraction for both tourists and locals.
So, if you find yourself wondering where to buy weed in Phuket, you're in luck. You will find a diverse range of marijuana dispensaries, from ones near the soothing beaches to those flaunting vibrant, welcoming smoking lounges.
For people who want to indulge in cannabis without dealing with the crowd of the island, Phuket offers the added luxury of online weed delivery, marrying convenience with pleasure.
Physical weed shops in Phuket
The list of dispensaries mentioned below are handpicked for their premium quality buds, the warmth and knowledge of their personnel, and their immersive atmosphere.
The stores are scattered all across the Phuket island – from the Old Phuket Town to South Phuket to the beaches on the Western side.
Greenhead Clinic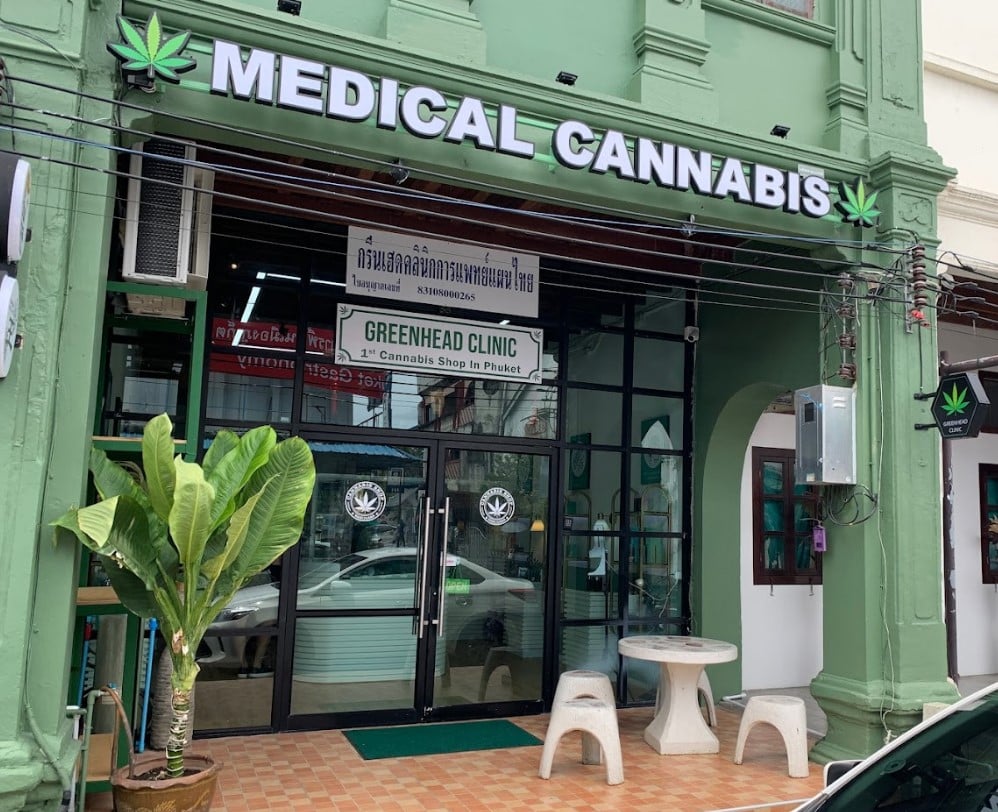 Take part in an exceptional medical cannabis experience at Greenhead Clinic. Located in the heart of old Phuket town, it not only provides top-notch cannabis products but also offers doctor consultations for patrons, setting it apart from other weed shops.
Address: 88 Yaowarad Rd, Tambon Talat Yai, Mueang Phuket District, Phuket 83000, Thailand
Phone: +66888919149
Payment methods: Cash, Card, QR
Highlights
An exclusive medicinal marijuana dispensary.
In-house doctors for cannabis consultations.
High-quality, lab-tested, legal, organic products – flowers, edibles, gummies, and oils.
Highly knowledgeable staff and renowned hospitality.
Drawbacks
No designated smoking area.
With its distinct holistic approach, Greenhead Clinic offers a mix of Thai traditional medicine and modern cannabis practices. If you have any health-related problems and are looking for a cannabis-related alternative, Greenhead Clinic is the place to go.
Ganja House | Cannabis Dispensary Phuket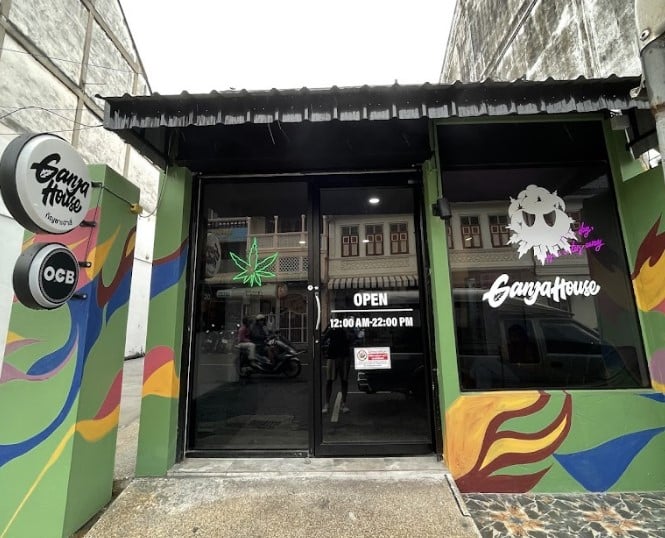 Located in the timeless setting of Old Phuket, Ganja House offers a range of high-quality cannabis products and ensures that both quantity and quality go hand in hand.
Address: 30, 2 Dibuk Rd, Talat Nuea, Mueang Phuket District, Phuket 83000, Thailand
Phone: +66993656514
Payment methods: Cash, QR
Highlights
Discounts on purchasing larger quantities, starting from 2 grams.
Organic-grown cannabis ensures top-notch quality.
A considerable selection of vapes for enthusiasts.
Other products include edibles, gummies, pre-rolls, and beverages.
Drawbacks
Higher-pricing; Starts at 500 THB per gram.
With its serene smoking area at the back, the Ganja House in Old Phuket allows customers to unwind and enjoy their rich cannabis offerings.
Stoner Cannabis Phuket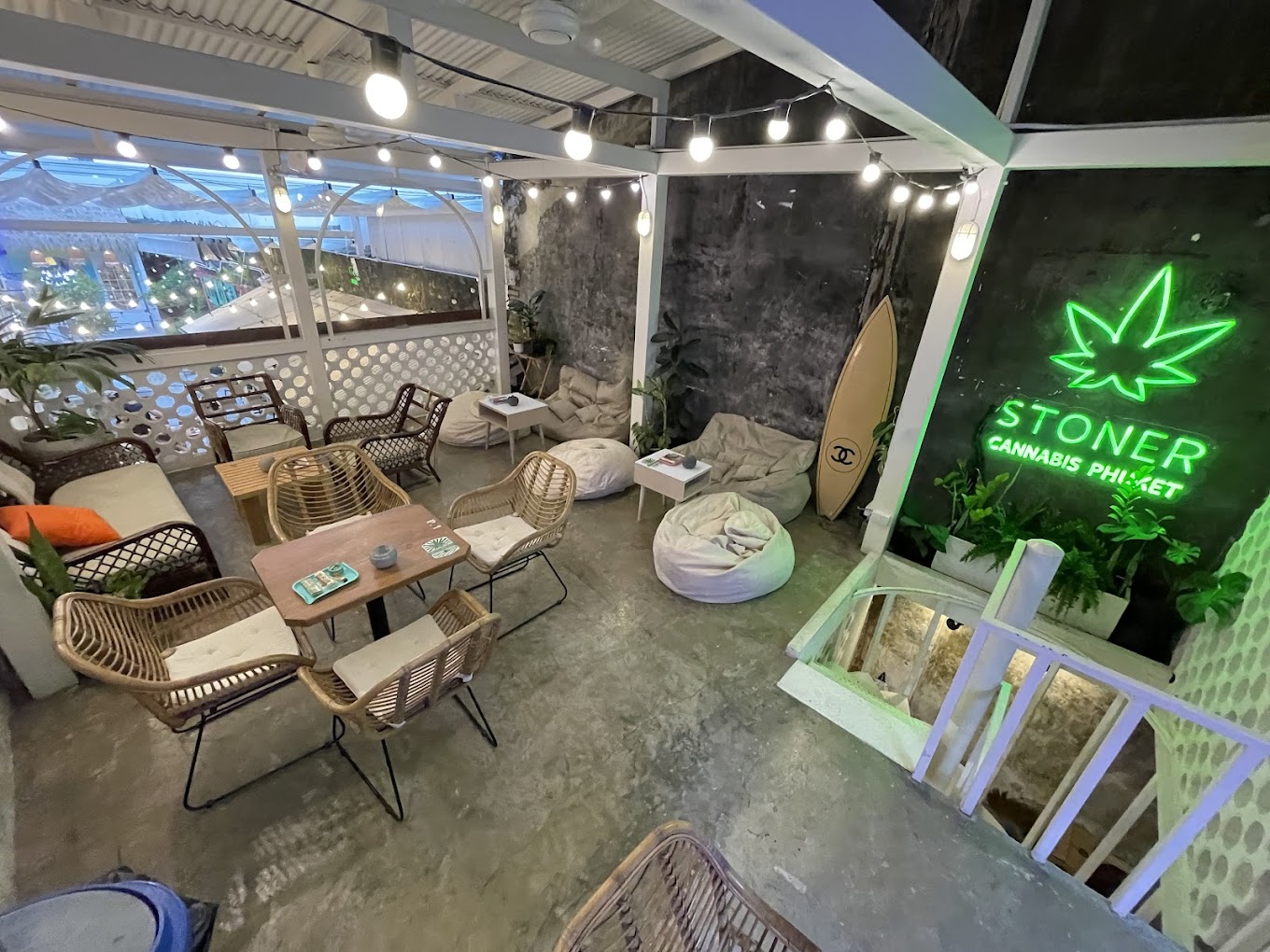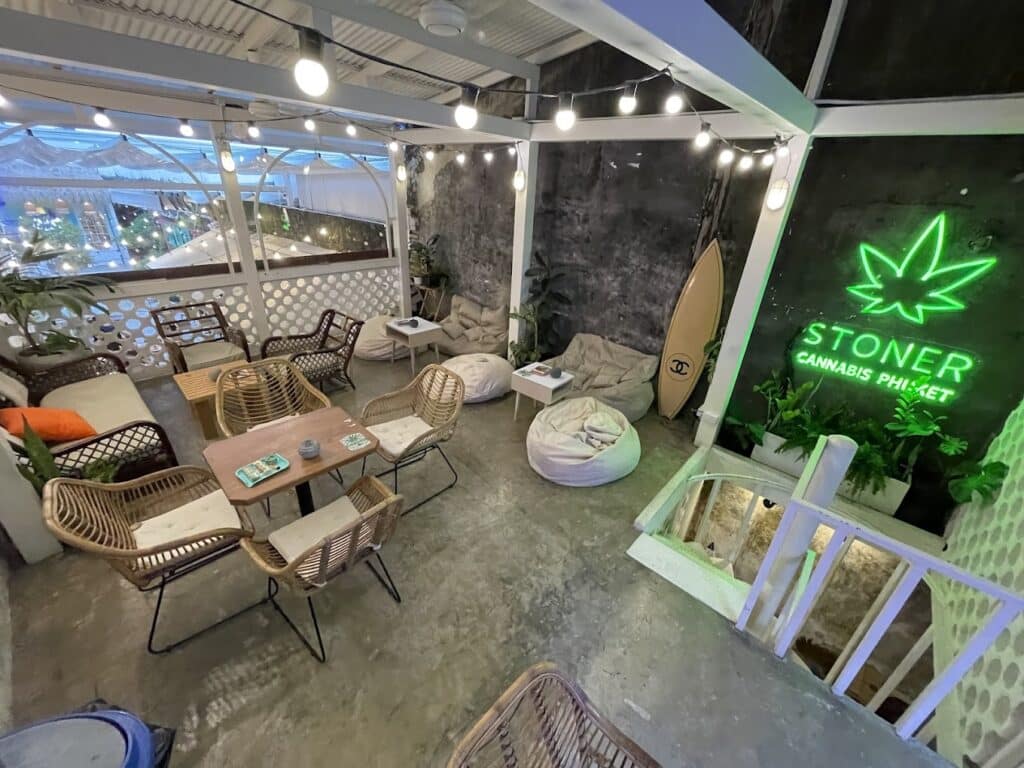 Experience cannabis like never before in the lively atmosphere of Stoner Cannabis Phuket. With its smoking area placed above a bar, the store is the go-to place for everyone looking to blend the excitement of Old Town with the relaxing vibes of cannabis.
Address: 119 Thalang Rd, Tambon Talat Yai, Mueang Phuket District, Phuket 83000, Thailand
Phone: +66621940094
Payment methods: Cash, QR
Highlights
A vibrant smoking lounge ideal for those wanting to hang out in the Old Town.
An extensive range of products, including strains, accessories, and bongs.
Friendly and warm staff ready to guide and assist.
Drawbacks
Products come with a higher price tag.
Nestled in the heart of Phuket, Stoner Cannabis Phuket seamlessly combines the town's traditional charm with modern cannabis culture.
The Phuket Cannabis Club Patong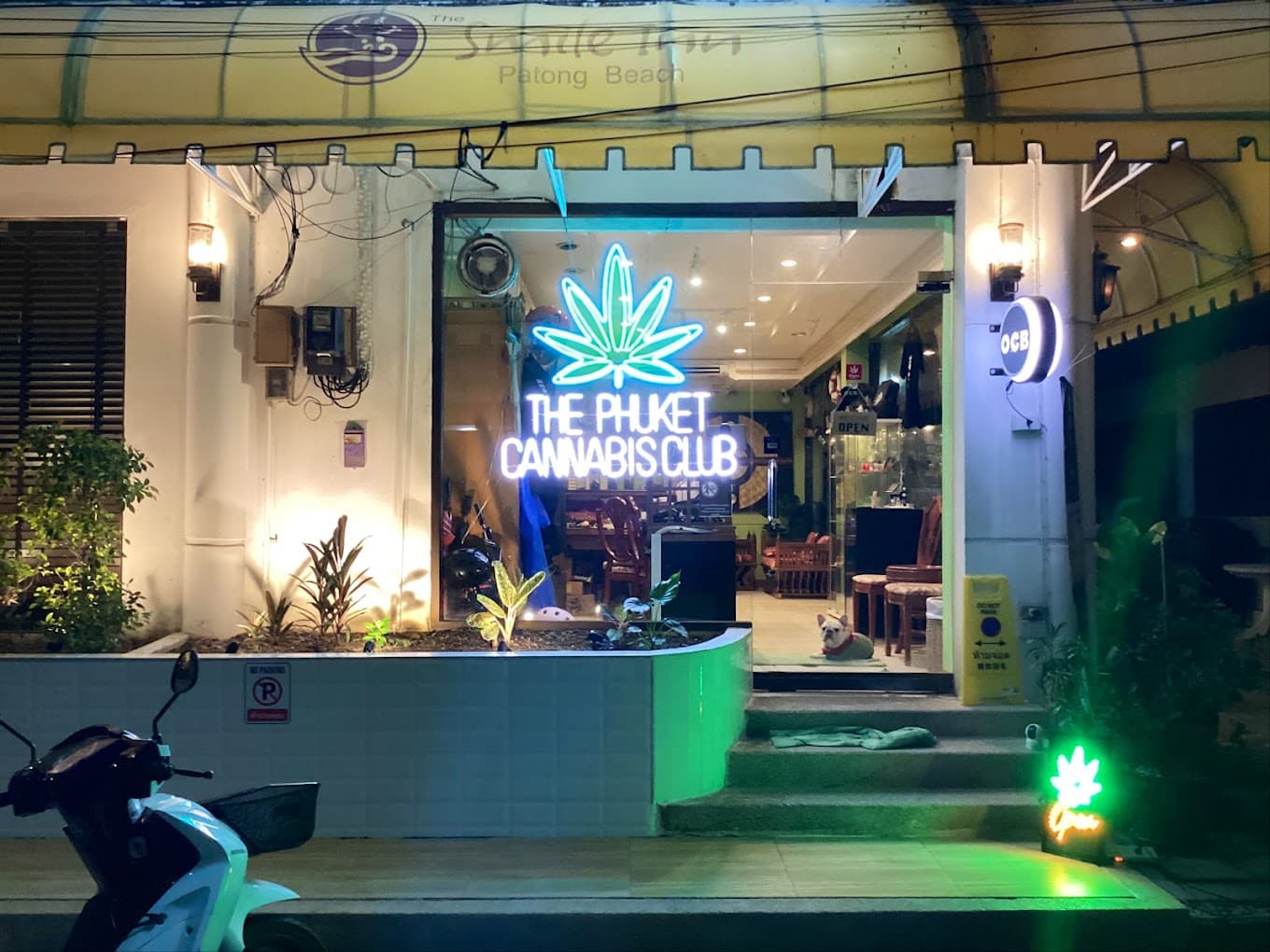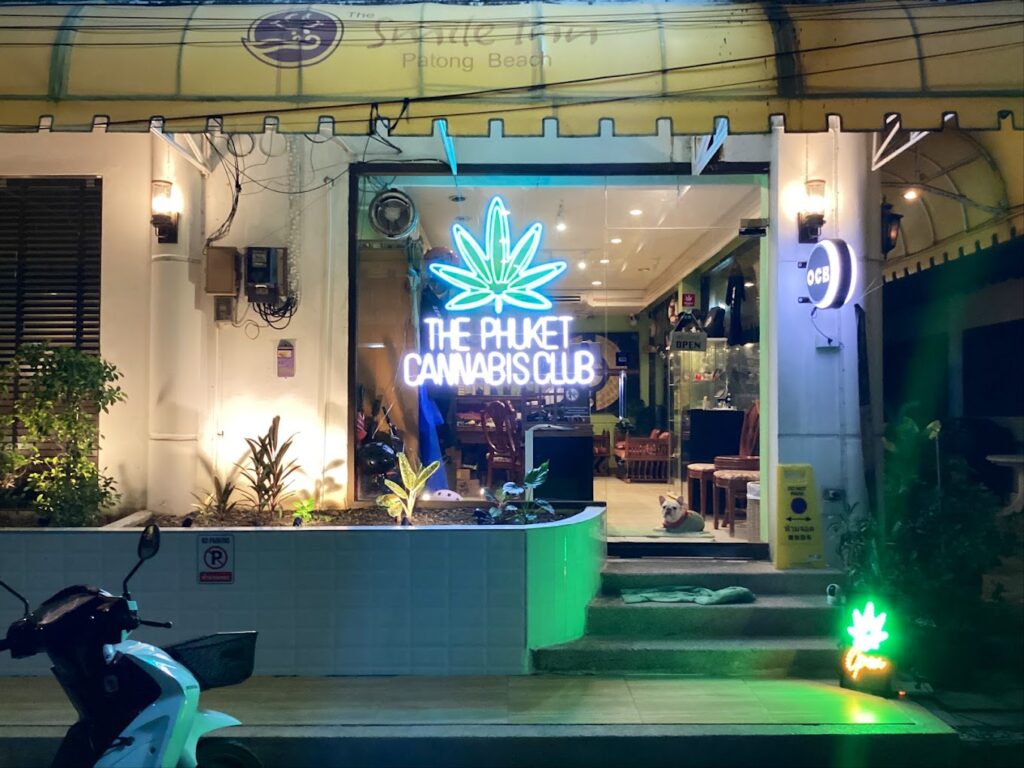 Where the heart of Phuket's nightlife meets premium cannabis – that's The Phuket Cannabis Club Patong for you. Located a stone's throw away from Patong Beach, this weed dispensary guarantees a vibrant experience till the late hours.
Address: 108/9 Thawewong Rd, Pa Tong, Kathu District, Phuket 83150, Thailand
Phone: +66839244263
Payment methods: Cash, QR
Highlights
Conveniently open till late in the night, catering to the party crowd of Phuket.
Proximity to Patong Beach, making it a favourite for tourists and locals alike.
AAA top-shelf weed, ensuring the highest quality for connoisseurs.
Drawbacks
Owing to its prime location, prices might be on the higher side.
The Phuket Cannabis Club Patong stands out not just for its top-shelf cannabis but also for offering an unforgettable experience in the party part of the island.
Grifterz Cannabis Lounge Bakery & Bar
Dive into a multi-dimensional weed experience at Grifterz, a unique destination near Kata and Karon Beach. Whether you're craving edibles or longing for a lounge experience near the beach, Grifterz has got you covered.
Address: Starbucks opposite, 4 Kata Rd, Mueang Phuket District, Phuket 83100, Thailand
Phone: +66945280730
Payment methods: Cash, Card, QR
Highlights
The go-to place for cannabis-infused edibles thanks to their in-house bakery.
Proximity to both Kata & Karon Beach offers a refreshing ambience.
Not just a dispensary but also a lounge, bar, and bakery – a true all-in-one destination.
A nice in-house store to buy souvenirs and small items.
Promotions include a free weed offer.
Drawbacks
The pricing falls in the mid-high range.
Grifterz is a testament to the evolution of cannabis culture in Phuket, providing everything from pot to pastries in a setting that's hard to match.
Phuket Cannabis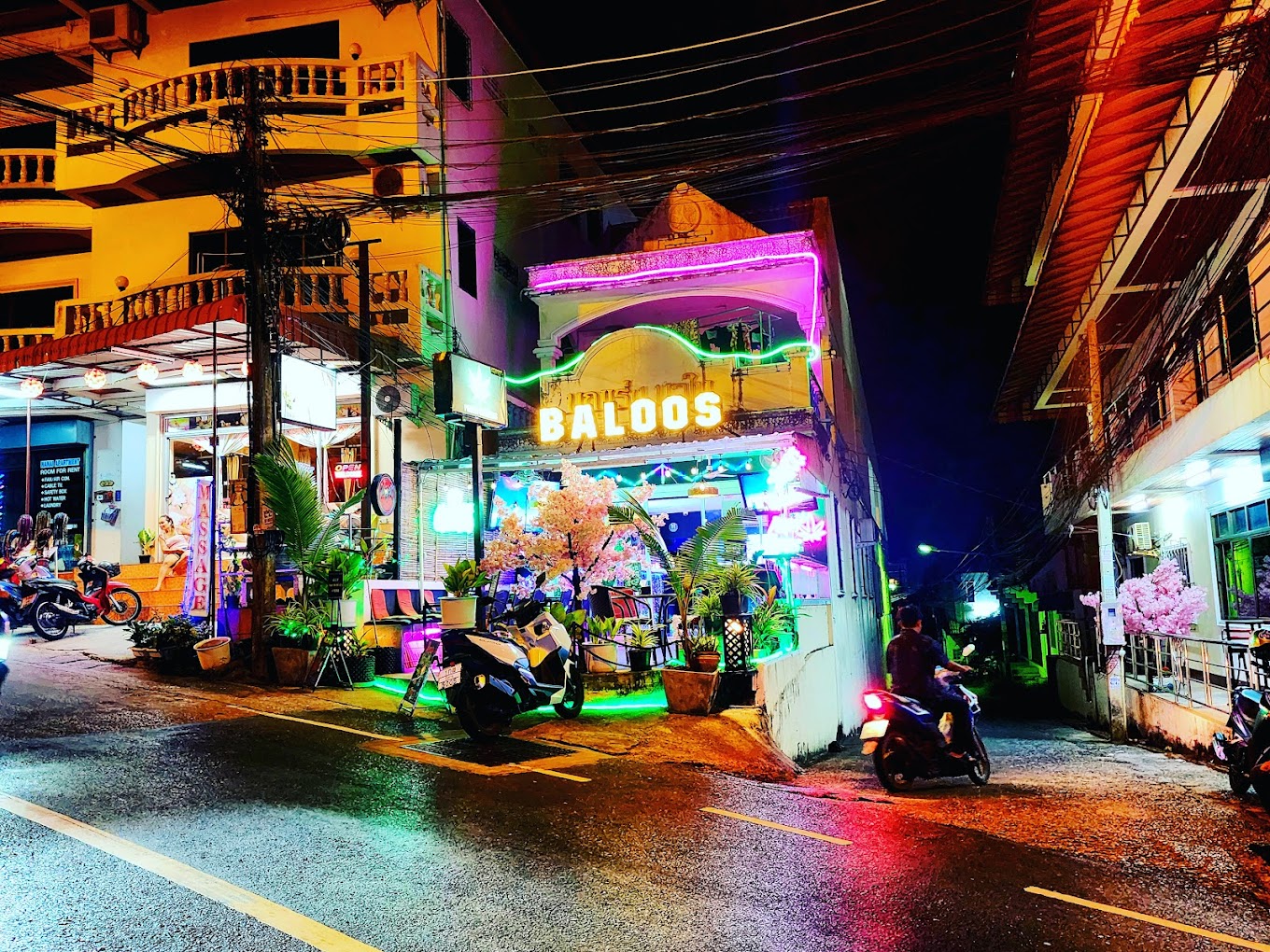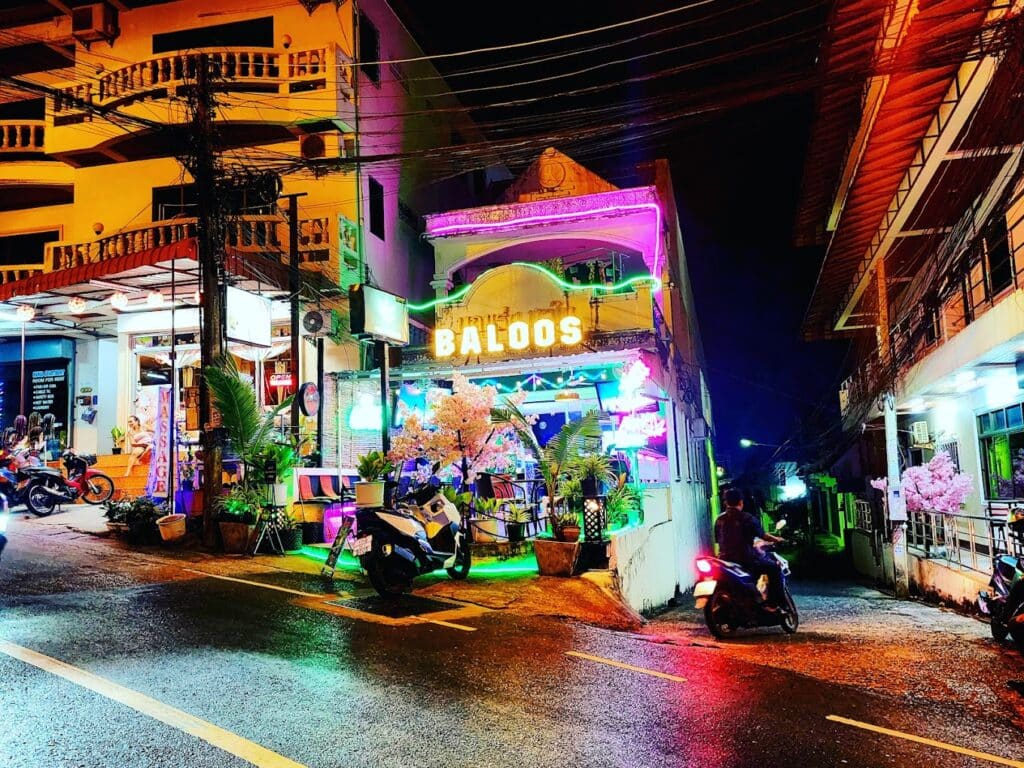 Not to be mistaken with the Phuket Cannabis Club in Patong, Phuket Cannabis stands on its own merits. Situated in a welcoming area, it combines food, drinks, and marijuana flowers to offer a delightful experience.
Address: 90, 2 Nanai Rd, Pa Tong, Kathu District, Phuket 83150, Thailand
Phone: +66634092579
Payment methods: Cash, QR
Highlights
A unique blend of food combined with cannabis products.
Conveniently located for those exploring the Patong area.
Has a nice party atmosphere.
Very friendly and cordial staff.
Drawbacks
Pricing leans towards the higher side, given its location and diverse offerings.
Phuket Cannabis is the perfect retreat for those wanting to enjoy a meal or a drink while exploring their cannabis choices.
Green House Rawai | Cannabis Dispensary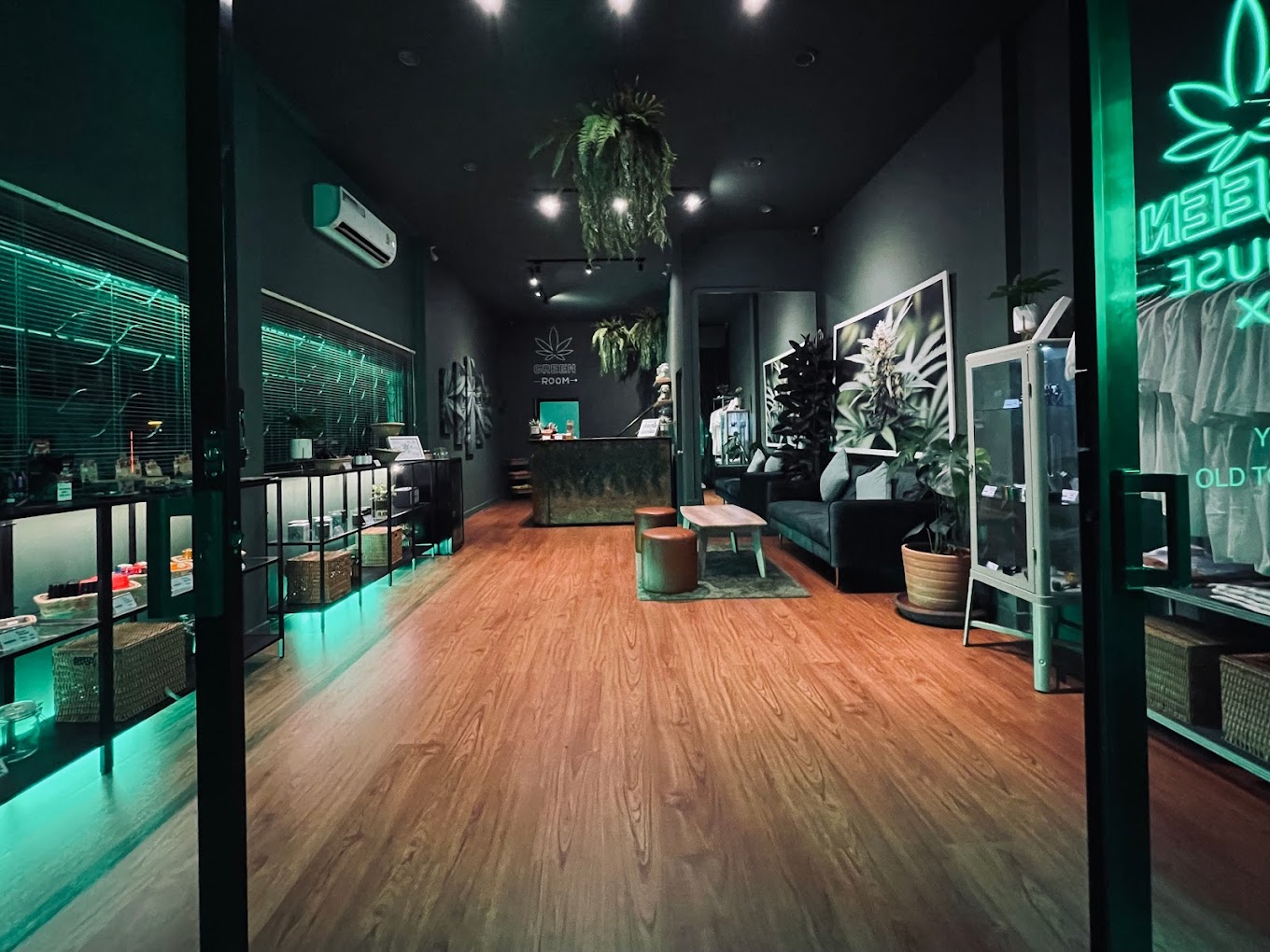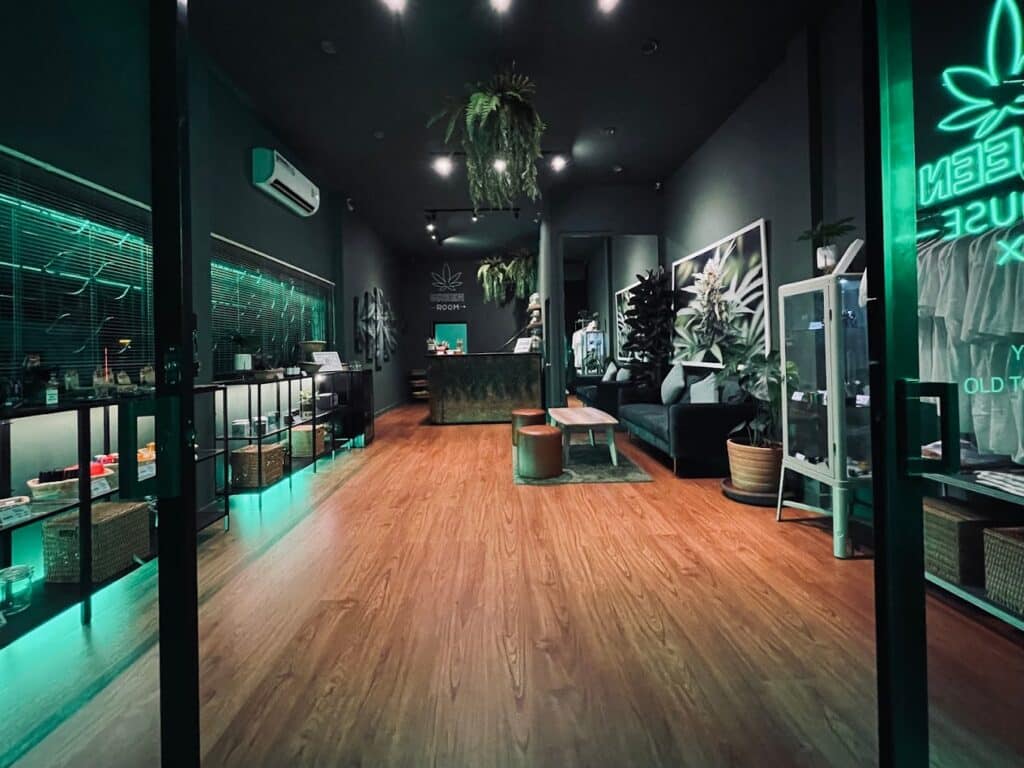 For those journeying to South Phuket, Green House Rawai offers an elegant, chic, and sophisticated haven for cannabis enthusiasts. With locally grown, organic strains, it is a top-rated dispensary with much to offer.
Address: 19, 17 Wiset Rd, Rawai, Mueang Phuket District, Phuket 83130, Thailand
Phone: +66622265318
Payment methods: Cash, Card, QR
Highlights
The best dispensary experience in South Phuket.
Top-shelf, AAA-quality weed that is locally grown and organic.
A stylish and chic atmosphere, complemented by a highly-rated, knowledgeable staff.
Excellent customer service.
Drawbacks
Premium offerings come with a higher price tag.
With its enchanting ambience and top-rated cannabis, Green House Rawai is a must-visit for anyone looking for a luxurious cannabis experience.
Growland Dispensary and Grow Shop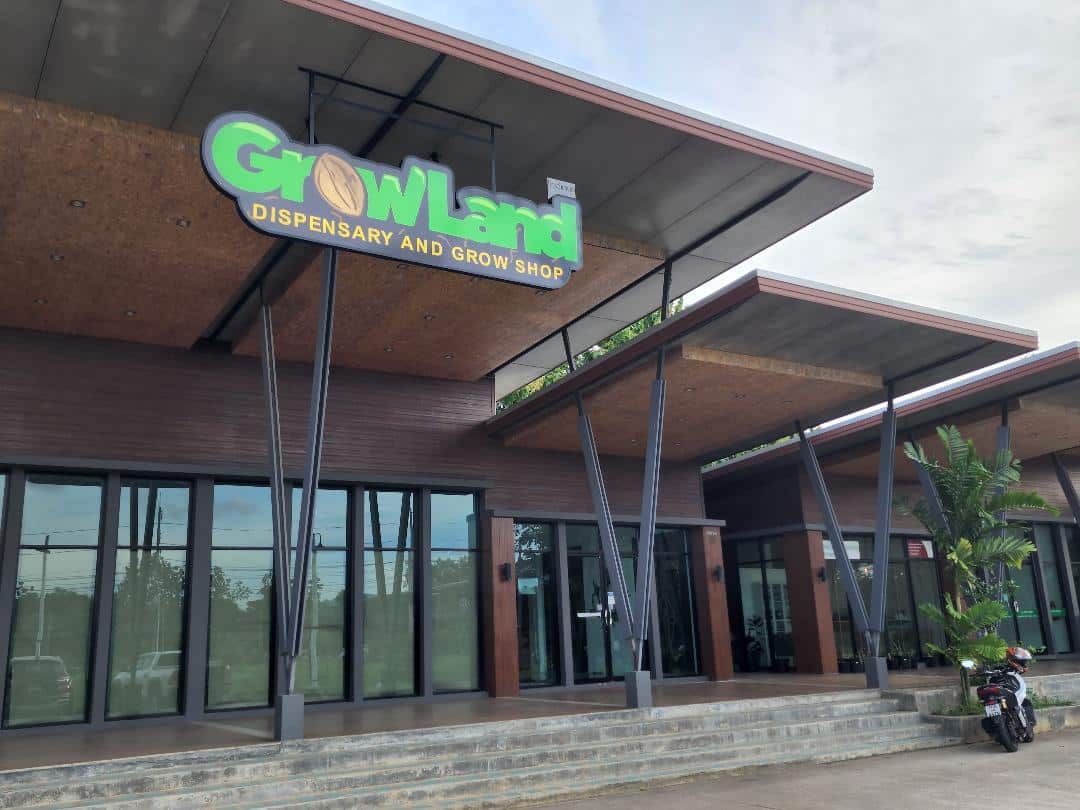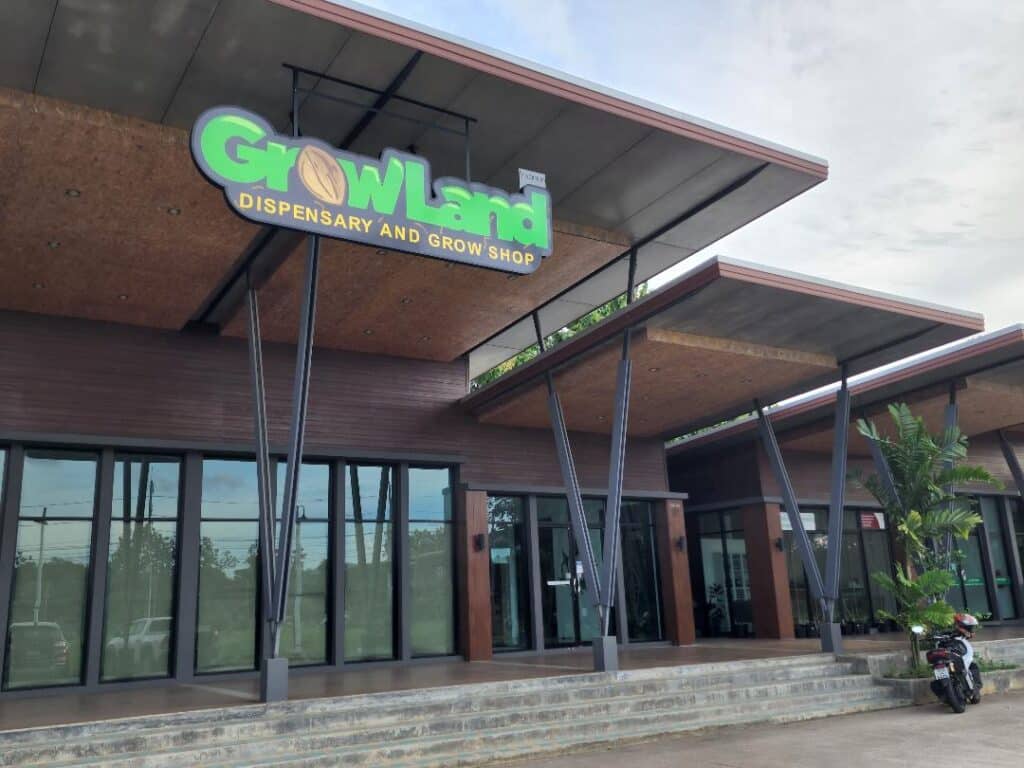 Growland is the go-to place for budget-conscious cannabis enthusiasts. With a wide selection of buds and the availability of growing supplies, this store caters to users and farmers alike.
Address: 825 26 Patak Road Rawai, Mueang Phuket District, Phuket 83100, Thailand
Phone number: +0962624820
Payment methods: Cash, QR
Highlights
Home to the cheapest buds in Phuket.
A vast selection of flowers catering to both recreational and medicinal users.
Grow supplies are also available.
A rare shop in Phuket that also sells cannabis clones.
Drawbacks
The low pricing might make some question the quality.
The growing equipment available might not be of the highest grade.
Growland presents an affordable yet rich cannabis experience, especially for those who appreciate value for money.
THC Thai High Club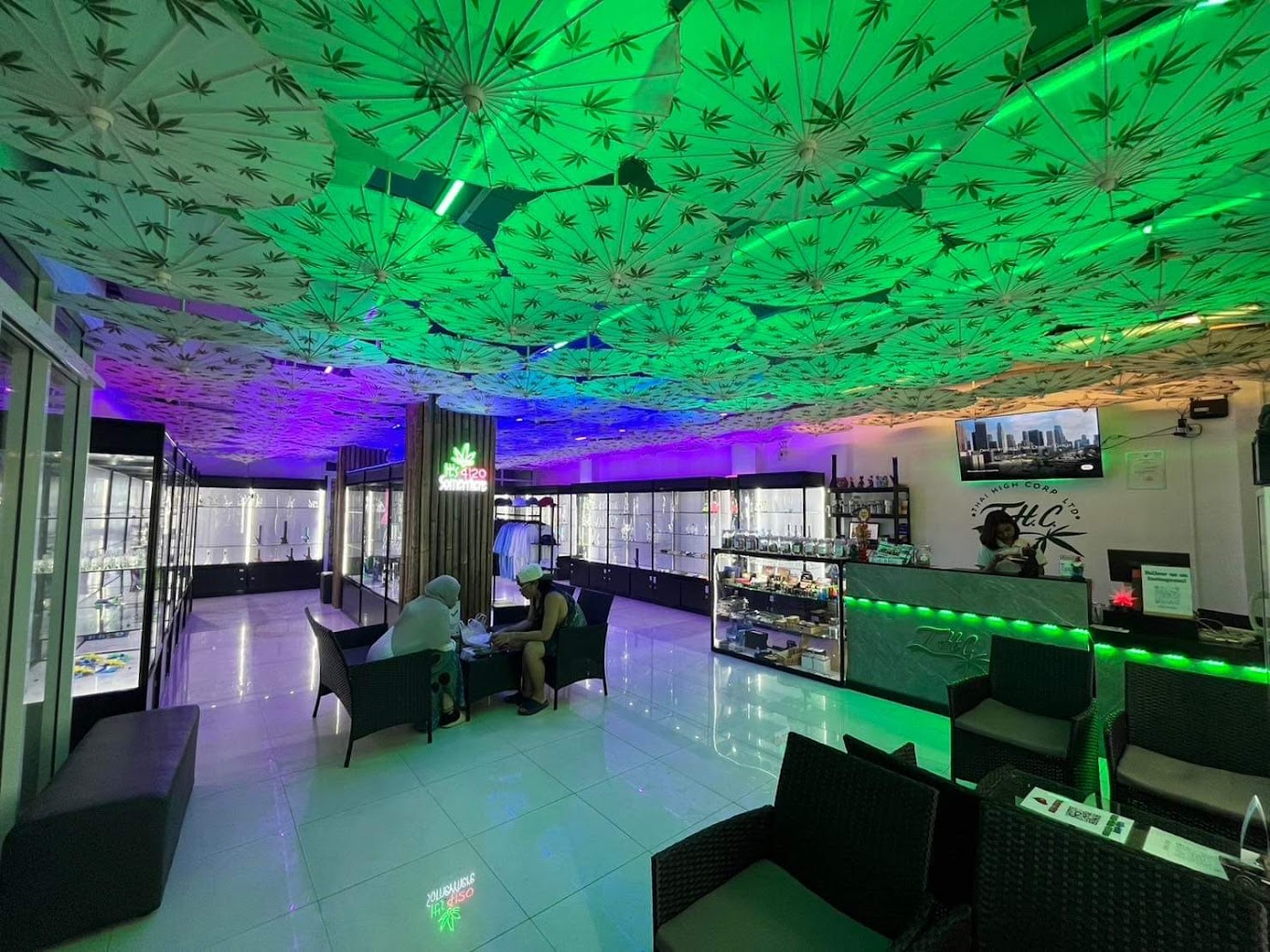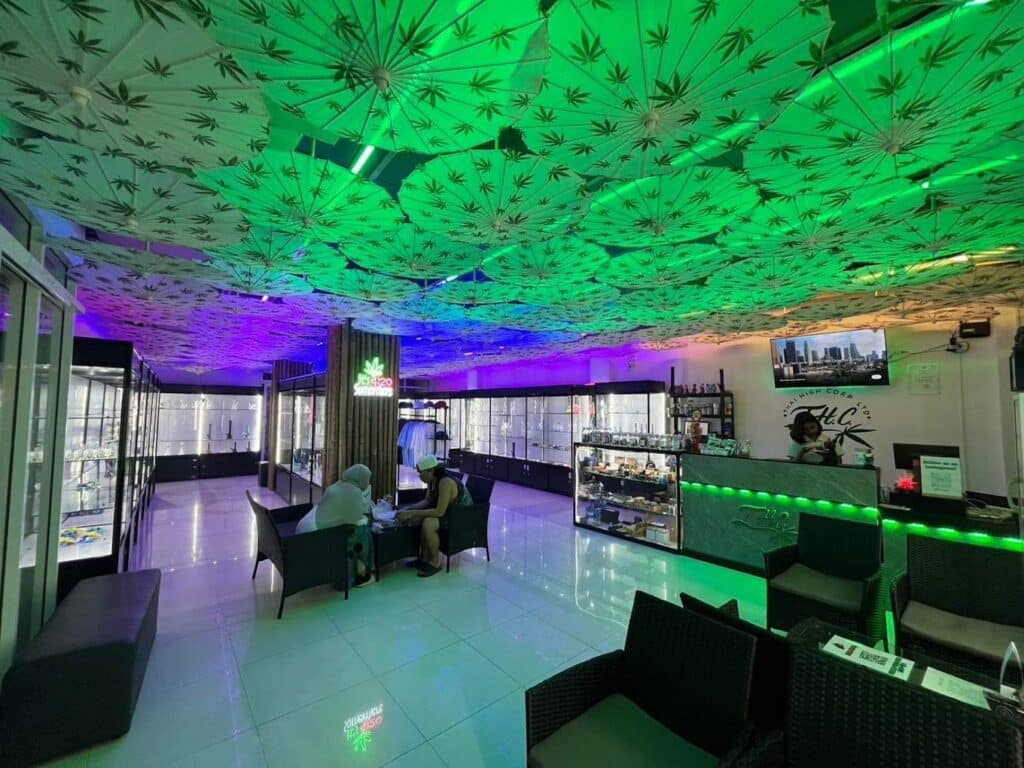 Located in the bustling Patong area, the THC Thai High Club stands out for its diverse range and excellent customer service. Whether you're into edibles or looking for top strains, this place has got you covered.
Address: 1 Soi Dr. Watthana, Pa Tong, Kathu District, Phuket 83150, Thailand
Phone: +66988746980
Payment methods: Cash, QR
Highlights
A broad range of products, located right in the Patong area's heart.
Highest-rated marijuana shop on the island.
Offers edibles and top strains, ensuring a complete cannabis experience.
Spacious smoking area for patrons to unwind.
Drawbacks
Given its prime location, expect to pay a bit more.
The THC Thai High Club is the perfect pitstop in Patong, offering a soothing escape amidst the hustle and bustle of the area.
How to buy weed in Phuket
With Phuket's stunning beaches as a backdrop, finding your go-to cannabis products is straightforward. For those who lean towards online shopping instead of walking into stores, here's your simplified guide to ordering quality weed in Phuket:
Ordering via chat apps
Numerous dispensaries in Phuket take orders via well-known apps like Facebook, Instagram or Line. A step-by-step approach:
Download your chosen app and create your ID.
Search for the dispensary and initiate a chat.
Ask about their offerings and select.
Share your delivery address.
Speak clearly since some may not be well-versed in English. Typically, orders, often delivered by Grab, reach you in 1-2 hours. Paying with cash upon delivery is the norm.
Shopping on online weed stores
For a conventional online shopping feel, there are dedicated online cannabis shops. Our handpicked list of online dispensaries cater to all of Phuket and Thailand. The procedure:
Explore and select your preferred cannabis products.
Add to the cart and head to checkout.
Enter delivery details.
Decide on your payment method: Cash on delivery or credit card works best for visitors. Locals also have e-wallet or QR code options. Purchasing weed online offers clarity and ensures you get exactly what you picked.
How to grade the quality of cannabis
Being an island, the prices of weed in Phuket will be on the higher side. But this high price is not necessarily a guarantee of high quality.
Nevertheless, there are a few things that should help you drill down on getting good cannabis flowers:
High-end stores like Greenhead Clinic cultivate their marijuana in-house at dedicated grow houses instead of buying from a third party. This ensures more control over quality.
Cheap weed – anything priced under 200-300 THB per gram – will likely contain stems and seeds. The quality may be on par with that of brick weed.
When you do find a good store – like the ones listed above – you should keep an eye out for the following quality benchmarks:
Smell: High-quality cannabis should have a strong, pleasant smell. Look for a distinctive and enjoyable aroma.
Appearance: Good buds are vibrant, well-formed, and covered in tiny crystals called trichomes. Avoid dry or overly moist buds.
Freshness: Quality cannabis feels slightly sticky and not too dry. Properly cured buds ensure a smoother experience
You can also check out our cannabis quality guide for a detailed walkthrough.
How to smoke cannabis in Phuket
While diving deep into Phuket's cannabis culture, be mindful of the island's customs and rules. For example, Phuket is dotted with sacred places; do not light up in these areas.
Follow these tips for a smooth experience:
Avoid public spots: Don't light up in openly public zones like the Bangla Walking Street in Patong Beach or Old Town. The rules say you can smoke only in private residences.
Know the rules: Be up-to-date with local cannabis regulations to avoid hiccups.
Prioritise safety: As a prime tourist spot, always be vigilant. Being overly intoxicated in places like Bangla Road could draw unnecessary attention.
Can you smoke weed at the beach?
There are more than 40 beaches on the island, and while it may seem tempting to smoke at any of these places, it is better to be careful.
Officially, public smoking is discouraged, and beaches fall under the umbrella of public areas. Engaging in such activities might attract unnecessary attention from local authorities.
A guiding principle is always to prioritise respect and consideration for others.
If you happen to find a secluded spot, distant from crowds, it should be all right. But if you are around people – especially when families or children are nearby – this could lead to uncomfortable situations.
To be sure, smoke at your hotel or in the lounge at a dispensary if allowed. Otherwise, you can always have some edibles and chill on the beach.
Can you smoke weed in your hotel?
Hotels and resorts are considered public places, and thereby, smoking weed is illegal there.
However, you may smoke it in your private balcony or garden – provided smoking is allowed. The etiquette to follow here is that of cigarettes – if you can smoke cigarettes on your balcony, chances are you can smoke marijuana too.
The same rule also holds good for Airbnbs and guesthouses – if smoking is allowed on the property, cannabis should be fine. That said, some accommodations may explicitly mention smoking cannabis is not allowed. In such cases, follow the rules.
Keep in mind that many Thais do not appreciate the smell of cannabis. If your room/balcony is in a residential area, it may not be a good idea to smoke weed there. Instead, you can take edibles and enjoy your high discreetly or smoke weed at any of the dispensaries in Phuket.
Conclusion
Phuket isn't just about breathtaking beaches; it's a paradise for cannabis aficionados. Be it traditional settings or contemporary dispensaries, Phuket caters to all. From smoking a joint and heading to Kata Beach to enjoying an edible and taking a stroll along the Night Market in Old Town, there is much to experience with marijuana.
Many Phuket dispensaries also provide doorstep delivery, merging quality and the ease of online shopping.
As you travel across the cannabis landscape in Phuket, be sure to smoke responsibly. Don't be a nuisance, do not smoke in public areas, and be respectful of your surroundings.