Best Cannabis Dispensaries in Pattaya: Top Rated Weed Stores & Online Delivery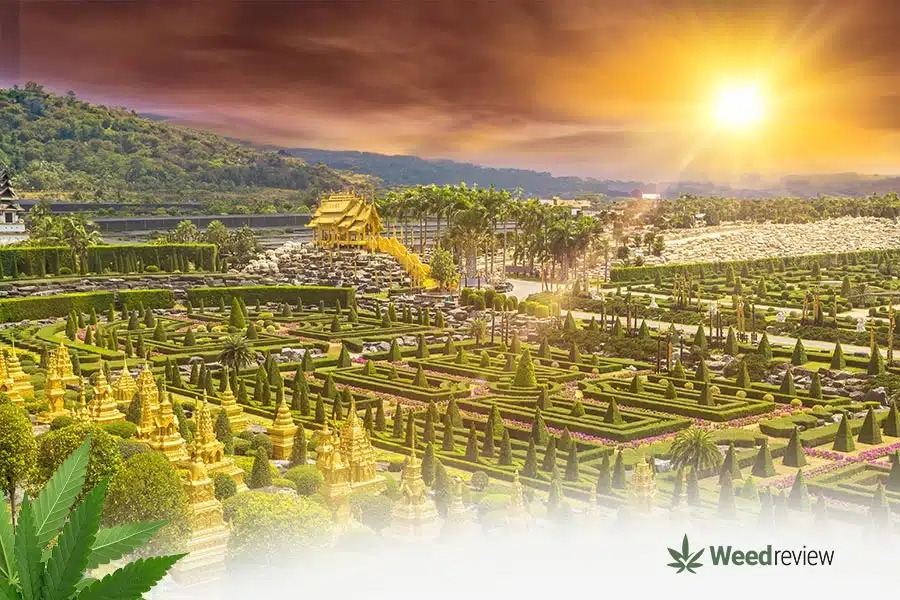 Nestled along the eastern Gulf coast, Pattaya is a city that's as vibrant as it is diverse. Famous for its stunning beaches like Pattaya Beach and Jomtien, electrifying nightlife along Walking Street, and cultural landmarks like the Sanctuary of Truth, Pattaya is now stepping into a new light with its thriving cannabis culture.
Following Thailand's progressive steps towards cannabis legalisation, Pattaya is seamlessly integrating this new wave into its dynamic urban landscape.
In this guide, we will spotlight some of Pattaya's finest marijuana stores, showcasing their unique offerings and why they are worth a visit.
Physical weed shops in Pattaya
As we venture into Pattaya's cannabis landscape, we focus on aspects that set each dispensary apart:
The variety and excellence of cannabis products.
Strategic locations, be it close to the vibrant scenes of South Pattaya or the serene Naklua.
Exceptional customer service, ensuring each visit is as enriching as it is memorable.
The Budtender – Ganja Dispensary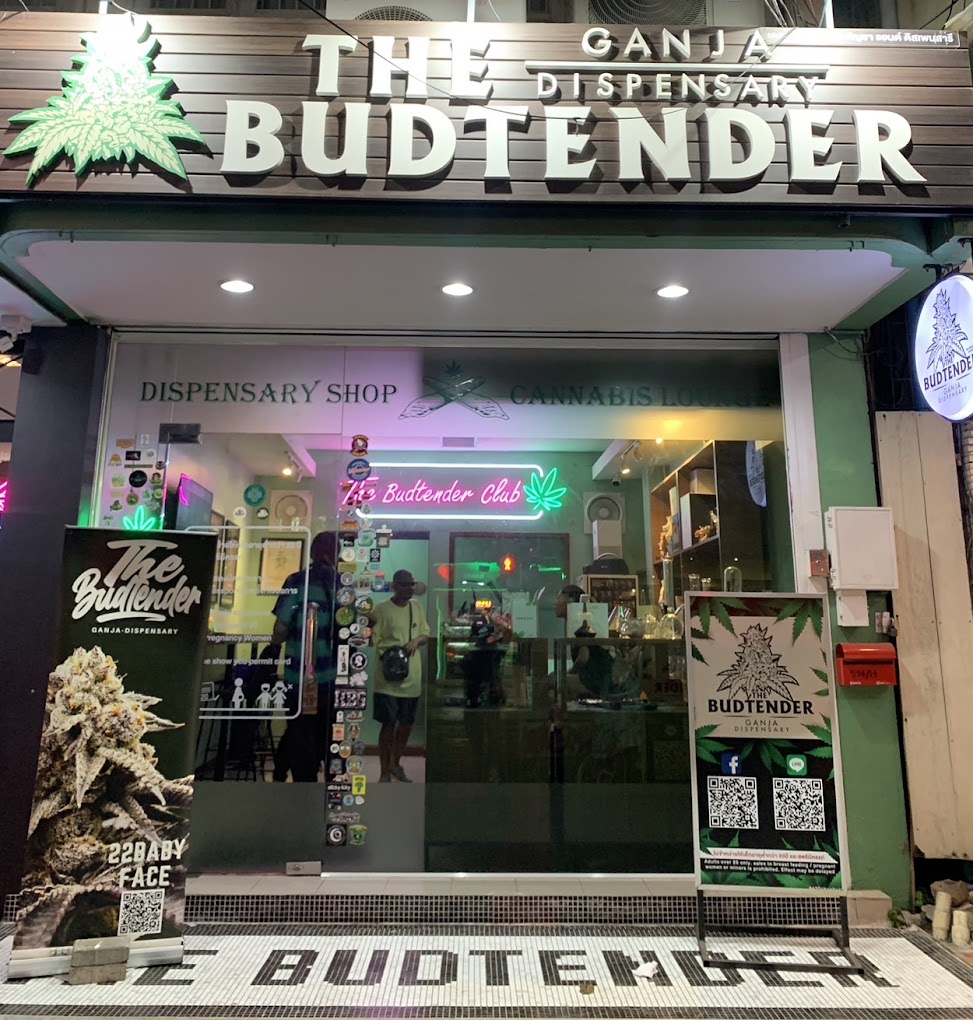 Just a minute's walk from the buzzing Walking Street and in the heart of Tree Town, The Budtender – Ganja Dispensary emerges as a community-centric hub in Pattaya's cannabis scene.
The dispensary prides itself on supporting Thai growers and brands, offering top-shelf and mid-shelf flowers at some of the most reasonable prices in Pattaya.
Highlights
A cosy smoke lounge, perfect for relaxing, meeting fellow enthusiasts, and enjoying a coffee.
A diverse range of cannabis strains cater to both medical and recreational needs.
Offers local delivery through Line for online orders.
Committed to promoting Thai cannabis brands and supporting local growers.
Young and friendly staff.
Drawbacks
While they offer a variety of strains, some people feel the selection could be more extensive.
For those looking for a dispensary with a strong community feel, excellent variety, and commitment to quality, The Budtender – Ganja Dispensary is an excellent choice in Pattaya.
High Time Pattaya Cannabis Shop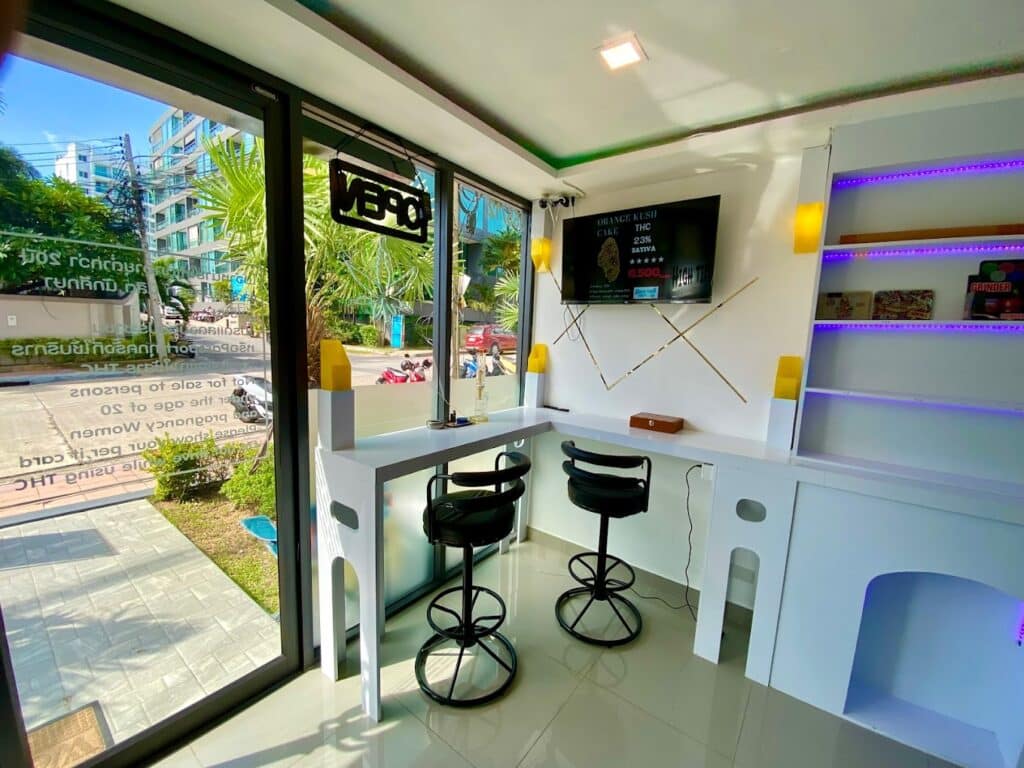 A must-visit weed store in Jomtien, the High Time Pattaya Cannabis Shop is known among locals for its Amsterdam-like ambience and quality. Be it accessories, edibles, premium flowers or just some good old Thai sticks, this dispensary has it all.
Highlights
Top-shelf, AAA flowers on a budget.
Clean, cosy smoking lounge.
Thai sticks are also available at affordable prices.
Also sells homemade cannabis edibles & brownies.
Friendly, kind staff.
Drawbacks
The space can seem smaller when compared to a few other dispensaries.
Placed close to popular tourist attractions like the Big Buddha Temple, Pattaya Water Park, and the Night Market, the High Time dispensary makes for a nice pitstop when starting your day to explore these surroundings or looking to relax after a nice outing.
Vibes Cannabis Store & Weed Boutique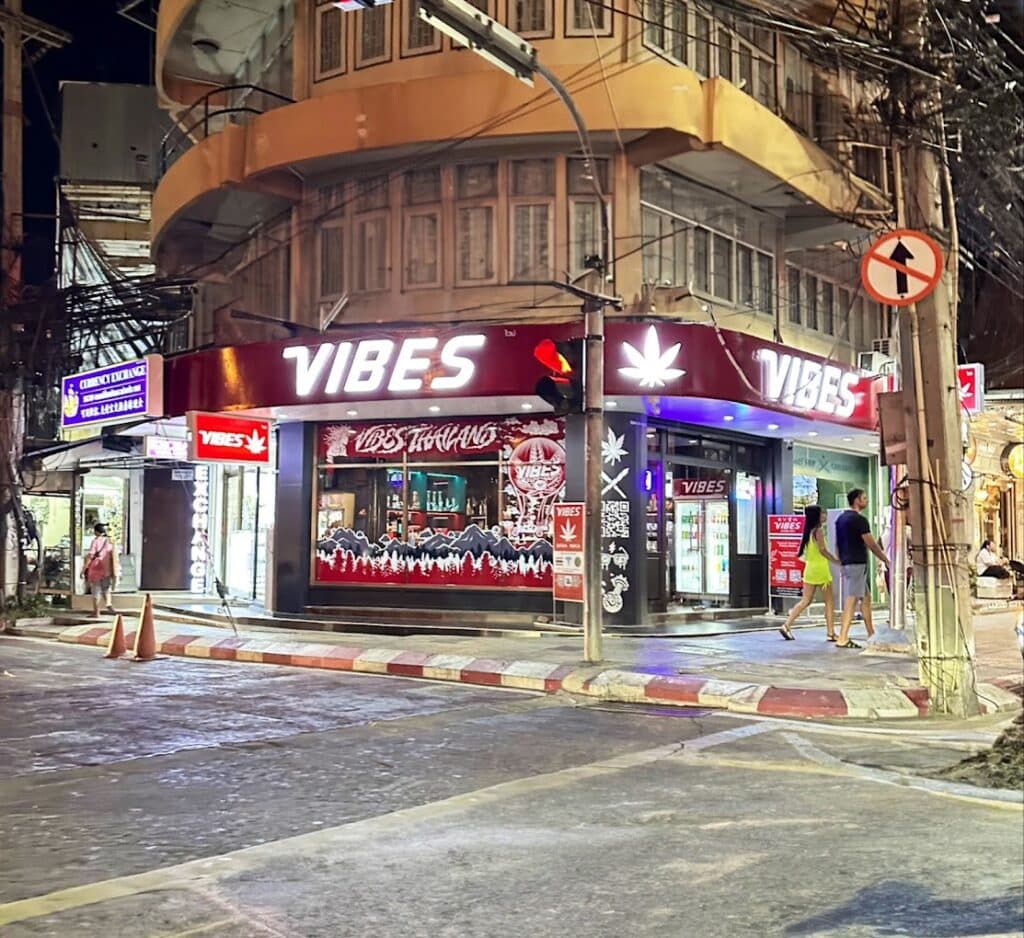 Strategically located at the intersection of South Pattaya Road and Pattaya Sai Song Road, just a short distance from the lively Pattaya Walking Street Gate, Vibes Cannabis Store is a gem for those seeking a premium cannabis experience.
This dispensary is renowned for its luxurious ambience, underscored by rich woodwork and elegant design, making it a haven for connoisseurs of fine weed.
Phone: NA
Price Range: ฿300 to ฿850 per gram
Highlights
The ultra-cooled hall and refined atmosphere provide a comfortable and upscale environment.
The staff is known for their friendliness, helpfulness, and proficiency in English, enhancing the overall customer experience.
The dispensary's location is convenient for visitors wanting to explore the best of Pattaya's nightlife and cannabis culture.
The store boasts a wide variety of high-quality cannabis strains, gummies, and edibles.
You can also buy beverages, beers, and snacks.
Drawbacks
The higher price range might not suit budget-conscious customers.
Vibes Cannabis Store & Weed Boutique stands out as a top-tier destination for those who appreciate the finer things in life. Its combination of high-quality cannabis, luxurious setting, and excellent service makes it a must-visit for those who don't mind spending a few additional bucks.
DANQ Pattaya Cannabis Dispensary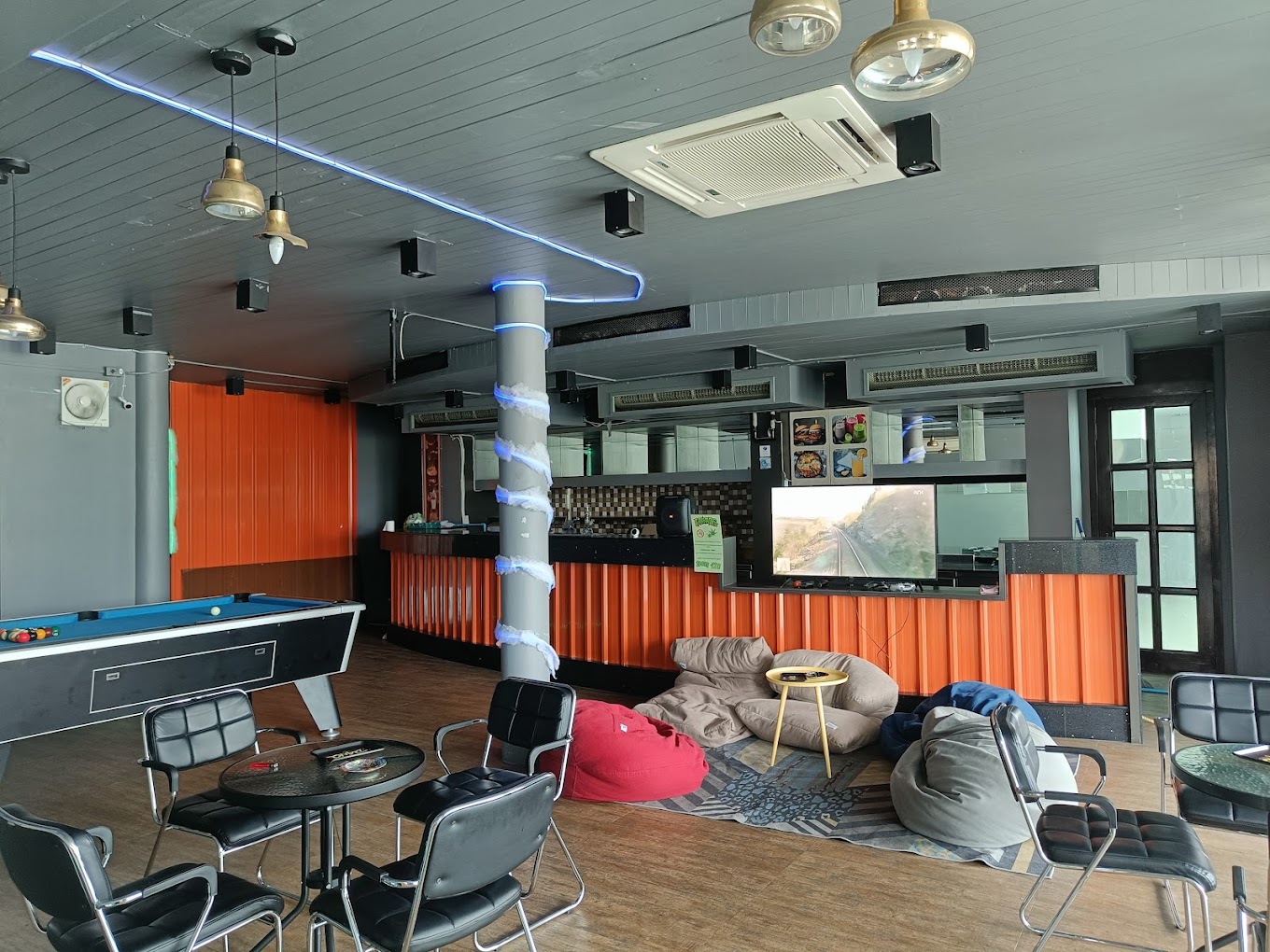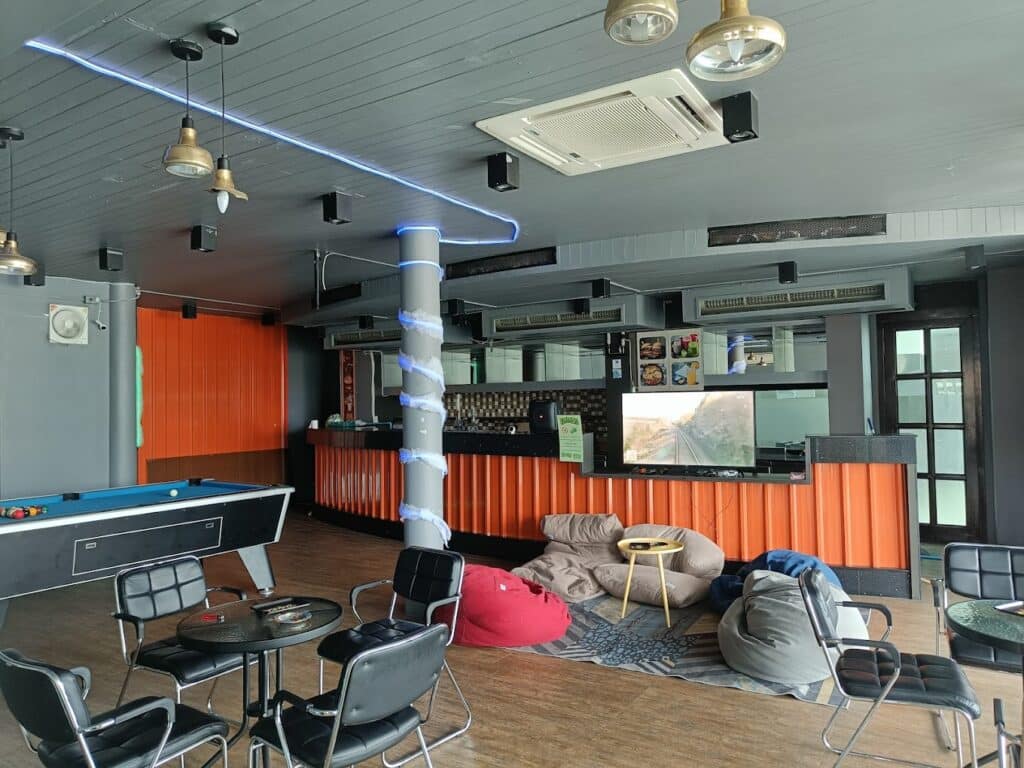 DANQ Cannabis Dispensary is famous for some delicate, dank buds, its excellent ambience and its warm, friendly staff.
A stone's throw from popular Pattaya spots like Terminal 21, Central Marina, and Tiffany's Show, this marijuana store makes for a nice experience when exploring the Northern side of the city.
Phone: +66644242420
Price range: ฿300 to ฿850 per gram
Highlights
Spacious smoking lounge with pool table and gaming console.
Plenty of high-quality, potent cannabis strains to choose from.
Nice-looking accessories and glass bongs are also available.
Located in a prime area.
A good place to relax with some cannabis and spend time.
Drawbacks
The products are costlier compared to other dispensaries.
With over 500 reviews on Google, it is hard not to see why DANQ is so popular among locals and tourists.
Exotics Pattaya – Cannabis Cafe & Social Club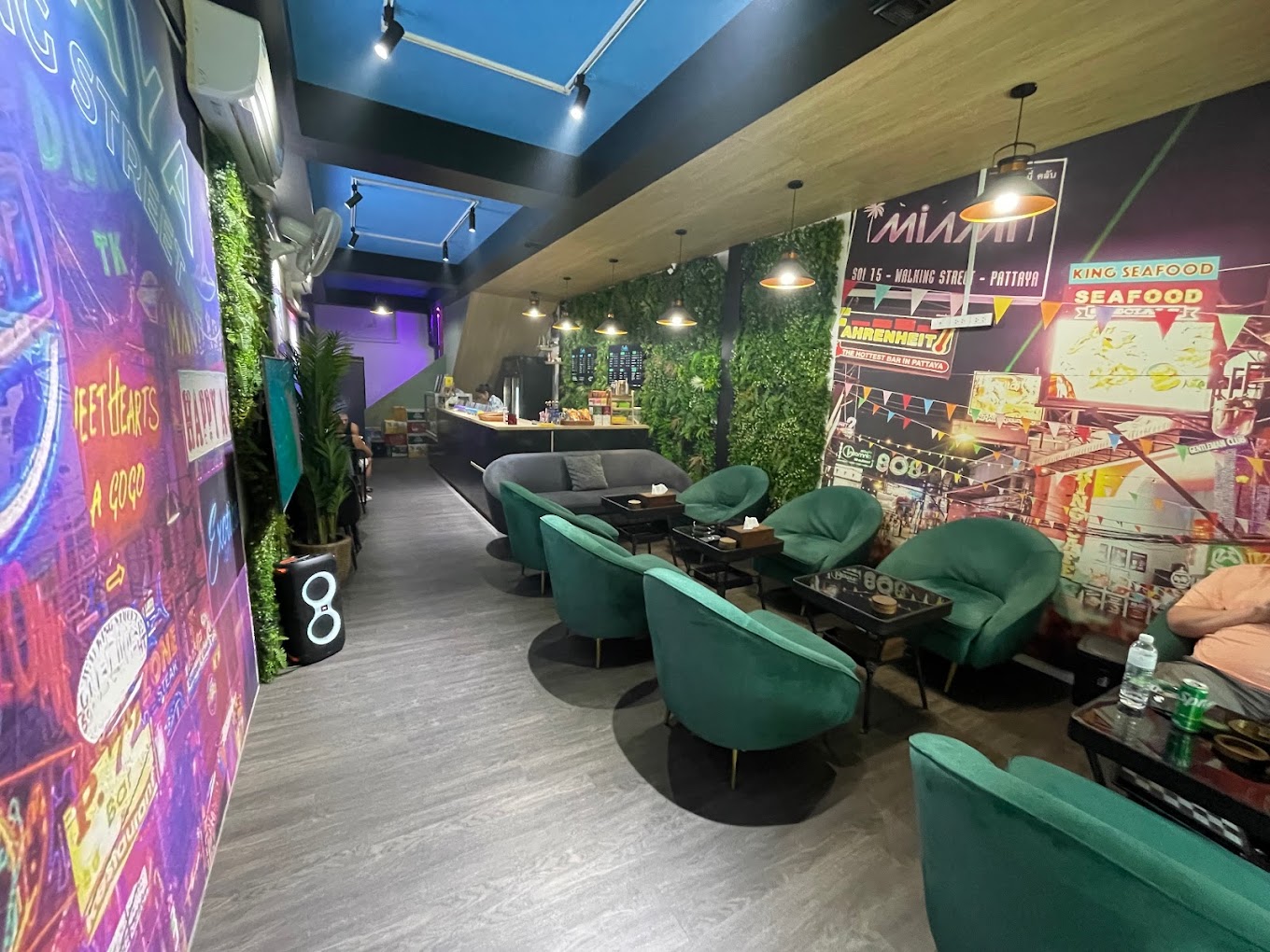 If the Vibes or the Budtender do not meet your requirements, then walk a little bit down the street to find the Exotics Pattaya Cannabis Cafe.
With top-shelf exotic flowers, strong edibles, and a massive lounge to relax, this dispensary is recommended for those who like to party with marijuana – while being responsible, of course.
Phone: +66834819365
Price range: ฿300 to ฿700 per gram
Highlights
Plenty of space to relax and enjoy your products.
Dispensary has a party-like vibe.
Located very close to Pattaya Walking Street.
Sells a good range of exotic, top-shelf AAA flowers.
Also famous for its locally made weed-infused baked goods like cookies, brownies, and cakes.
Beers, beverages, and munchies are also available.
Drawbacks
The pricing can seem on the higher end with this dispensary.
The Exotics Cannabis Cafe & Social Club is certainly worth a visit when you are close to the Walking Street. Their friendly, kind staff and some of the most unique cannabis products on the market in Pattaya will definitely make you come back for more.
Medlab Dispensary – House of Benedict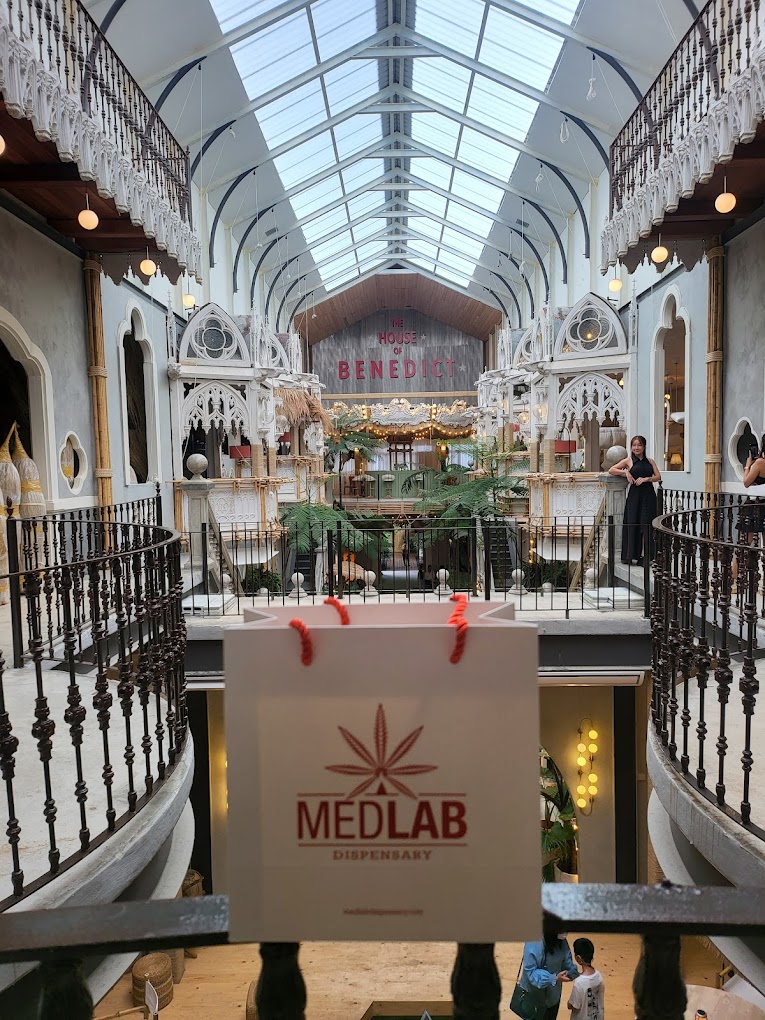 If you visit the Tiger Park Pattaya or even the House of Benedict, be sure to visit the Medlab Dispensary. This dispensary is renowned for its expert staff, offering personalized guidance for both medical patients and recreational users.
Highlights
Offers a variety of top-quality cannabis flowers.
A knowledgeable team is available to assist customers in selecting the right product for their needs.
Offers the convenience of online delivery and in-store pick-up.
Classy, elegant store design.
Drawbacks
Can seem a bit far from the city centre.
Pricing may seem on the higher end.
No smoking lounge or smoking area.
The Medlab Dispensary is celebrated for its commitment to quality and customer education, providing a comprehensive cannabis shopping experience. This is not a place you go to party but to appreciate the more serious nature of marijuana.
HQC – High Quality Cannabis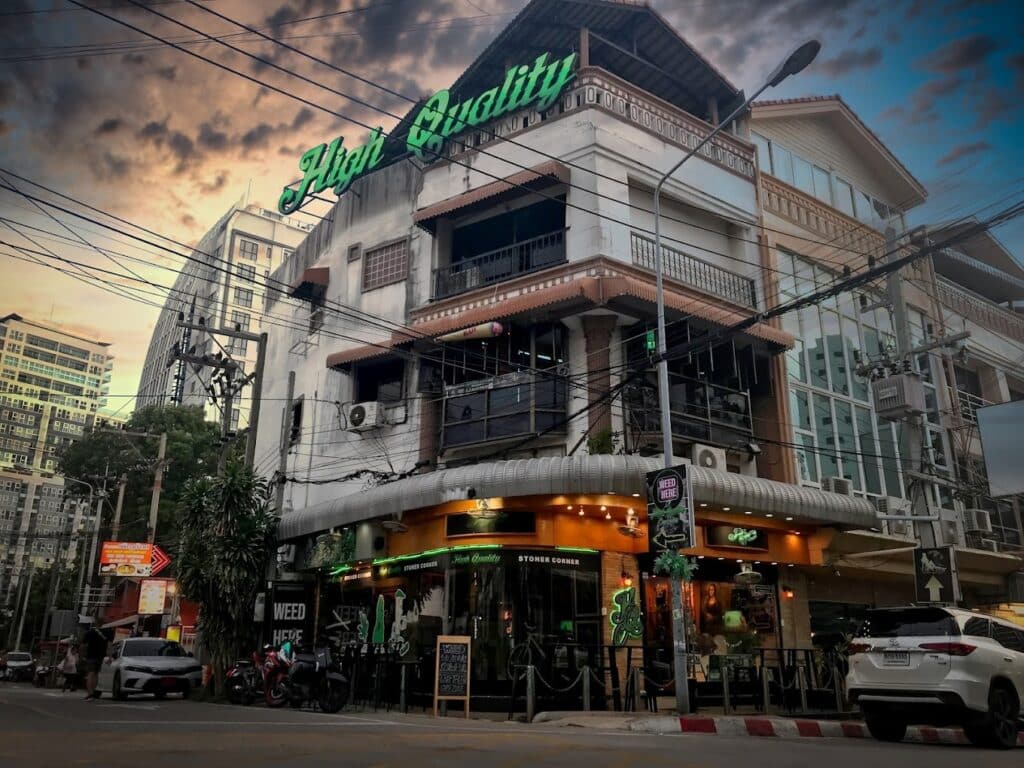 HQC-High Quality dispensary, situated in the serene Pratumnak Hill of Pattaya, is known for its captivating ambiance and diverse selection of high-quality cannabis strains.
The dispensary, with its comfortable setting and vibrant decor, provides an inviting atmosphere for patrons.
Highlights
Features a spacious gaming lounge and smoking area.
Away from the hustle bustle and party side of Pattaya.
Opened until well after midnight.
Funky, unique interiors and decor.
Good selection of cannabis flowers and accessories.
Drawbacks
Visitors may find themselves traveling for a little bit to get here.
HQC stands out for its high-quality cannabis in a peaceful location – complemented further by its eye-catching lounge and interiors.
SUPWEEZ Cannabis Dispensary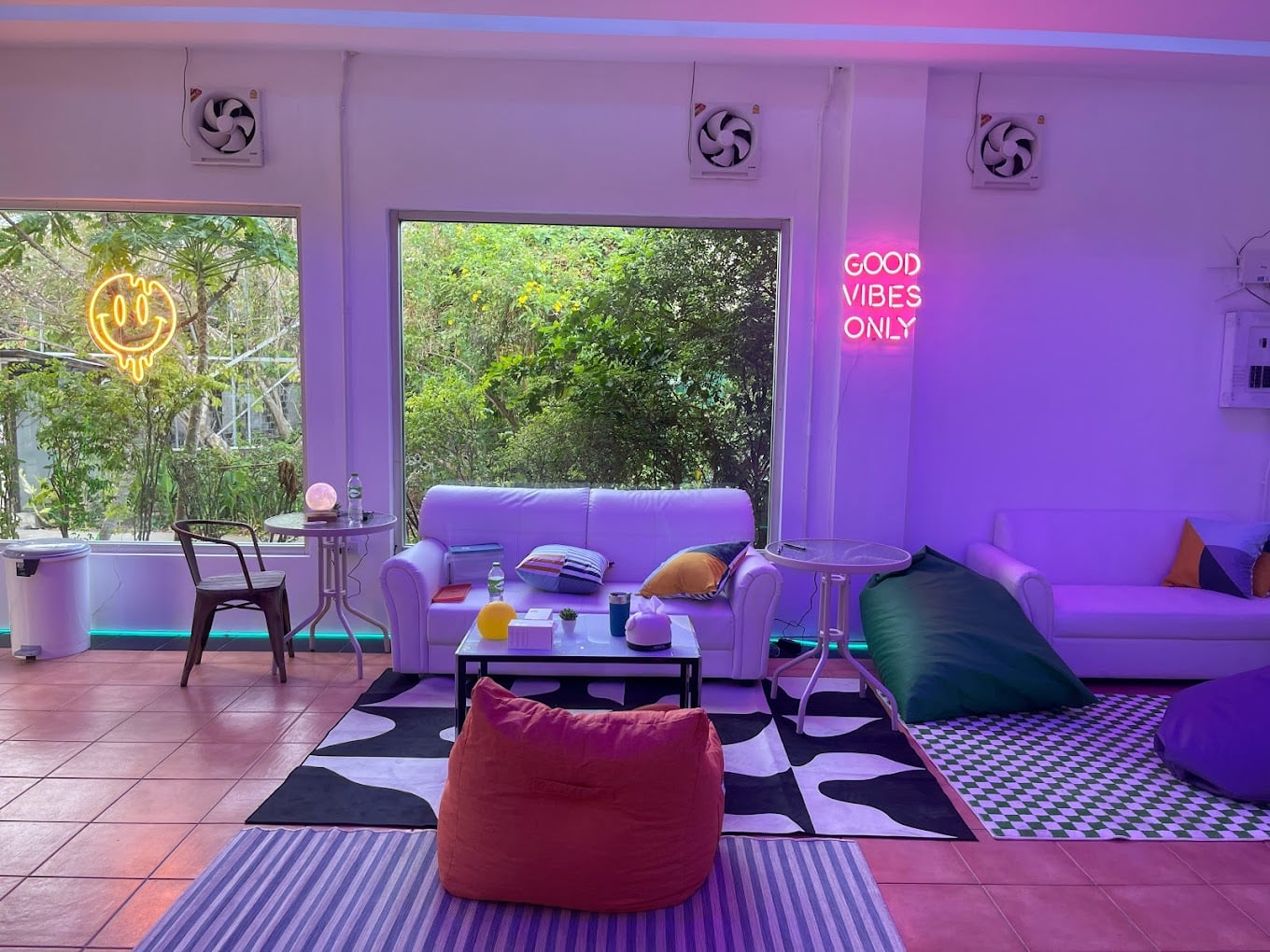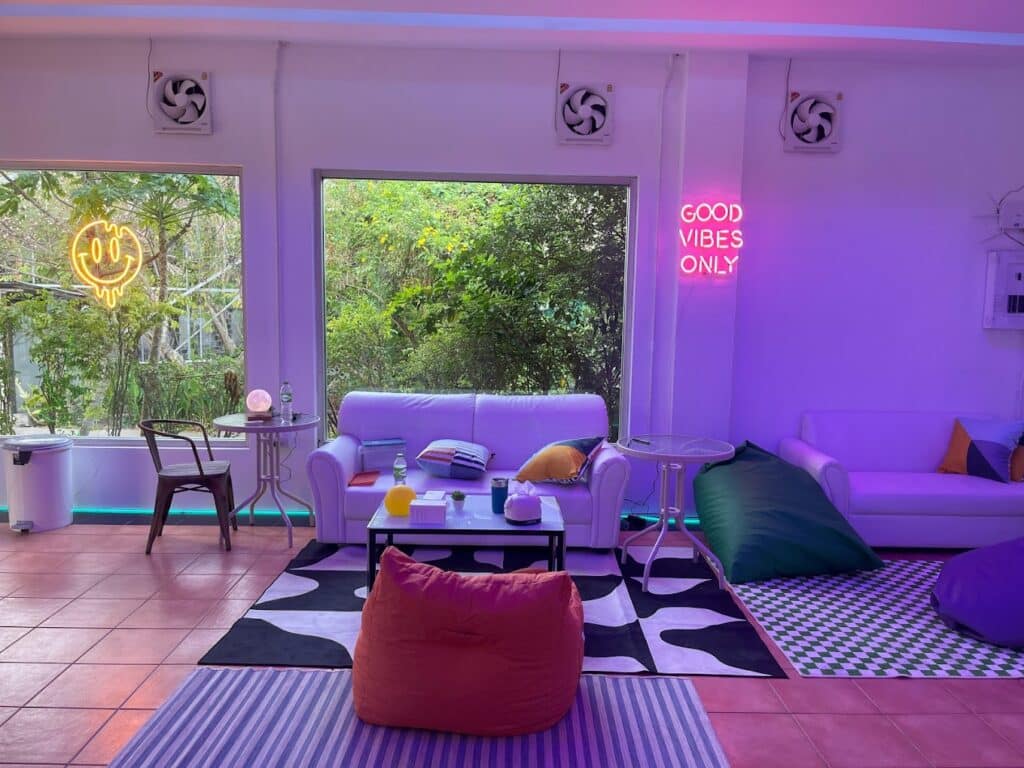 Not too far from Wong Amat Beach and the world-famous Sanctuary of Truth Museum, Supweez Cannabis Dispensary stands as a hidden gem of weed shops in North Pattaya.
With an inviting atmosphere and a good selection of marijuana flowers, you are sure to have a nice time here.
Phone: +66855541966
Price: ฿300 to ฿750 per gram
Highlights
Close to the tourist spots in North Pattaya.
Friendly, professional, and knowledgeable staff.
Cosy, spacious interiors – suitable to relax and chill.
Good variety of strains – unique and classics.
Drawbacks
Prices may seem on the upper end.
SUPWEEZ stands out for its friendly environment, quality products, and commendable staff, offering a pleasant and comprehensive cannabis shopping experience in Pattaya.
High Speed 420 Jomtien Weed Shop & Medical Cannabis Dispensary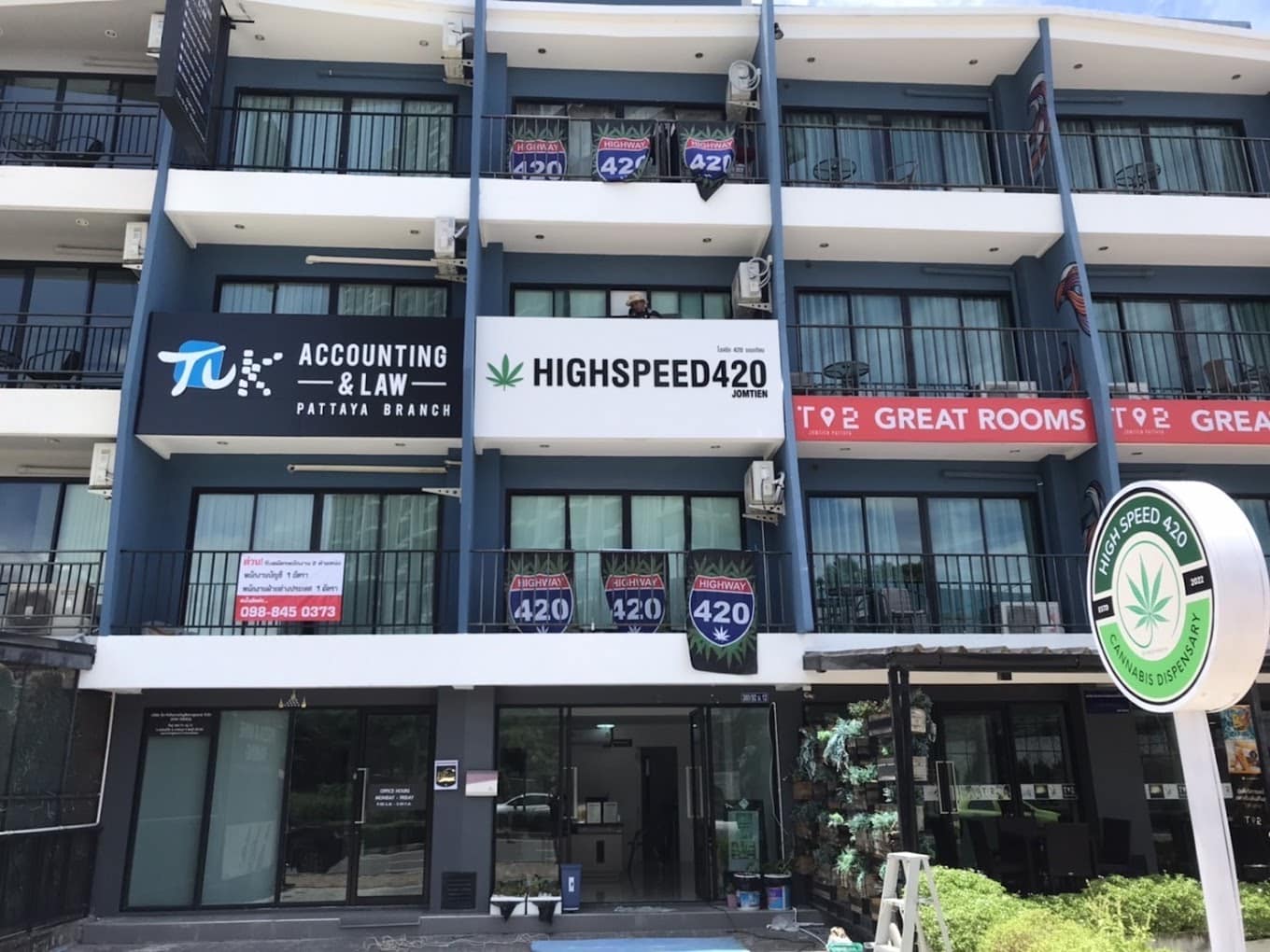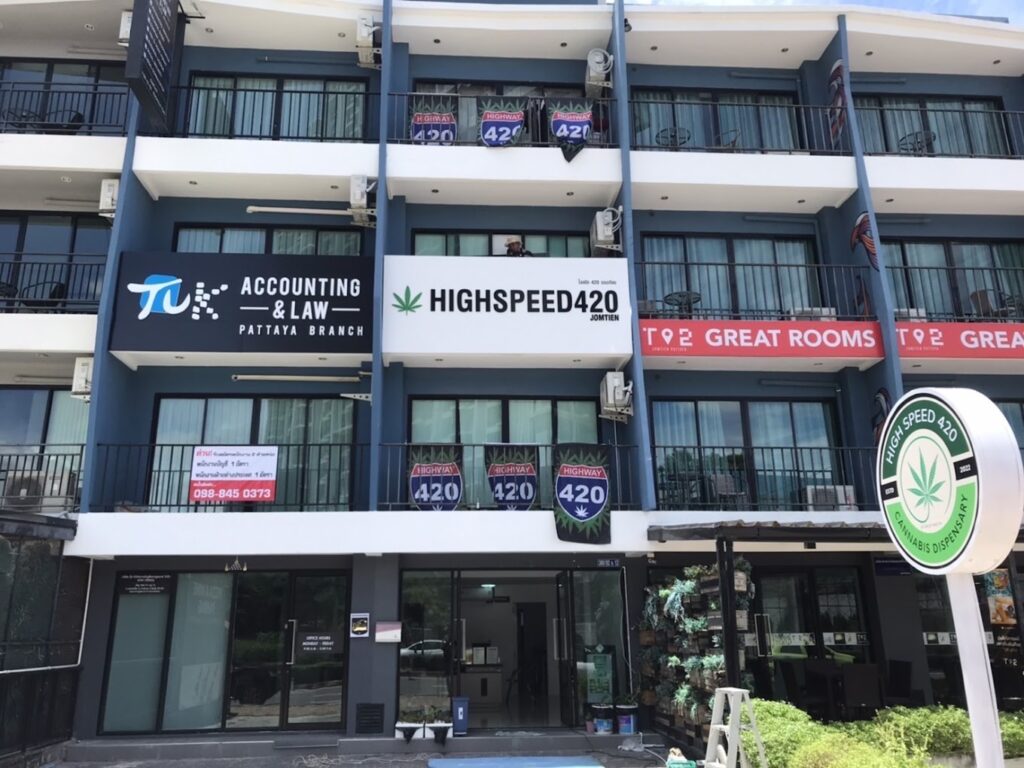 High Speed 420 Jomtien Weed Shop stands out for its excellent selection of cannabis products and friendly staff. Located close to Jomtien Beach, the dispensary makes a nice pit stop before heading to the shores to enjoy a nice sunset.
Phone: +66822573582
Price: ฿100 to ฿700 per gram
Highlights
Good selection of cannabis flowers at affordable prices.
Discounts on higher quantity.
Sells high-quality cannabis seeds.
Very close to Jomtien Beach.
Expert, friendly staff.
Can assist customers with growing-related queries.
Drawbacks
For budget-conscious marijuana fans, a visit to this weed shop by Jomtien Beach can be a rewarding experience.
How to buy weed in Pattaya
Pattaya, known for its vibrant nightlife and scenic beaches, also offers straightforward ways to buy cannabis.
Online ordering via chat apps
Like other Thai cities, Pattaya's dispensaries are just a few clicks away on social apps like Facebook, Instagram, or Line. Here's how you can order:
Download and set up your profile on the chosen app.
Find and connect with your selected dispensary.
Explore their menu and make your choices.
Send your delivery address.
Communicate clearly, particularly if English is your main language. Keep it simple and precise regarding your order and quantity.
Delivery is usually done through services like Grab and takes about 1-2 hours. Payment is typically cash on delivery.
Shopping on online weed stores
For a more conventional shopping experience, check out our online cannabis stores serving Pattaya and the rest of Thailand. To shop:
Visit the website and select your products.
Add items to your cart and head to checkout.
Fill in your delivery details.
Payment options include cash on delivery, card payments for tourists, and digital wallets or QR codes for locals.
How to judge the quality of weed in Pattaya?
Being a popular tourist town, Pattaya has plenty of marijuana dispensaries dotted throughout the region – many with top-shelf flowers and some with low-grade, poor buds. To get the best value for money, watch for these signs:
A robust, pleasant aroma is a sign of freshness and strength.
Bright, well-formed buds with visible trichomes indicate good quality.
A slightly sticky texture, not overly dry, suggests well-cured cannabis.
No seeds and well-trimmed buds with no branches or leaves mean the flower has been handled well.
Smoking cannabis in Pattaya
Pattaya's lively yet relaxed atmosphere is great for cannabis enthusiasts, but it's essential to respect local customs and laws:
Avoid smoking in public places. Use private spaces or designated areas in dispensaries.
Keep up-to-date with Pattaya's cannabis regulations.
Be discreet, especially in family-friendly areas. Opt for privacy if smoking outdoors.
Can you smoke weed on the beaches of Pattaya?
Smoking weed on Pattaya's beaches isn't a good idea because it's against the law to do it in public.
But, if you find a quiet, private spot on the beach where no one is around, you might be able to smoke without drawing attention. Some less touristy, less crowded beaches in Pattaya are Naklua Beach, Bang Saray Beach, and Tien Beach on Ko Lan.
Just remember to be very discreet and careful, as it's still not legal to smoke marijuana in the open, and you could get in trouble. It's always better to find a private place or use edibles, which are less noticeable.
Can you smoke weed in your hotel?
Smoking weed in your hotel in Pattaya can be quite risky and is generally not recommended. Most hotels and resorts have strict policies against smoking of any kind in the rooms or public areas. Even if a hotel has designated smoking areas, these are typically intended for cigarette smoking only.
However, some hotels might offer private balconies or outdoor spaces where smoking is permissible. In such cases, checking with the hotel management and sticking to their specific rules is essential. Remember, discretion is key, as the smell of cannabis can be strong and noticeable.
You may want to select the 'Balcony' option on sites like Booking.com and Agoda to up your chances of finding a smoking room. According to many travellers, hotels like the Green Spot in Central Pattaya and Yensabai Condo Rooms are cannabis-friendly.
For a more worry-free experience, consider alternatives like edibles or oils, which are discreet and don't involve smoking.
Conclusion
Pattaya, a city vibrant with life, is also emerging as a hotspot for cannabis fans.
Whether you seek professional advice at dispensaries like Vibes or want to relax at a place like SUPWEEZ, Pattaya caters to all needs. And for those who prefer the comfort of their accommodation, online ordering makes access to cannabis easy and convenient.
Remember, the most enjoyable cannabis experiences in Pattaya come from respecting the local culture and the city's relaxed atmosphere.