Best Cannabis Dispensaries in Koh Samui: Top Rated Weed Stores & Online Delivery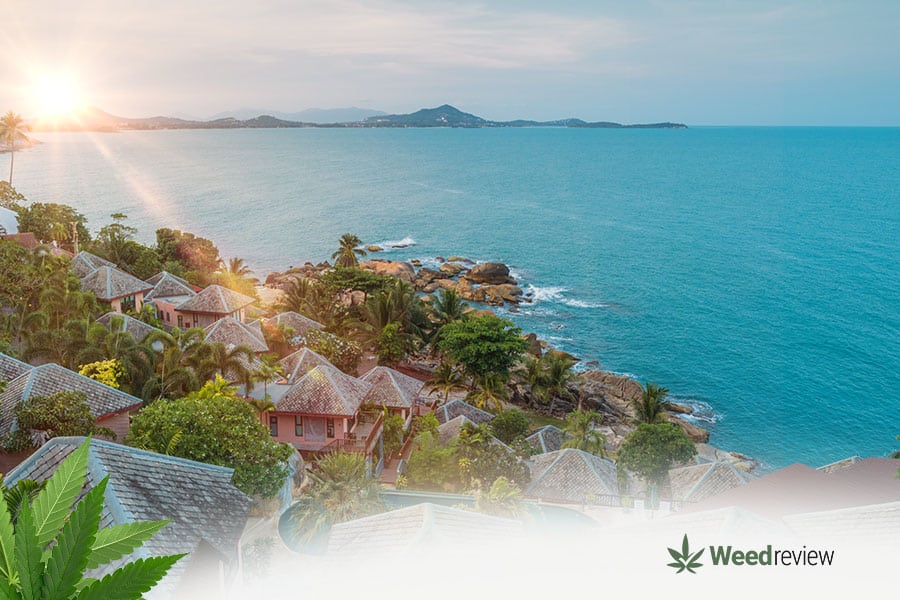 Located amid the sky-blue waters of the Gulf of Thailand, Koh Samui has long been a sanctuary for beach lovers and wanderlust souls. From the bustling streets of Chaweng to the tranquil shores of Lamai, the island is now echoing with a new rhythm – the call of cannabis enthusiasts.
Embracing Thailand's move toward marijuana legalisation, Koh Samui is seamlessly merging its vibrant tourist vibe with a flourishing cannabis industry.
Dispensaries, many of which also offer swift online delivery, are popping up across key locales. Our selected venues, rooted in areas like Bophut, stand out for their genuine products and unparalleled customer journey.
In this article, we will list some of the best marijuana dispensaries in Koh Samui. We will also tell you how to get quality cannabis products delivered to the doorsteps of your villa if that is the kind of experience you seek.
Physical weed shops in Koh Samui
The Samui weed stores mentioned below focus on three attributes:
the authenticity of the cannabis products
Location on the island
The overall customer experience
Whether you like edibles, buds, or are in a mood for a royal experience, these dispensaries have it all.
The Herbalist Samui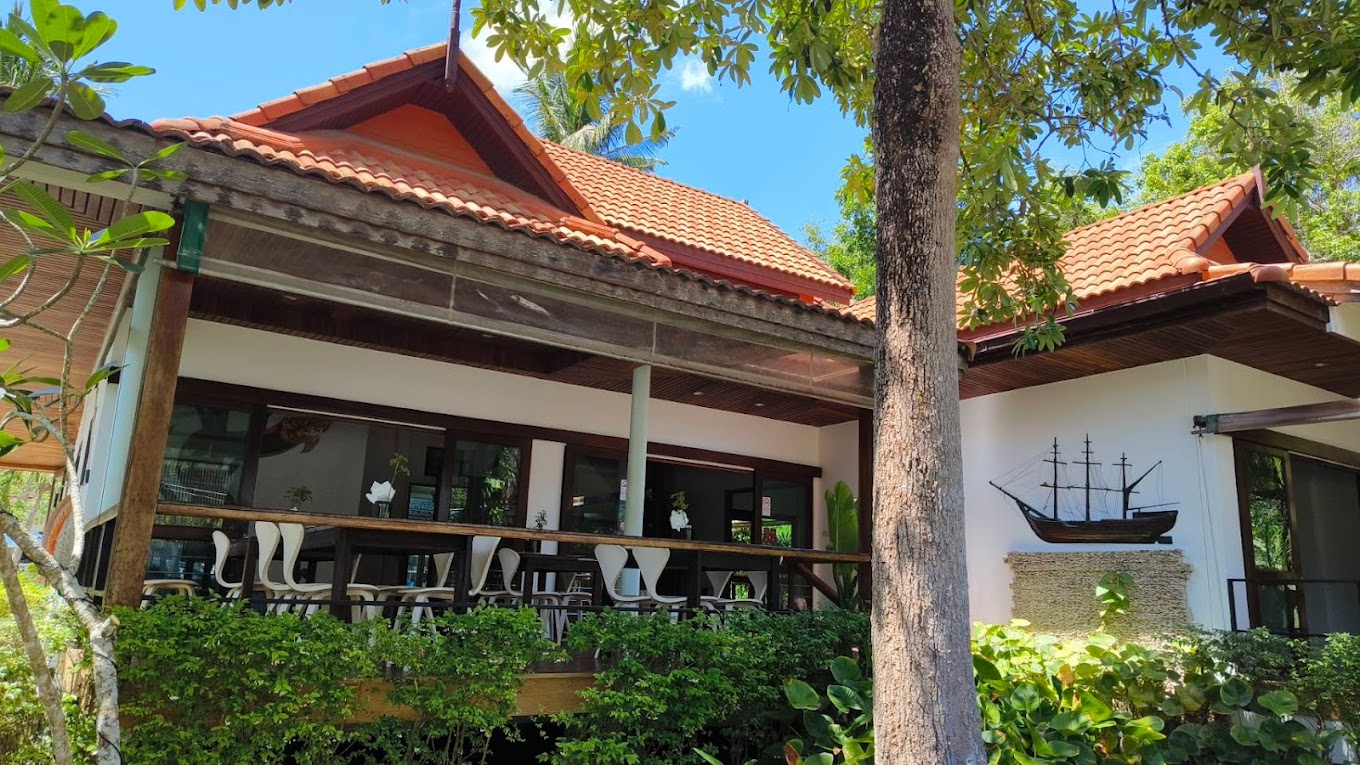 Indulge in a holistic and luxurious cannabis experience at The Herbalist Samui, a boutique-style dispensary nested within the famous The Beach Samui beachfront hotel.
Offering a combination of wellness treatments and premium medical marijuana products, you are in store for a refreshing seaview experience on the south side of the island.
Phone: +6677234567
Payment methods: Cash, Card, QR
Highlights
In-house pharmacists and herbalists ensure you get expert advice.
Experience holistic treatments like reiki and massage combined with cannabis.
Features organic AAA buds, luxurious topicals, oils, and edibles for those seeking a more refined marijuana experience.
The beachfront smoking area is highly immersive, promising breathtaking views.
Located close to the south-side temples of Wat Phra Chedi Laem and Wat Khao Chedi.
Drawbacks
A luxurious experience comes at a higher price range compared to other weed shops in Koh Samui.
The Herbalist Samui adds a touch of elegance to your weed journey. Being right by the beach and combined with their world-class products, this is a dispensary you must visit if you are on the island.
Samui Cannabis Club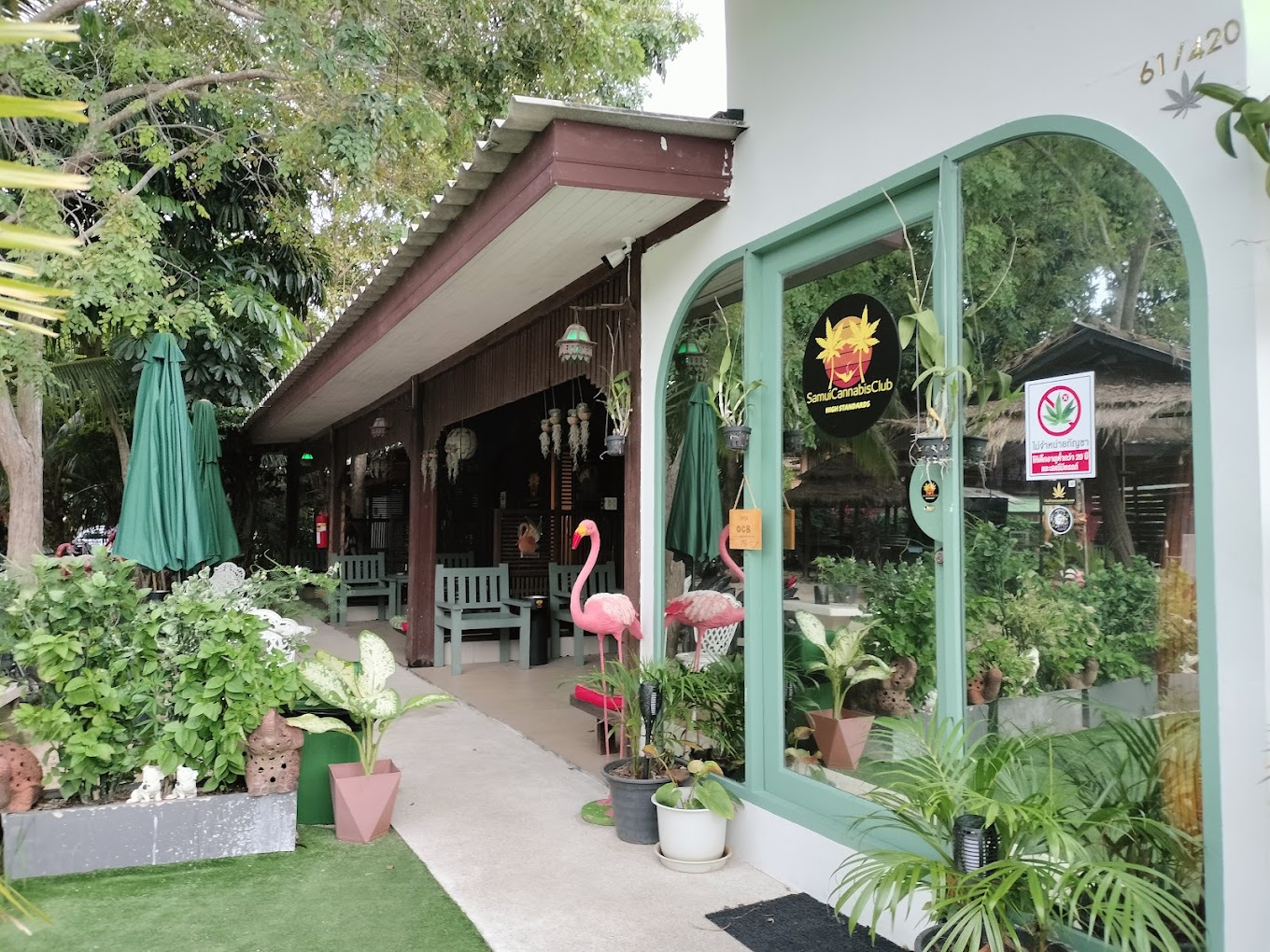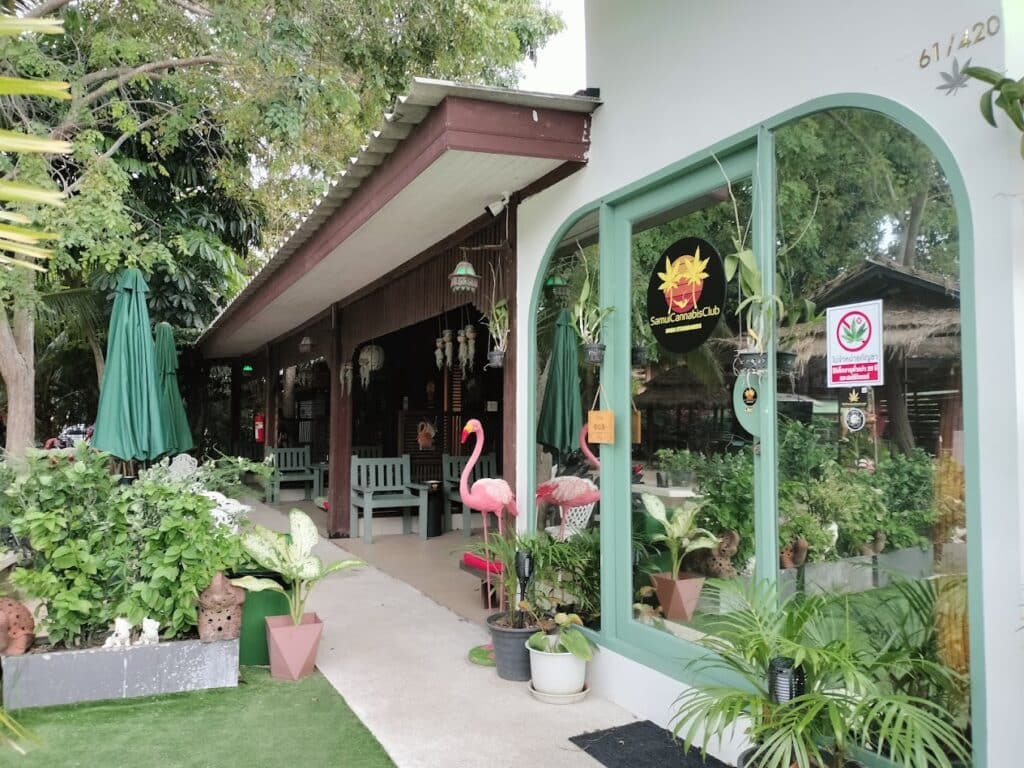 Unwind amidst the tropical charm of Samui Cannabis Club. Known for its excellent quality weed and knowledgeable staff, it's the spot to relax and enjoy cannabis in a serene setting.
Highlights
Offers a broad range of top-shelf buds and products at good prices.
Friendly staff ensures a pleasant shopping experience.
Tropical setting with both indoor and outdoor smoking areas.
Proximity to restaurants for a complete munchies experience.
A must-visit dispensary if you are planning to visit the Lamai Beach.
Drawbacks
Some might find their pricing on the higher side.
Samui Cannabis Club welcomes all with its warm tropical vibes and a wide range of products. Whether you're a seasoned cannabis enthusiast or a curious newbie, you'll find something to relish here.
Cannabis Kingdom
Explore the Cannabis Kingdom, where top-shelf flowers meet a shopping experience filled with merchandise and cannabis goodies. Located conveniently near essentials like 7-11, it's a cannabis shop worth visiting.
Phone: +66818958924
Payment methods: Cash, QR
Highlights
Plenty of merchandise and marijuana products for the avid fan.
Friendly staff ensures you get what you need.
One of the best dispensaries in Bophut.
Stocks top-shelf, AAA-quality flowers.
Chill & cosy smoking lounge.
Drawbacks
Their premium strains can be expensive, reaching up to 900 THB per gram.
The Cannabis Kingdom offers a regal experience. With a prime location and a vast range of merchandise, you will not be disappointed here.
Buddha's Kush Street Samui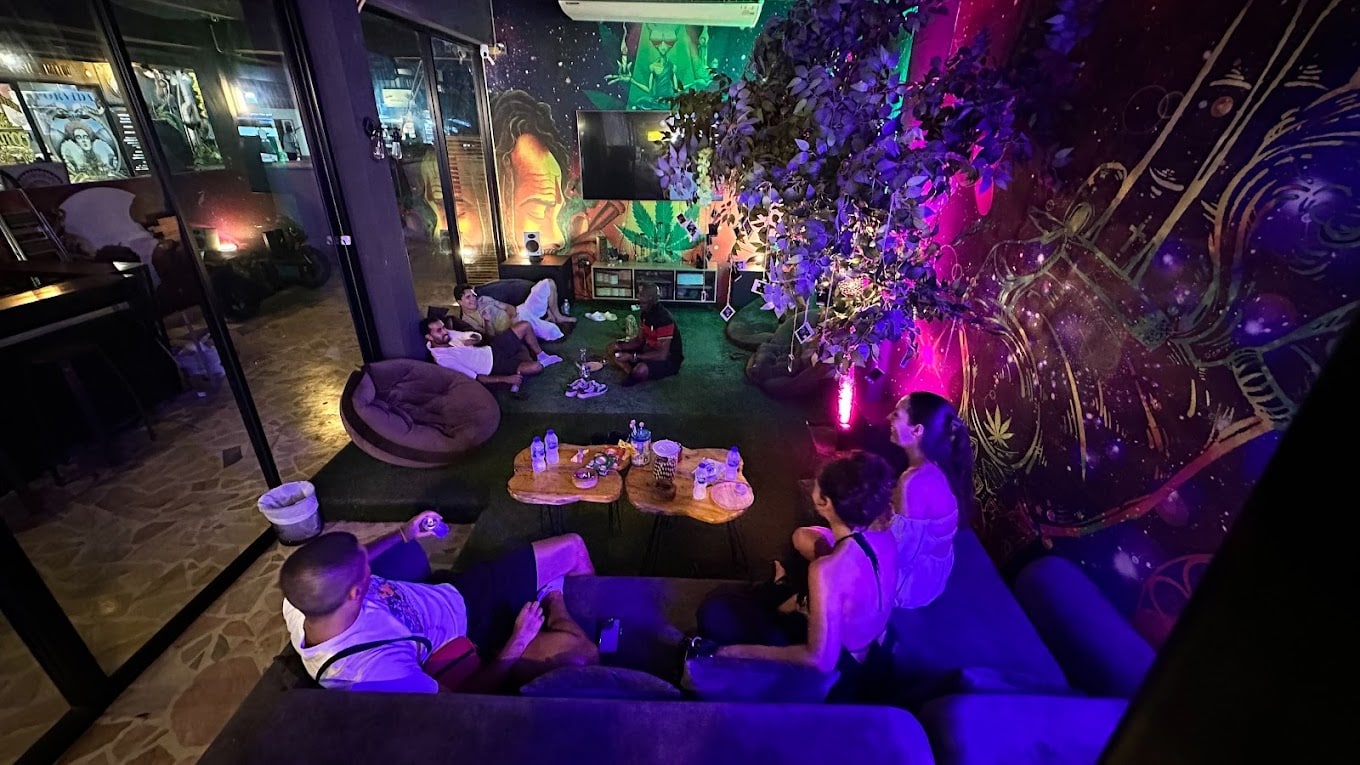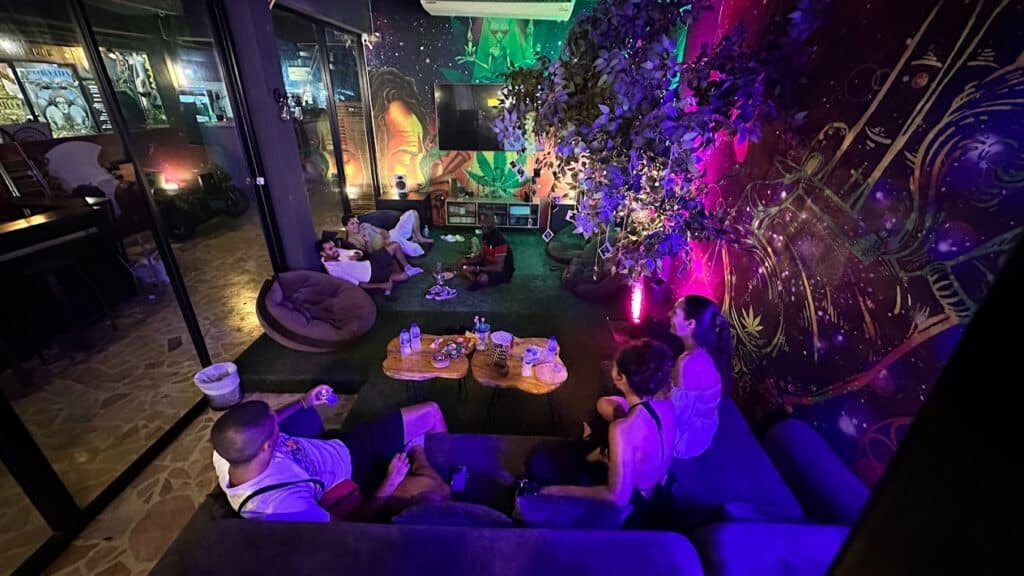 Buddha's Kush Street offers an Amsterdam-like party experience right on the vibrant Chaweng Beach Road. Dive into a lively atmosphere while enjoying quality marijuana.
Phone: +66829522007
Payment methods: Cash, QR
Highlights
Dynamic party-like atmosphere for those looking for fun.
20+ top-shelf strains to cater to various tastes.
Also sells edibles, oils, topicals, and accessories.
Open till 2:00 am.
A spacious, Amsterdam-inspired smoking lounge.
Drawbacks
The pricing is slightly higher, given that it is in the party area of Koh Samui.
Buddha's Kush Street promises an electrifying experience; it is a good place to enjoy the vibrant party vibes of Koh Samui.
GreenShop Dispensary
For those with a sweet tooth, GreenShop Dispensary is a haven of cannabis-infused edibles. From gummies to ice creams, there's something to satiate every craving.
Phone: +66985312924
Payment methods: Cash, QR, Cards
Highlights
The definitive shop for a wide range of edibles, like icecream and popcorn.
Accepts a variety of payment methods, including cards.
A comfortable smoking area.
Decently priced cannabis buds, starting at 400 THB per gram.
Prime location; close to Chaweng Beach.
Drawbacks
Doesn't offer cannabis oils.
At GreenShop Dispensary, relish in the delectable world of cannabis edibles. Given its proximity to the nearby beach, you can have some edibles and walk there – just in time for them to kick in and enjoy the relaxing waves.
Grow High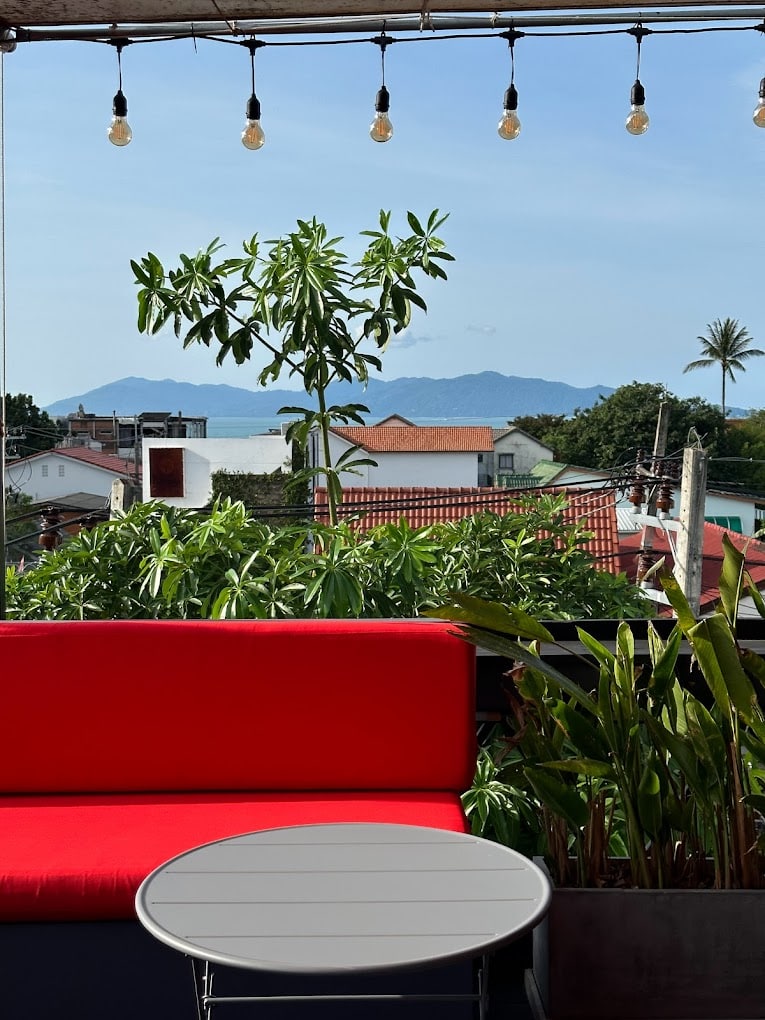 Tucked away from Koh Samui's bustling crowds, Grow High provides an all-inclusive experience combining the best of cannabis, food, and entertainment. Enjoy the stunning views from their rooftop lounge and let the island vibes take over.
Phone: +66954201436
Payment methods: Cash, QR, Cards
Highlights
Relaxing smoking lounge with an added bonus of a rooftop view.
Away from the crowded parts of Koh Samui.
Offers a diverse experience with food, cocktails, and cannabis.
Plenty of strains to choose from.
For game lovers, consoles are available for leisurely enjoyment.
Drawbacks
Grow High presents an all-rounded Samui experience, from tropical cocktails to top-notch cannabis. It is just 10 minutes away from the famous Big Buddha Temple (Wat Phra Yai), so if you want a nice place to relax after soaking in some spirituality, Grow High offers a reprieve.
How High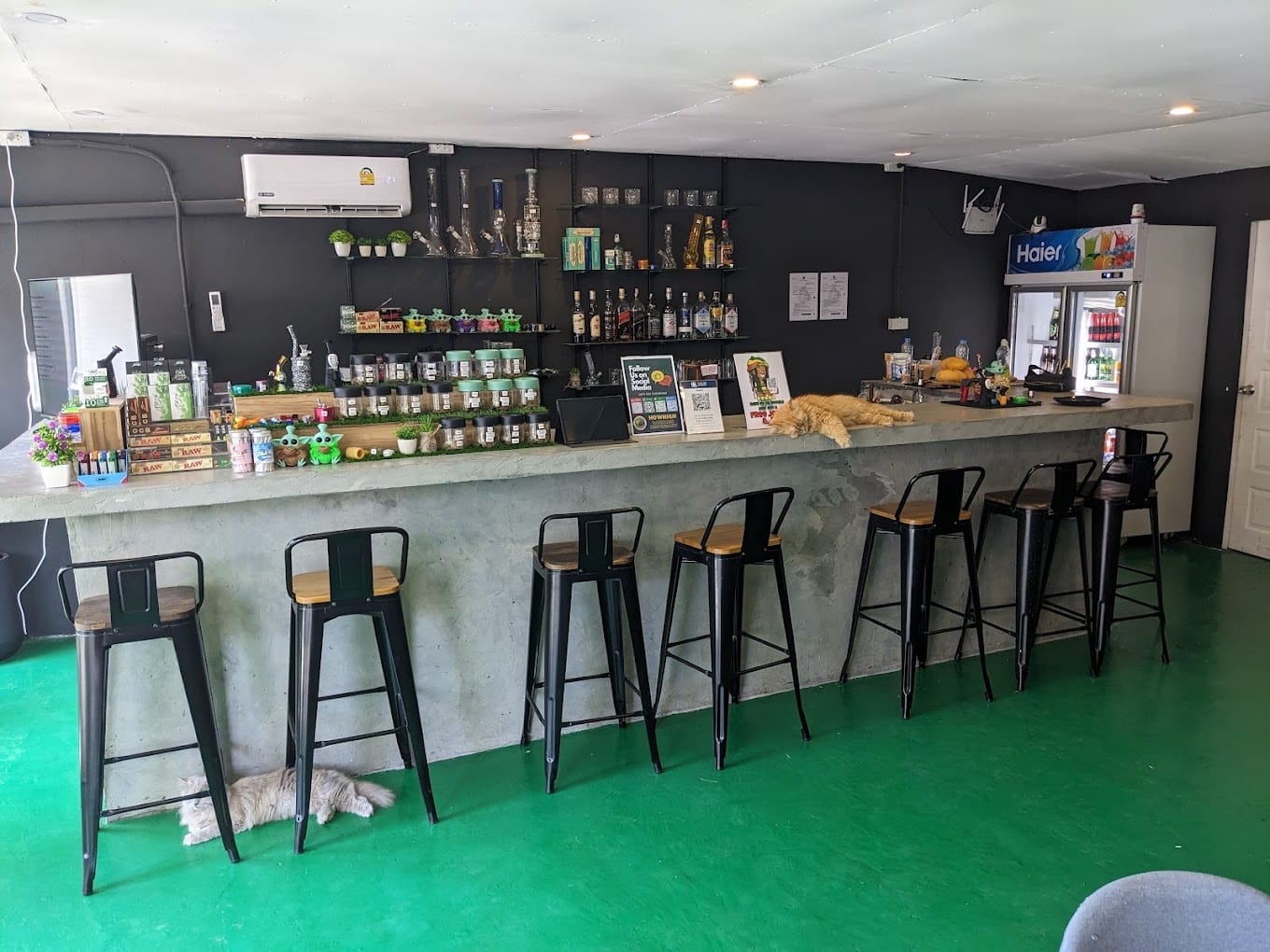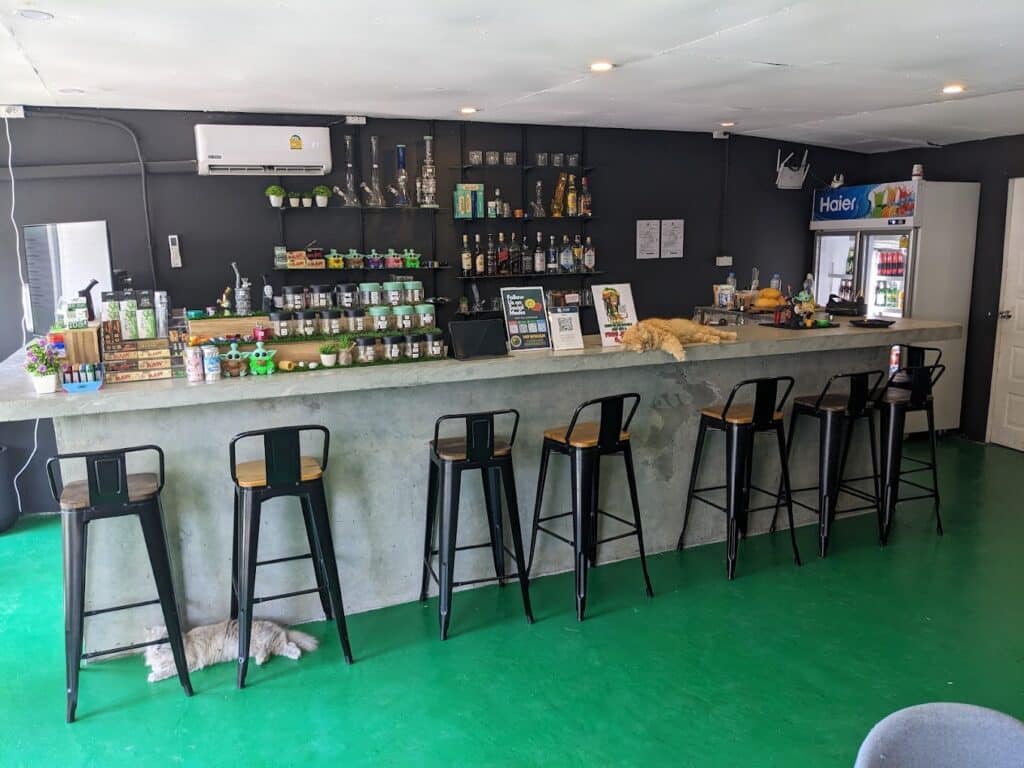 Step into the whimsical world of How High, a fun-filled store that guarantees a lively atmosphere. From hanging out with cats to sipping on weed-infused coffee, it's the quirky escape you didn't know you needed.
Phone: +66828490620
Payment methods: Cash, QR
Highlights
The store is teeming with playful cats, offering a unique vibe.
A rich selection of products, complete with weed coffee and beer cocktails.
Friendly and professional staff to guide your purchases.
Decent selection of strains and accessories.
Drawbacks
Limited range in some product categories like edibles, oils, and topicals.
At How High, experience a blend of Samui's laid-back charm with a twist of funkiness. It's the perfect place to chill, sip on some unique beverages, and bask in the island's quirkier side.
Chi Samui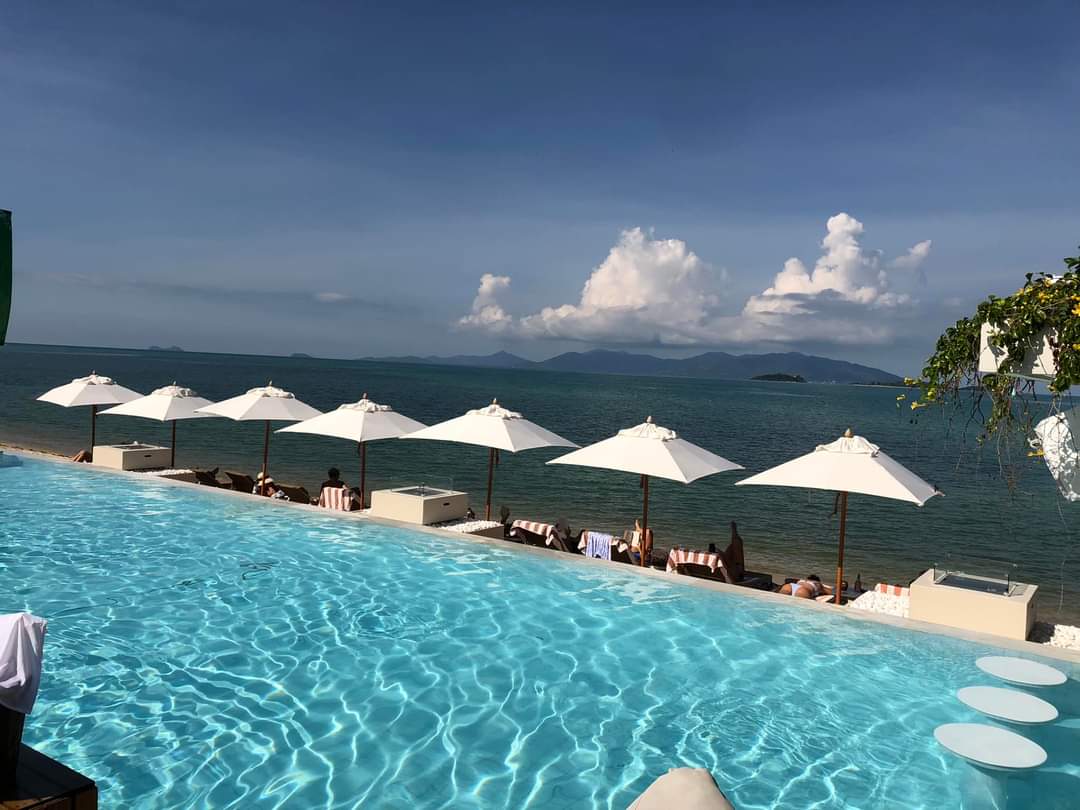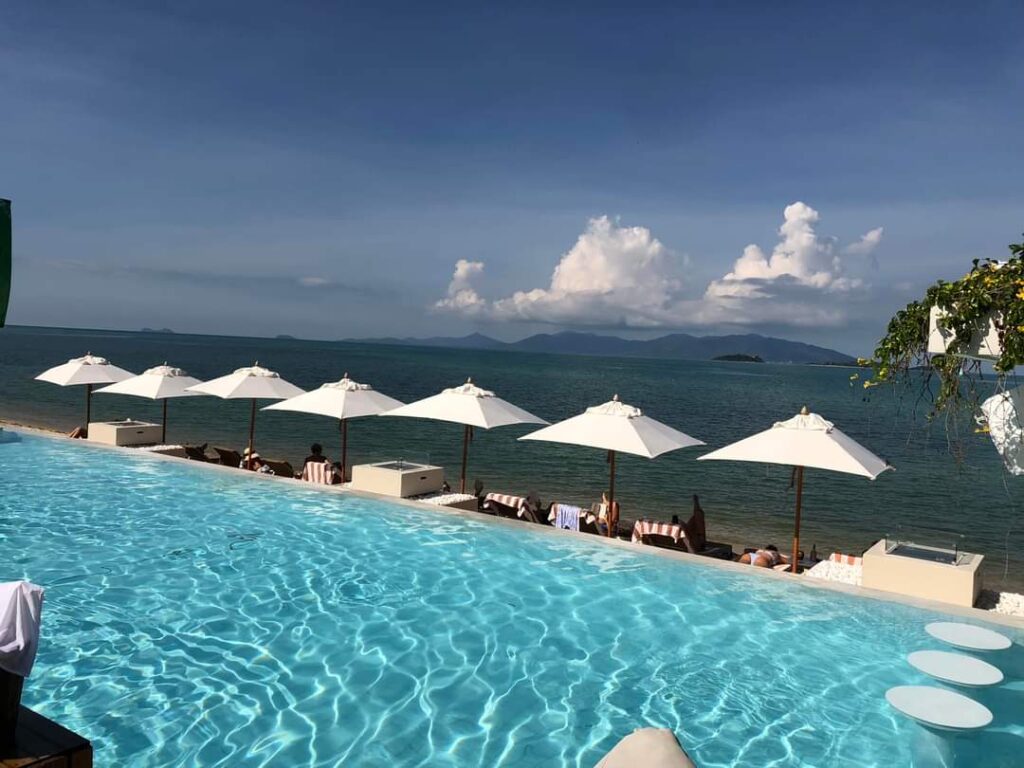 Experience luxury cannabis dining by the waves at Chi Samui. This high-end restaurant and cannabis beach club redefine the standards for extravagance on Koh Samui's pristine shores.
Phone: +66922717439
Payment methods: Cash, QR, Cards
Highlights
Offers a unique cannabis experience with a fine dining CBD-infused menu, including pasta, pizza, and crab.
A decent selection of premium, organic flowers.
Sells artisanal hand-rolled joints with added filters, which are then sealed with mineral water.
Overlooking the Bangrak beach allows for a refreshing swim as you relish the experience.
Boasts an infinity pool.
Drawbacks
Given its luxurious offerings, it can be pricey.
Chi Samui is where luxury meets the laid-back essence of the island. Dive deep into artisanal joints, savour the organic flowers, and let the symphony of waves and exquisite cannabis dining serenade your senses.
The Hangout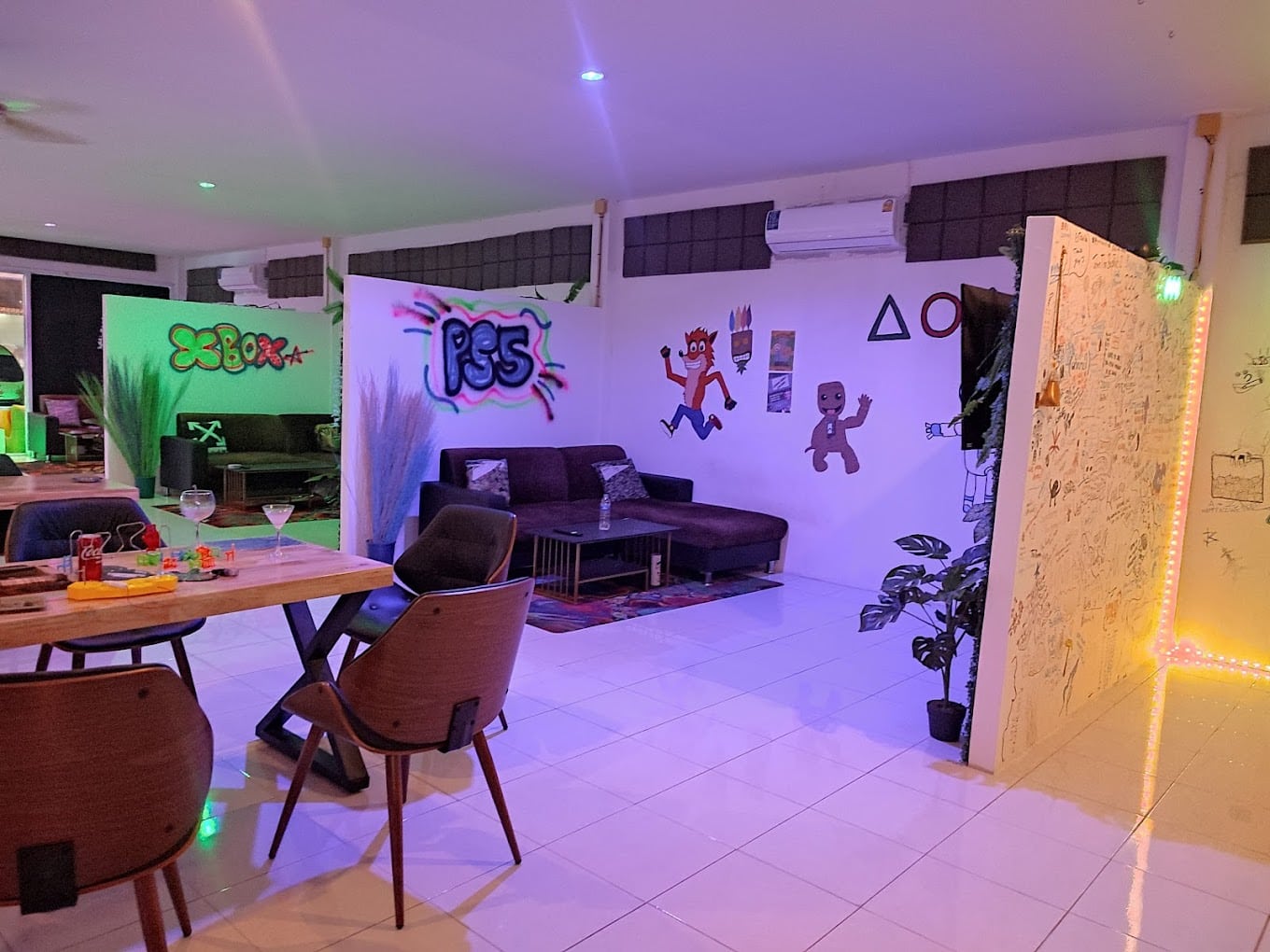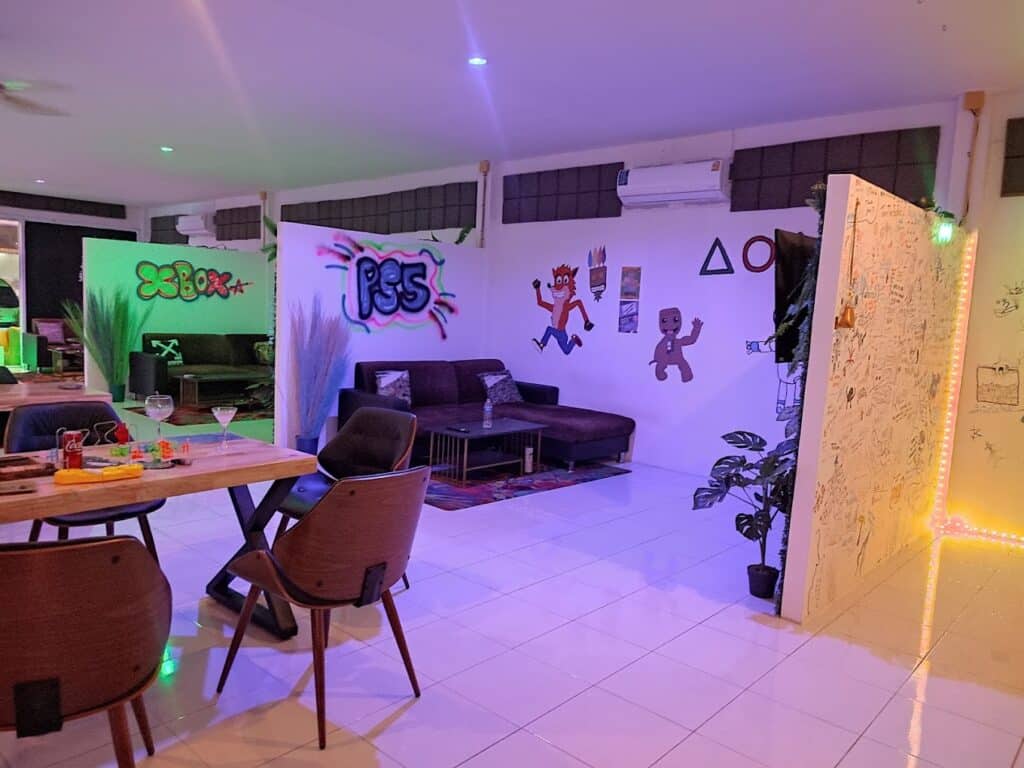 The Hangout beckons you to the northern side of Koh Samui for an unmatched blend of relaxation and recreation. With its array of games, delicious food, and excellent cannabis options, it's your ultimate island retreat.
Phone: +66616565178
Payment methods: Cash, QR
Highlights
Spacious lounge, arguably the largest on the island.
A great variety of games, including Xbox, Foosball, air hockey, and board games.
Serves a delightful mix of food, booze, and top-quality cannabis.
Offers regular promotions.
Located close to Maenam and Baan Tai Beach.
Drawbacks
Located on the north side, which may be far for those staying around Chaweng.
Escape to The Hangout to revel in the rich tapestry of Koh Samui's relaxed culture, complemented by daily promotions and offers that ensure every visit is a new adventure.
How to buy weed in Koh Samui
Amidst the serene beaches and bustling streets of Koh Samui, acquiring quality cannabis products has never been easier. If you're inclined towards online shopping over traditional storefront visits, here's a step-by-step guide for ordering marijuana in this tropical paradise:
Ordering via chat apps
Various dispensaries on the island accept orders via popular apps like Facebook, Instagram, or Line. Here's how you can go about it:
Install your preferred app and set up an account.
Look for the dispensary you're interested in and start a chat.
Inquire about their cannabis range and make your selection.
Provide them with your delivery location.
Maintain clarity in communication, keeping in mind potential language barriers. Orders, frequently dispatched via local delivery services, usually arrive within an hour or two. It's standard to pay cash on delivery.
Purchasing on online marijuana stores
If you're looking for a more traditional online shopping experience, there are specific cannabis e-stores catering to Koh Samui and broader Thailand.
Browse through and choose your desired cannabis products.
Add selections to your cart and proceed to checkout.
Enter your delivery information.
Choose a payment method; while cash on delivery or credit card options are available for tourists, locals might prefer e-wallet or QR code payments.
How to grade marijuana quality
Koh Samui, being an island destination, naturally comes with higher prices for several commodities, and cannabis is no exception. However, shelling out a substantial amount isn't always a guarantee of top-tier quality.
To make sure you're acquiring prime cannabis flowers in Samui, consider the following pointers:
Esteemed outlets like 'The Herbalist Samui' likely source their marijuana from specialised in-house grow facilities rather than multiple vendors. Such practices provide better oversight over quality.
Bargain-basement cannabis, particularly those priced below 200-300 THB per gram, is more likely to be packed with stems and seeds. Its quality could be equivalent to that of brick weed.
Once you've located a reputable store, look for these quality markers:
Smell: Premium cannabis exudes a robust, enticing scent. Seek a characteristic and appealing fragrance.
Appearance: Prime buds are vivid, well-structured, and adorned with minuscule crystals known as trichomes. Stay away from buds that are either too dry or excessively moist.
Freshness: Quality marijuana should feel a tad sticky and shouldn't be excessively dry. Buds that have been cured appropriately guarantee a smoother indulgence.
Read our comprehensive cannabis quality guide for a more in-depth dive into assessing cannabis quality.
How to smoke cannabis in Koh Samui?
As you immerse yourself in Koh Samui's growing cannabis culture, always be respectful of the island's traditions and regulations. Koh Samui, much like Phuket, boasts numerous sacred sites; avoid lighting up near them.
Here are some tips to ensure a seamless experience:
Avoid public places: Refrain from smoking in overt public areas like the bustling Chaweng Beach or Fisherman's Village in Bophut. The local mandate dictates that cannabis can only be consumed in private residences.
Stay informed: Familiarize yourself with Koh Samui's cannabis guidelines to sidestep any potential issues.
Prioritize safety: Given Koh Samui's reputation as a major tourist destination, always be on your guard. Drawing attention by being overly inebriated, especially in areas like Lamai Beach, isn't advisable.
Can you smoke weed at the beach?
Koh Samui has plenty of beaches, many of which are away from popular tourist attractions like Lamai or Chaweng. This also means, theoretically, a lesser police patrols in other areas.
Technically, public smoking is frowned upon, and beaches are classified as public zones. Engaging in such acts might catch the eyes of authorities.
In practice, it is not uncommon to see someone enjoying a joint by the beach. Samui is considered a cannabis-friendly destination in Thailand. That said, the cardinal rule is always to demonstrate respect and mindfulness towards others.
Should you come across a remote spot by the beach, away from the people, you're probably good to go. However, lighting up among sizable gatherings, especially around families or young ones, may lead to awkward situations.
For utmost certainty, smoke at your lodging or within a dispensary's lounge if permitted. Alternatively, indulge in edibles and relax by the seaside.
Can you smoke weed in your hotel?
Typically, hotels and resorts fall under the public domain, making smoking cannabis there illegal.
Nonetheless, it may be permitted to smoke in your private balcony or garden – as long as smoking is not banned. The thumb rule here mirrors that of cigarettes – if cigarette smoking is allowed on your balcony, it's likely all right for marijuana as well.
This principle extends to Airbnbs and guesthouses too. If tobacco smoking is acceptable on the premises, cannabis should generally be tolerated. Of course, some lodgings might explicitly state that cannabis consumption is prohibited. Always respect such rules.
Conclusion
Koh Samui's allure extends beyond its sun-kissed beaches and turquoise waters. As the island sees a surge in marijuana culture, visitors get to experience a unique blend of relaxation and revelation. Whether you want a luxurious experience or something right by the beaches in Bophut or Lamai, you will find it all.
This guide walks you through the best dispensaries on the island, the nuances of quality assessment, and the dos and don'ts of cannabis consumption.
As you immerse yourself in the island's lifestyle, it's essential to stay informed and respectful of local customs and regulations. The evolving cannabis scene in Koh Samui offers both opportunities for indulgence and moments of mindfulness.