Best Cannabis Dispensaries in Nakhon Ratchasima: Top Rated Weed Stores & Online Delivery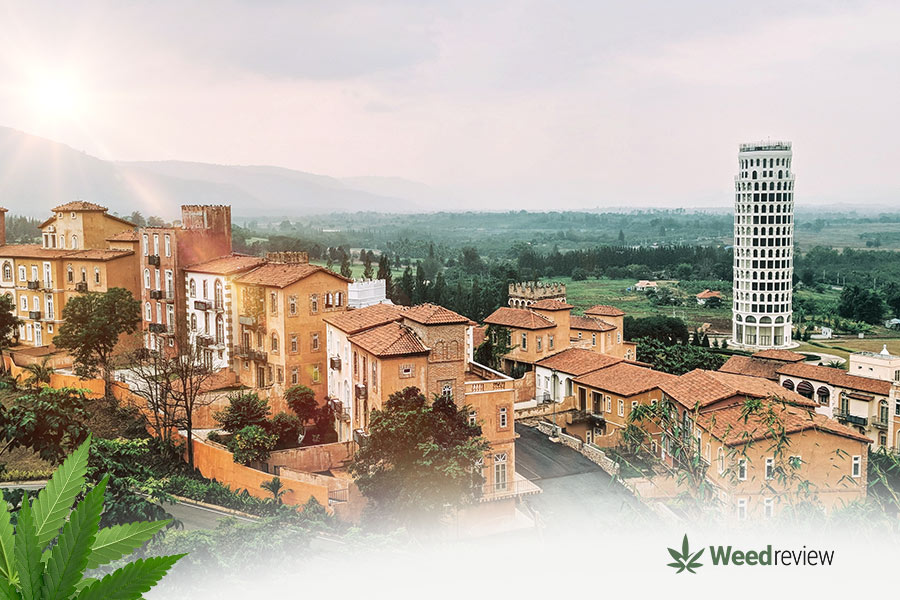 Nakhon Ratchasima, also known as Korat, offers a glimpse of what life is like in northeastern Thailand or Isaan. As you wander through the city, you will find yourself transitioning from historical sites like the Thao Suranaree (Ya Mo) Monument and Phimai Historical Park to modern spots such as The Mall Korat. Amidst this blend of old and new, Korat's flourishing cannabis dispensaries and marijuana stores are making a mark.
If you've been wondering where to find top-notch cannabis in Nakhon Ratchasima, you are in the right place. With a growing selection of dispensaries and the added convenience of home delivery, getting your hands on quality weed in the city has never been easier.
Physical weed shops in Korat
The dispensaries highlighted below have been carefully selected based on the superior quality of their cannabis products, the expertise and friendliness of their staff, and the inviting ambience they offer.
These shops can be found throughout Nakhon Ratchasima, ensuring a convenient location for everyone.
High Again Cannabis Cafe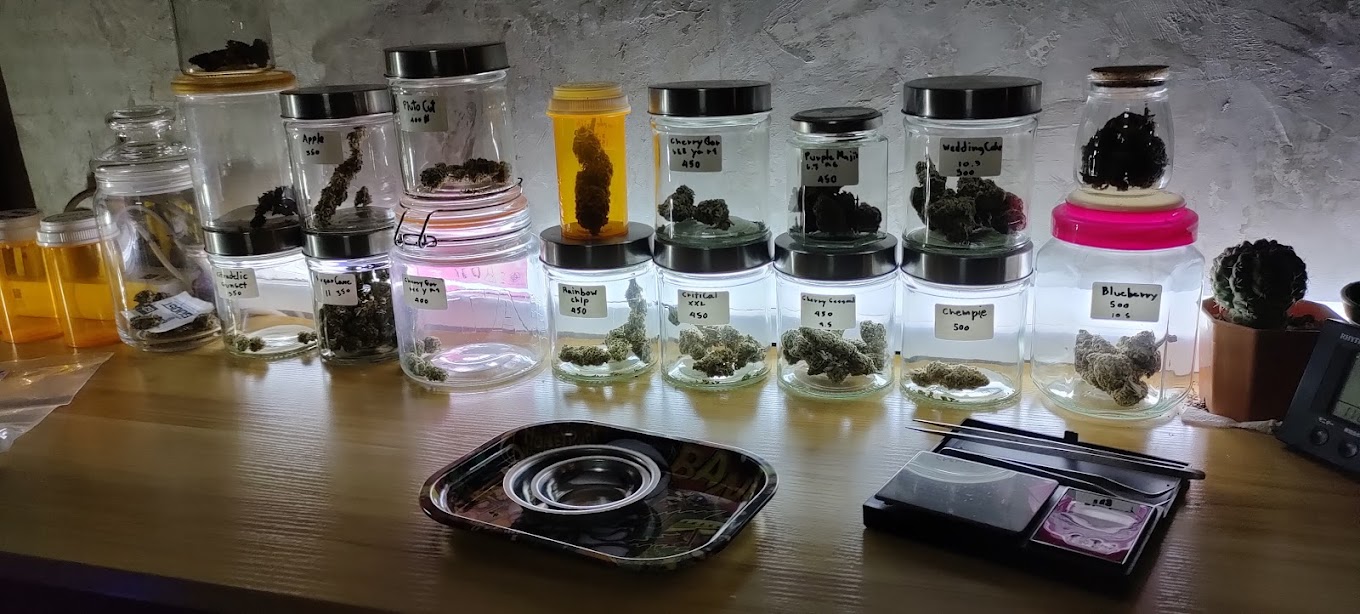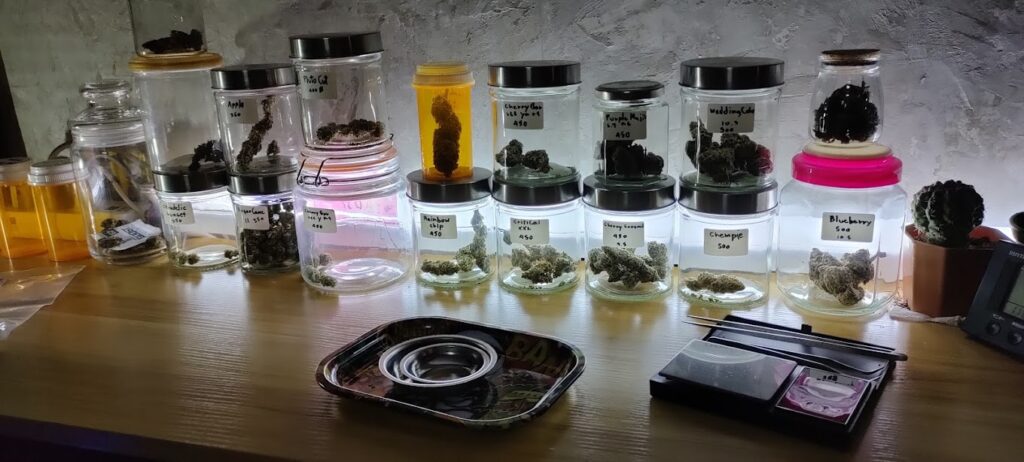 This dispensary is not just a cafe but a hub for cannabis enthusiasts in Nakhon Ratchasima. Strategically located close to the Thanon Chira train station, it promises more than just quality cannabis products. Here, you can indulge in a diverse range of offerings and soak in the laid-back vibes of the groovy smoking lounge.
Phone: +66623093730
Payment methods: Cash, QR
Highlights
A broad variety of weed strains including outdoor flowers.
Affordable prices, starting at 300 THB per gram.
An assortment of drinks and food to complement your experience.
The cosy atmosphere of a chill smoking lounge.
Drawbacks
It can seem a bit far from the happening part of town.
Whether you're in the mood for flowers, kratom, accessories, or liquor, this cafe has got you covered.
Stoner Weed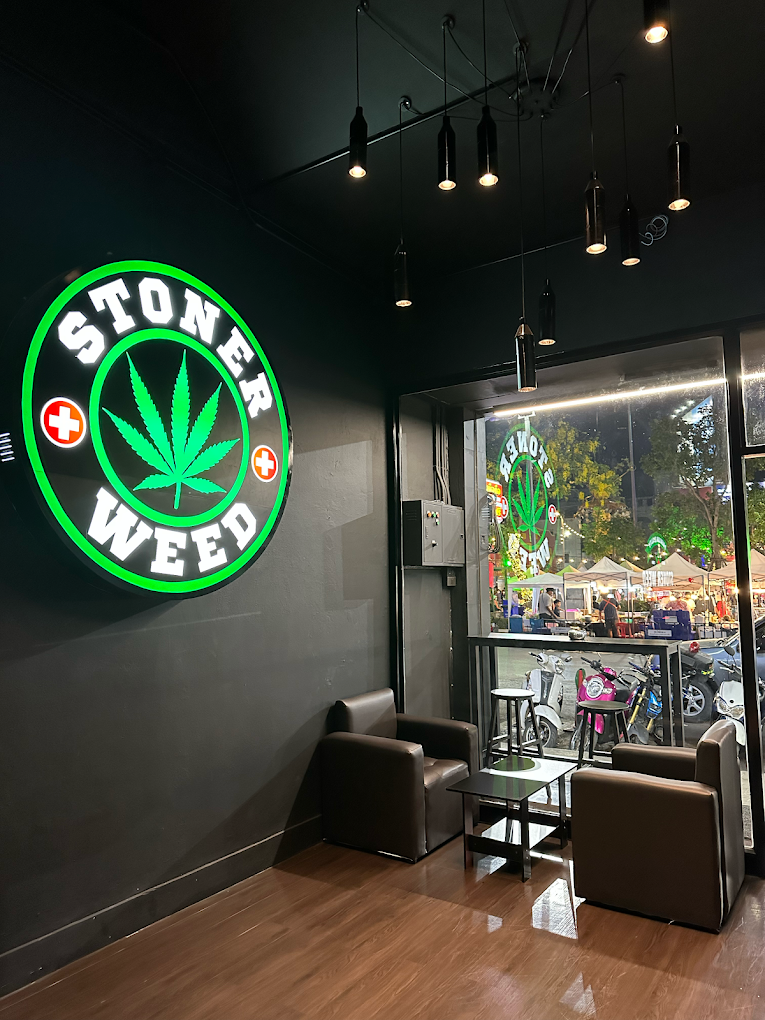 An example of elegance, Stoner Weed offers a luxurious cannabis shopping experience. Nestled in the heart of Korat, Stoner Weed is more than just a dispensary. With its classy Western-style interiors and impeccable display, it caters to those who value both quality and aesthetics.
Phone: +66985838565
Payment methods: Cards, cash, QR
Highlights
Elegant interiors and smoking lounge.
Central location in the happening part of Korat.
An extensive selection of top-tier cannabis products.
Friendly staff providing a personal touch to service.
Right next to the Suan Rak Park.
Drawbacks
Prices can seem on the higher end, considering the location.
Stoner Weed invites you to not only indulge in some of the best flowers in town but also to explore the nearby attractions. Blaze in the dispensary and walk around the heart of Korat with the Ya Mo Monument within walking distance.
High Cloud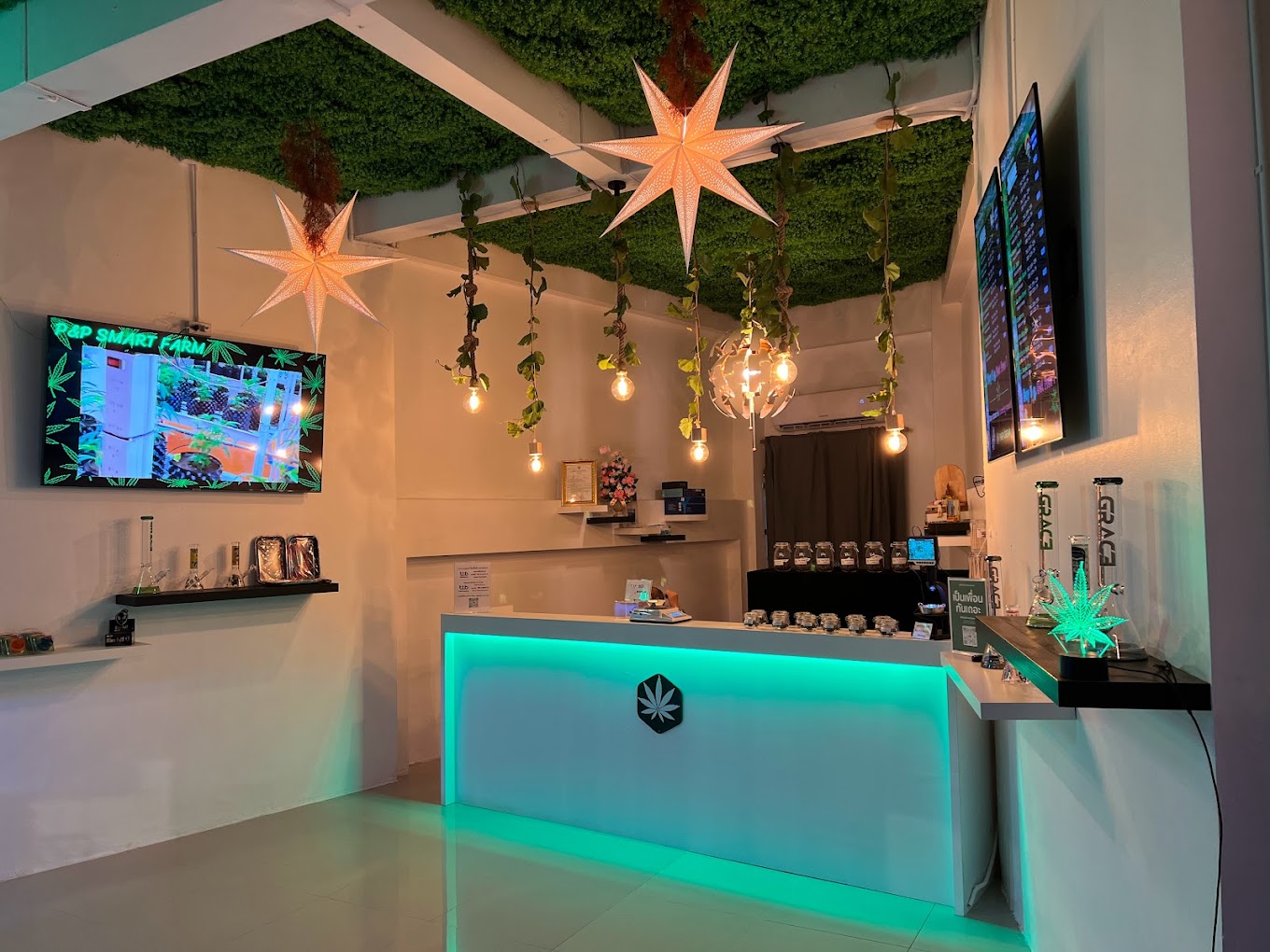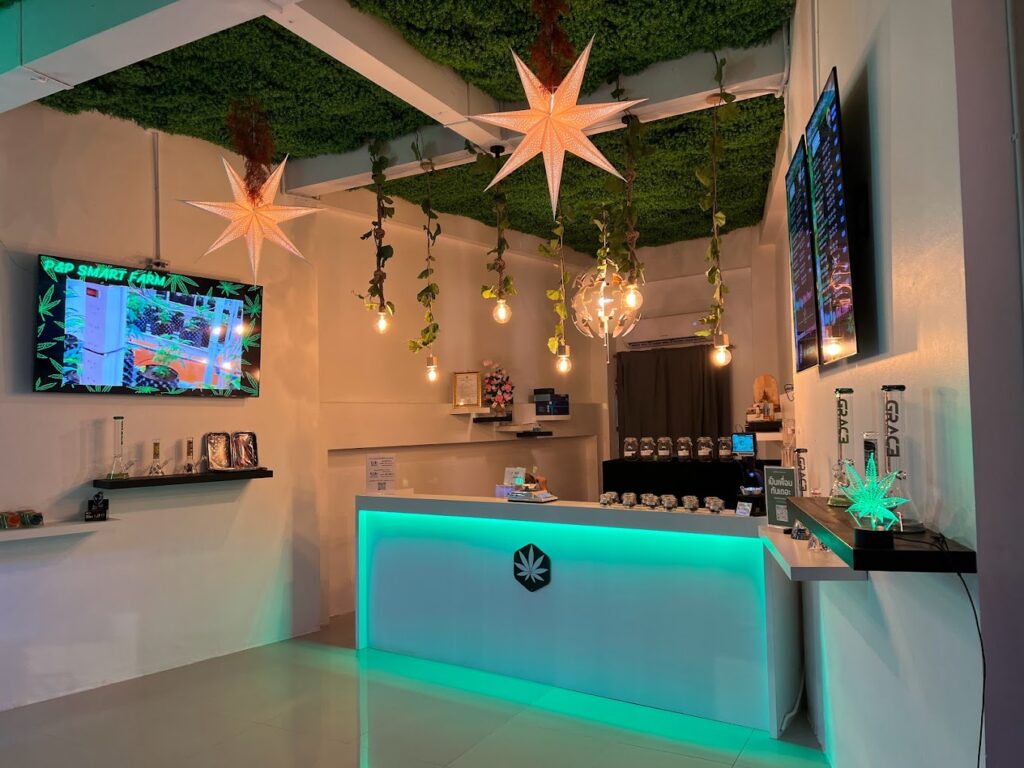 Positioned in the bustling heart of Korat, High Cloud boasts of top-shelf AAA weed without burning a hole in your pocket.
Recognised as one of the popular choices among the locals, it ensures that the quality of service and product remains uncompromised.
Phone: +66980364999
Payment methods: Cash, Cards, QR
Highlights
A store that promises unbeatable prices in the city, starting at 150 Thai Baht per gram.
Quality assurance with AAA-grade weed.
Knowledgeable staff ready to enhance your shopping experience.
Great indoor-grown strains are available.
Smoking area with a picturesque view of city life.
Good discounts and freebies.
Drawbacks
The smoking area can seem very small.
An added highlight is that High Cloud is proudly women-owned and supports LGBTQ inclusivity. Moreover, with iconic landmarks like the Skydeck Tower (Terminal 21) and the Thao Suranari Monument nearby, High Cloud encourages you to savour a delightful high and then immerse yourself in the vibrant culture and attractions of Korat.
Leafving OG Shop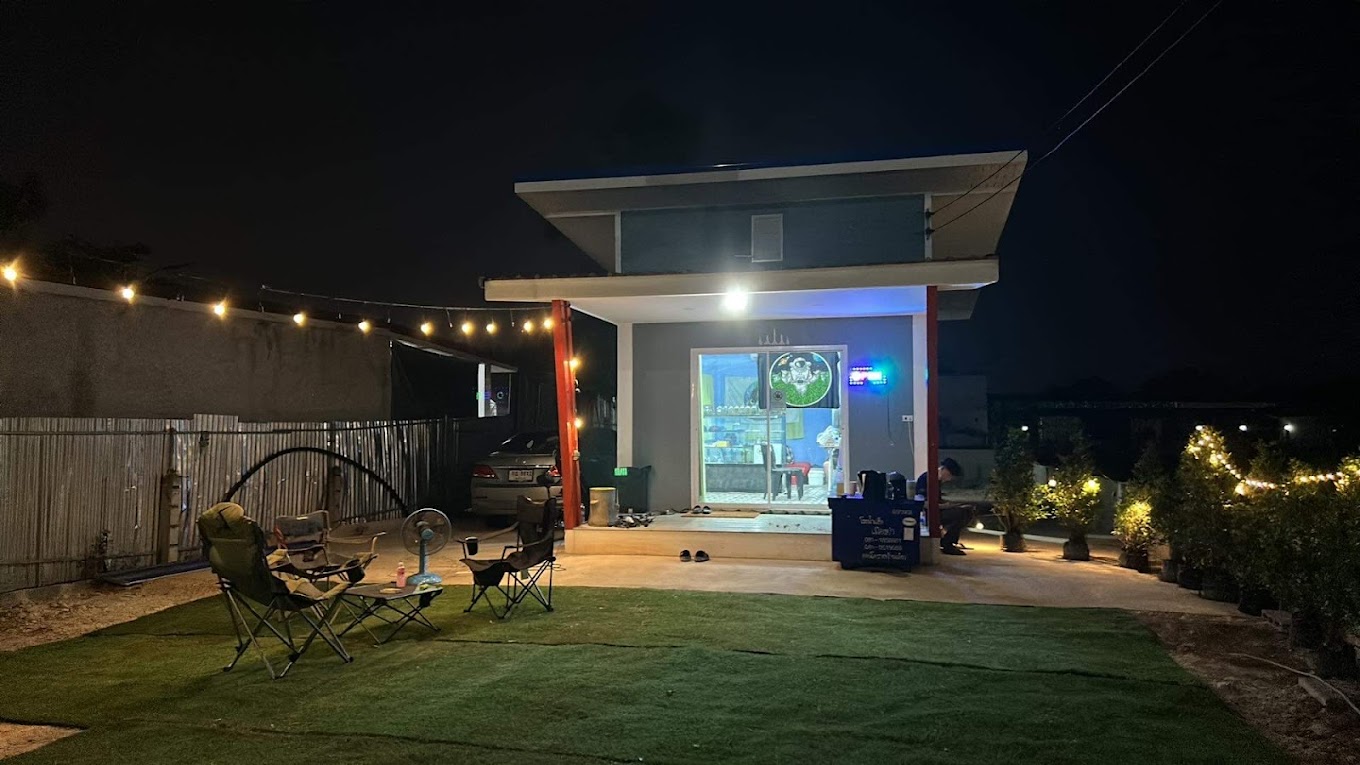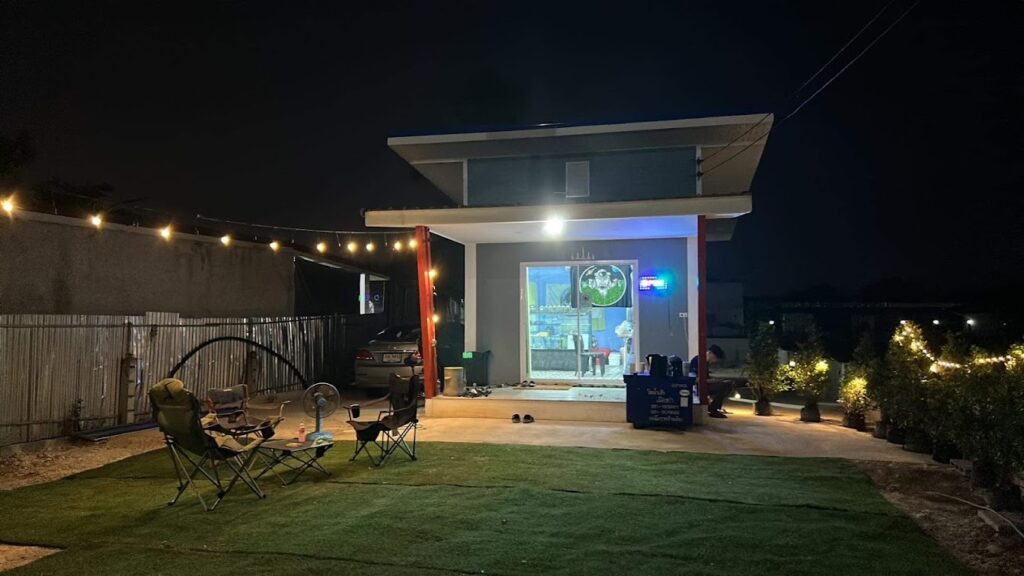 Dive into the welcoming atmosphere of Leafving OG Shop, a quaint cannabis store nestled in Nakhon Ratchasima. This is a must-visit store – especially in the evenings – to enjoy the lovely night sky and the charming setting, followed by some good food.
Address: 109/10, เมือง Nakhon Ratchasima 30000, Thailand
Phone: NA
Payment methods: Cash, QR
Highlights
A quiet spot away from the hustle-bustle of the city centre.
A charming, home-like store with kind & friendly staff.
Strategically located near major shopping centres like the Mall Nakhon Ratchasima.
Delightful open-air smoking lounge.
Placed right next to Ginda Wagyu – an affordable Wagyu beef restaurant for those post-weed munchies.
Drawbacks
Getting there can be a bit tricky.
Leafving OG Shop is your go-to if you're looking to indulge in quality cannabis – sandwiched between a thorough shopping experience.
Green Dude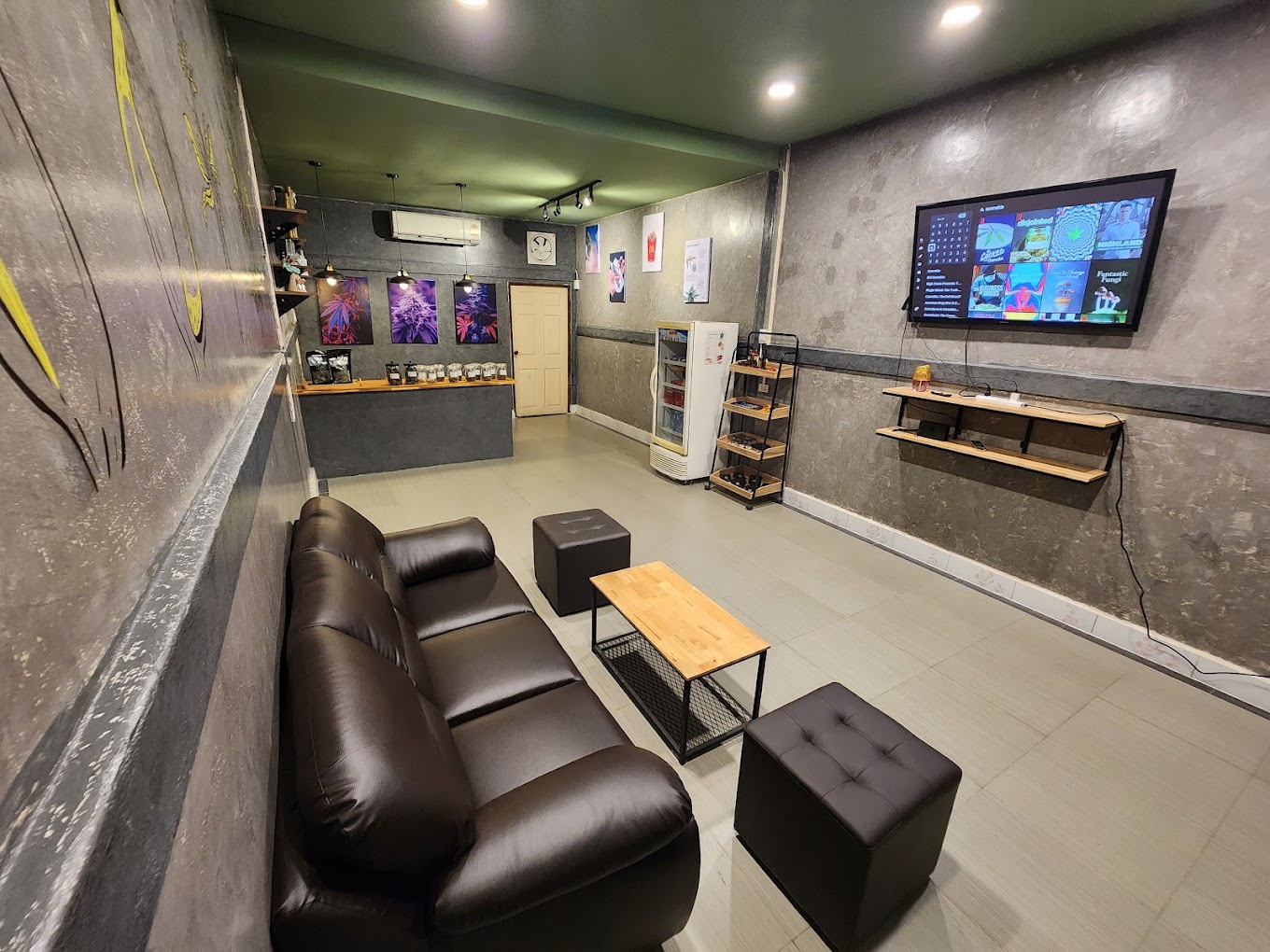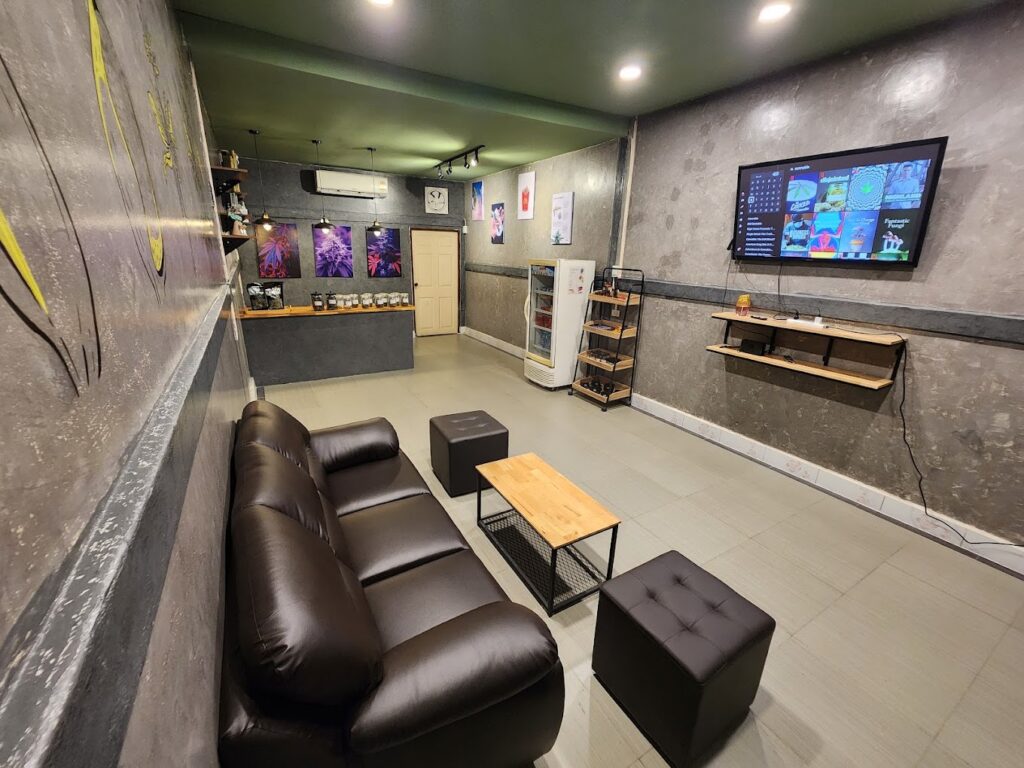 Make a pitstop at Green Dude, a chill cannabis retreat positioned slightly outside the crowded city centre.
The store offers a relaxed ambience, perfect for those looking to escape the hustle and unwind. In fact, you may stop by here if you are planning to visit the 80th Birthday Stadium or Pru Yai.
Address: 293, 11 ถ มิตรภาพ ซอย 15, ในเมือง เมือง Nakhon Ratchasima 30000, Thailand
Phone: +66951591862
Payment methods: Cash, QR
Highlights
A welcoming lounge equipped with a TV for entertainment.
A serene pitstop for travellers and locals alike, especially when exploring nature in the southern Korat.
An array of cannabis products, mainly flowers and accessories.
Drawbacks
Located a bit outside the main city hub.
If you're on a drive around the outskirts, stopping at Green Dude is a no-brainer.
House of Cannabis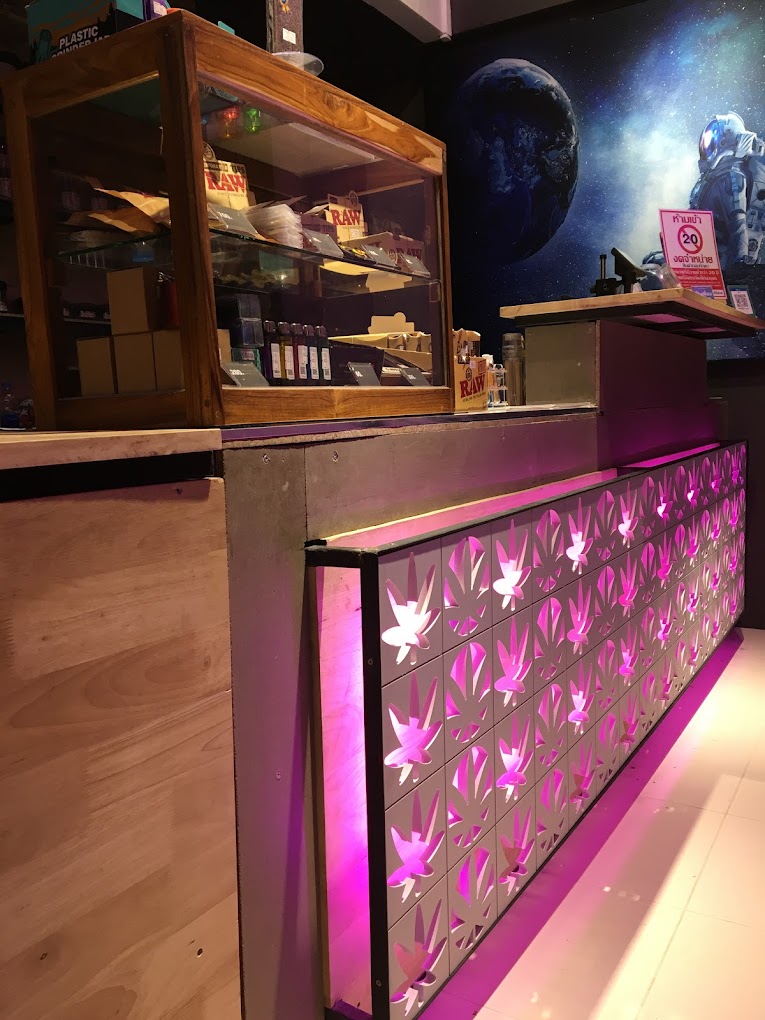 Step into a world of elegance and style at the House of Cannabis, a chic dispensary in Nakhon Ratchasima. Bike enthusiasts will particularly appreciate the well-curated bikes on display, enhancing the overall vibe of the place.
Address: 630 15 Sirinakhon Rd, ในเมือง Mueang Nakhon Ratchasima District, Nakhon Ratchasima 30000, Thailand
Phone: +66837388313
Payment methods: Cash, QR
Highlights
Elegant interiors boast a stylish and upscale feel.
A wide and excellent selection of cannabis products.
The open lounge allows customers to chill and socialise.
Drawbacks
Cannabis pricing leans towards the higher side compared to other dispensaries.
The store is far out from the central part of the city.
Combining a luxurious atmosphere with high-quality products, House of Cannabis promises a refined experience.
How to buy weed in Nakhon Ratchasima
Surrounded by the historical richness of Nakhon Ratchasima, getting your hands on premium cannabis products is quite easy.
If you lean more towards online shopping than visiting physical dispensaries like the ones listed above, here's a straightforward guide for you to order quality weed in Korat:
Using chat apps
Many dispensaries in Korat sell through chat apps like Facebook, Instagram, or Line. Here's a simple guide:
Get the app and make an ID.
Find the shop and chat with them.
Pick what you want.
Tell them where to deliver.
Pay in cash when it arrives. Be clear when talking, as some might not know English well.
Using online weed stores
Check out dedicated cannabis e-stores for a more streamlined and less communication-heavy shopping experience. Our curated list of online dispensaries serves all of Korat and beyond. Here's the usual process:
Browse and select your desired cannabis products.
Add items to the cart and proceed to checkout.
Fill in your delivery details.
Choose your payment method. While cash on delivery or credit card is more convenient for visitors, locals might prefer e-wallet or QR code options. Purchasing online provides transparency, ensuring you get precisely what you choose.
How to grade the quality of cannabis in Korat
While Korat offers a rich cultural and historical experience, the cost of cannabis might be slightly different compared to tourist-heavy locations like Phuket. This can be due to regional farmers growing their flowers outdoors, leading to a noticeable change in quality.
Here's how you can gauge the quality:
Top-tier stores, much like High Cloud, cultivate their marijuana internally rather than outsourcing, ensuring better control over the product's quality.
Extremely cheap weed, priced under 100-200 THB per gram, might have seeds and stems, hinting at a lower quality.
When you come across a reputable store like the ones we've recommended, keep these quality parameters in mind:

Smell: Premium cannabis emits a robust and inviting aroma.
Appearance: Quality buds have vibrant colours, good structure and are speckled with tiny shimmering crystals known as trichomes.
Freshness: Top-grade cannabis is slightly tacky, neither dry nor wet.
Our detailed cannabis quality guide offers an in-depth look at these parameters.
How to smoke cannabis in Korat
While Korat boasts a rich history and vibrant culture, it's essential to be respectful of local customs and norms. Despite being the third-largest city in Thailand, Nakhon Ratchasima can seem more traditional than other big cities.
Here are some tips for a seamless experience:
Avoid public areas: Refrain from smoking in popular public places like the Thao Suranari Monument or any of the temples. A better deal would be to have some edibles instead and then head there.
Know the rules: Always be updated with the local cannabis regulations to avoid unwanted situations.
Safety first: As a bustling city with numerous attractions, always stay alert. Avoid drawing undue attention, especially in crowded areas.
Don't be a nuisance: Stay away from public spots if you cannot handle your high well, or you tend to get too crazy.
Can you smoke weed at tourist spots?
Though Korat is dotted with historical landmarks and parks like Bung Ta Lua Park and Phimai Historical Park, it's essential to be cautious and respectful.
Smoking in public places is discouraged, and famous sites like Wat Sala Loi and Ya Mo are considered public areas. It's best to be mindful of local rules and not risk any unwanted attention.
If you stumble upon a less frequented spot away from the crowds – say in the remote wilderness of Khao Yai National Park – it might be okay. But always ensure you are not bothering others, especially in family-friendly areas. Be mindful to not litter or throw your waste on the streets.
You may also consider enjoying some edibles and soaking in the city's beauty rather than lighting up in public.
Can you smoke weed in your accommodation?
Accommodations like hotels and guesthouses are generally seen as public places, so smoking cannabis might be prohibited.
However, you might be allowed to smoke in private areas like balconies or gardens, especially if tobacco smoking is permitted. It is always good to follow standard smoking etiquette. If cannabis smoking is explicitly banned, it's best to follow these regulations.
On the other hand, some guesthouses and inns are quite chill and allow you to smoke marijuana – provided you don't cause a nuisance. To be sure, ask beforehand rather than lighting a joint and then finding out.
Do note that many locals might not favour the distinct aroma of cannabis. If you're staying in a densely populated area, consider using edibles to enjoy your high discreetly or visit any of the cannabis dispensaries in Korat for a session.
Conclusion
Nakhon Ratchasima is more than just a city with a rich history and vibrant sights. It's quickly becoming a haven for organic, natural weed. Whether you're a seasoned smoker or someone just dipping their toes into the world of cannabis, Korat has something for everyone.
From top-notch dispensaries to clear guidelines on how to buy and consume, it's all about a smooth experience here. As you explore the city's intricate corners and delve into its cannabis culture, remember to be respectful and informed.