Best Cannabis Dispensaries in Chiang Mai: Top Rated Weed Stores & Online Delivery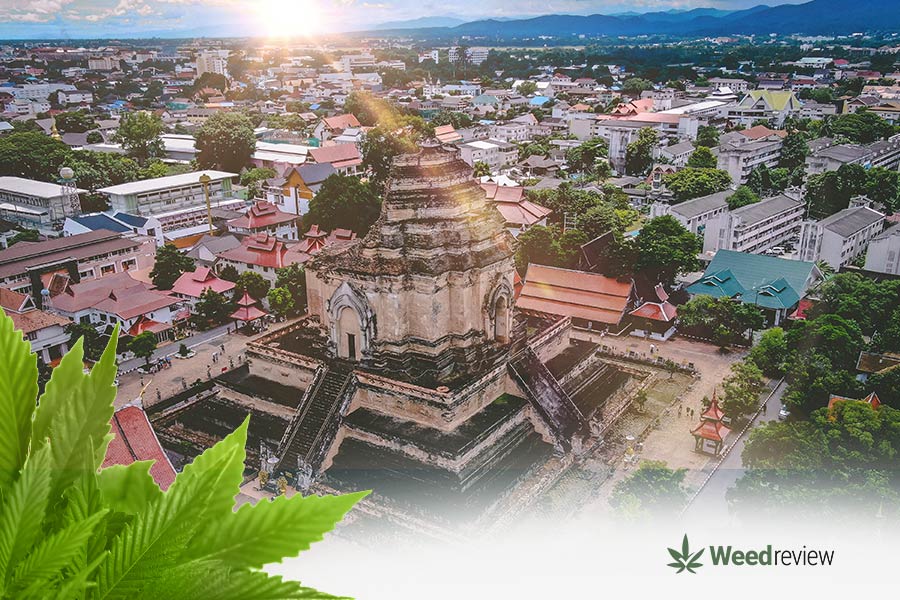 Nestled in a region renowned for cultivating landraces in its mountainous landscapes, the Chiang Mai region has a long history of producing organic and locally grown cannabis. As the cultural heart of Northern Thailand, Chiang Mai not only boasts iconic temples and bustling night bazaars like the famous Warorot Market but also a flourishing cannabis culture.
Today, the city houses some of the best weed dispensaries, offering a delightful blend of tradition and modernity. It's no wonder that when you think about buying quality cannabis, the question that comes up is, where is the best weed dispensary in Chiang Mai?
On this page, you'll discover stores that provide an exceptional blend of quality buds, knowledgeable staff, and an inviting atmosphere reminiscent of old Lanna charm. For those who prefer the comfort of their homes, there's also the option of online weed delivery.
Physical weed shops in Chiang Mai
The dispensaries listed on this page have been carefully selected for their top-notch flowers, the friendliness and expertise of their staff, and the ambience.
Each shop not only offers a rich narrative but is a testament to Chiang Mai's vibrant cannabis culture. It is an experience that echoes the heart and soul of Thailand's historic connection with marijuana.
The Dispensary – Nimman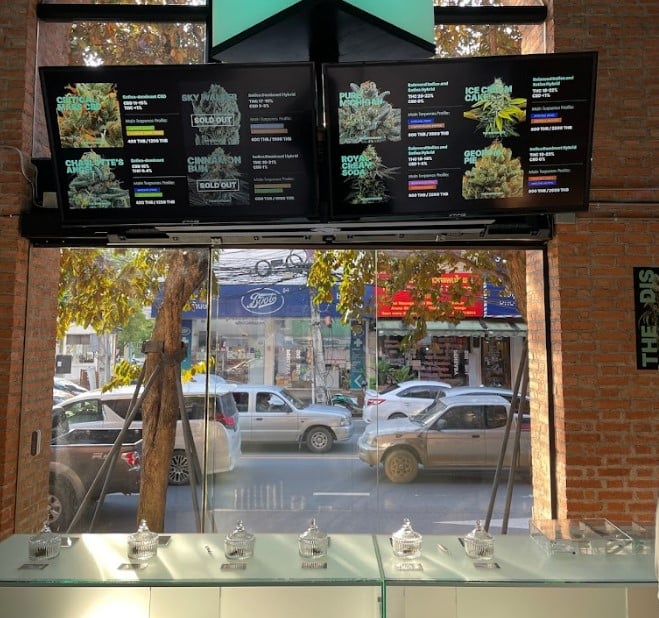 Indulge in a premium cannabis experience at The Dispensary Nimman, a venture by the well-established cannabis company Taratera. With a team of highly knowledgeable and professional staff at your service, you are guaranteed to find the finest products that meet international standards.
Address: B107, 1, Section B3, Unit, 3 Nimmanahaeminda Road, Suthep, Chiang Mai 50200, Thailand
Phone: +66935925247
Payment methods: Cash, QR, cards
Highlights
All strains are grown organically in Taratera's facilities.
Home to medicinal-grade flowers with expert recommendations to guide you.
Parent company Taratera is among the largest vertically integrated cannabis companies in Thailand.
Houses an array of accessories to complement your purchase.
Friendly and welcoming environment, ensuring a seamless shopping experience.
Drawbacks
The pricing is higher compared to other weed shops in CM.
Currently, there is no designated smoking area available.
The Dispensary Nimman stands as a beacon of professionalism, providing you with a Western-style dispensary experience right in Chiang Mai. They also operate at another location in the city – Rachadaneon Plaza. The Dispensary outlets are also available in Phuket and Bangkok.
Flying Tiger Cannabis Dispensary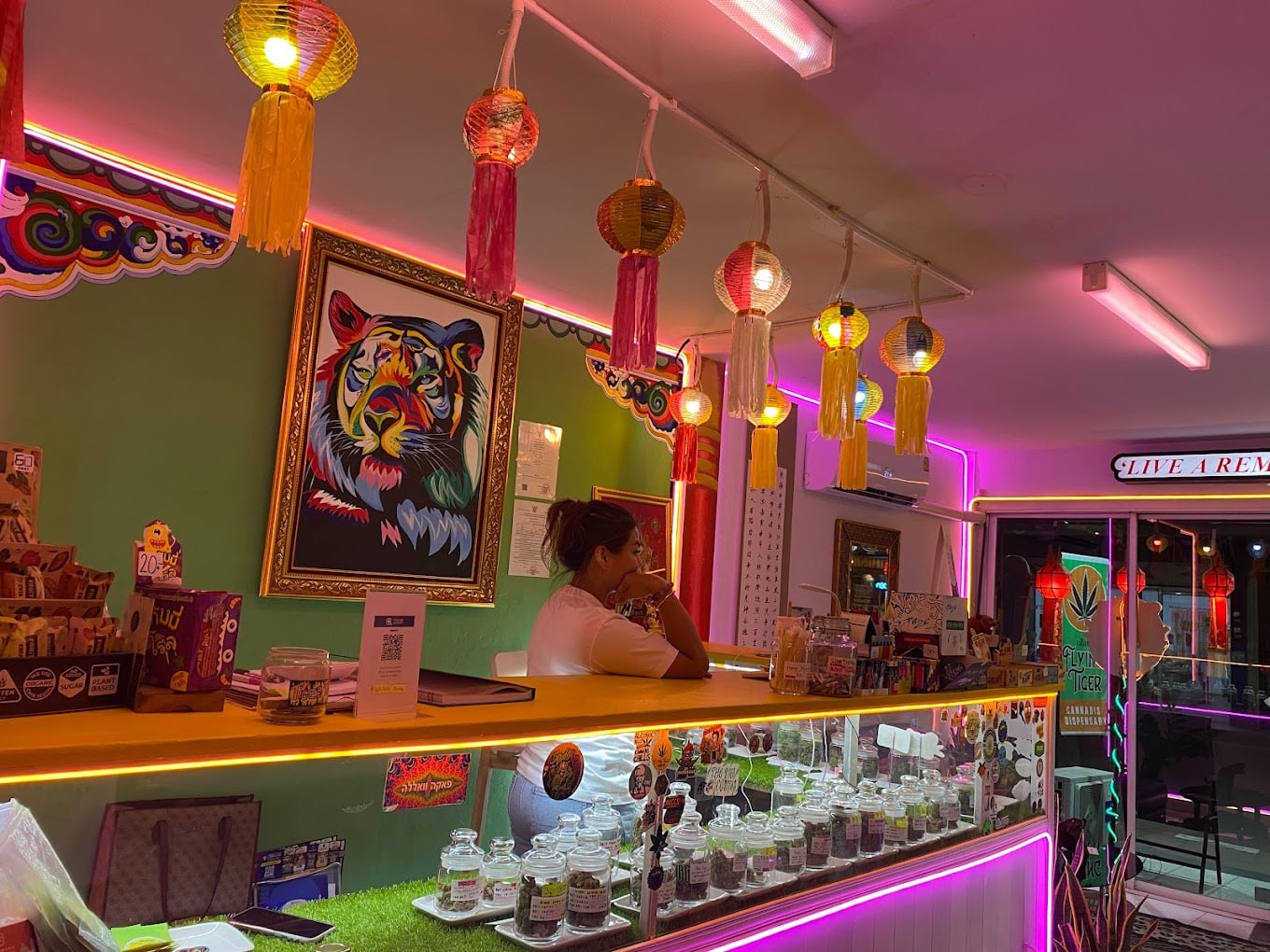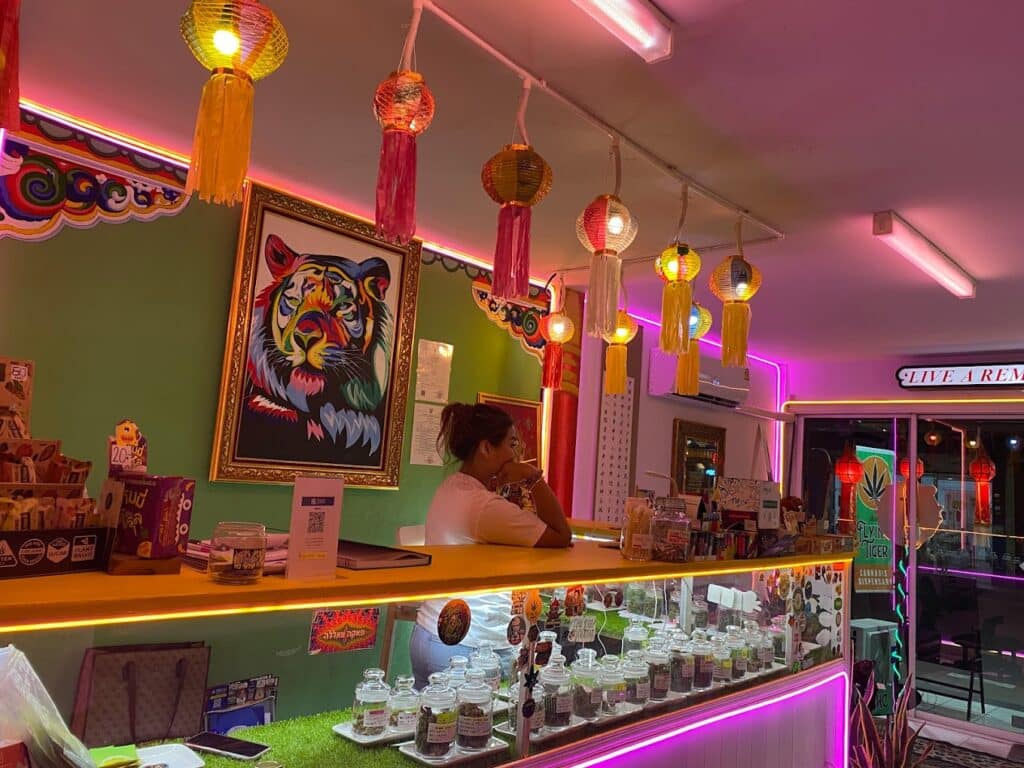 Step into the earthy, laid-back environment of Flying Tiger Cannabis Dispensary, a place where you can find locally grown pot amidst a hippie and chill vibe. With a friendly, down-to-earth staff, you will feel right at home.
Address: 29 Khotchasam Road, Tambon Chang Moi, Mueang Chiang Mai District, Chiang Mai 50100, Thailand
Phone: +66954094482
Payment methods: Cash, QR
Highlights
Situated near the Tha Phae Gate, you can enjoy the evenings and immerse yourself in local culture.
Budget-friendly prices, starting at 200 THB per gram.
You can unwind at the smoking area situated at the back.
All strains are locally grown and organic. Indoor and outdoor-grown flowers are also available.
Kind and helpful staff to help you find your preferred strain.
A generous selection of edibles, gummies, and CBD oils are available to enhance your experience.
Drawbacks
The smoking lounge is not the best in Chiang Mai.
At Flying Tiger, not only do you get to experience locally grown marijuana flowers, but you also get to enjoy the local life. Definitely worth a visit if you enjoy culture and cannabis.
Leafers Cannabis – Weed Dispensary & Lounge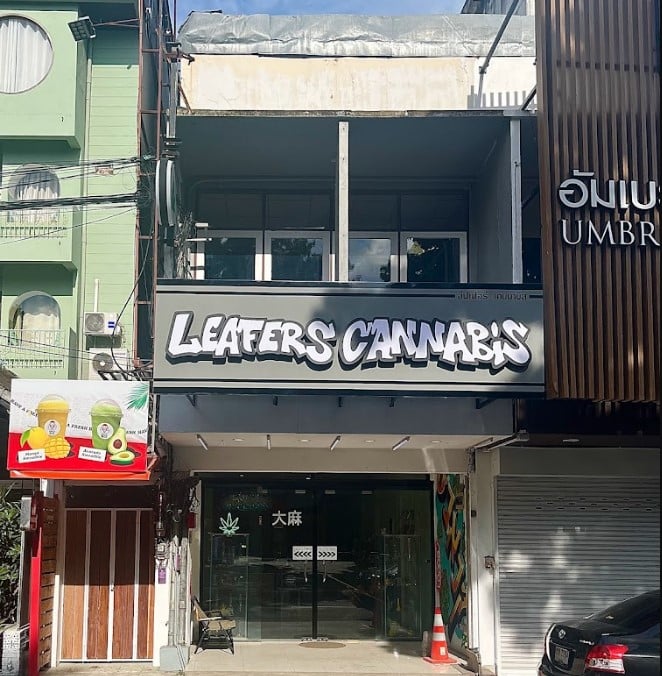 Get ready to be swept off your feet at Leafers Cannabis, a dispensary offering a top-notch range of cannabis products. The highlights include exotic strains and an impressive selection of accessories to choose from.
Address: 4, 2 Chaiyapoom Rd, Tambon Si Phum, Mueang Chiang Mai District, Chiang Mai 50300, Thailand
Phone: +66930487000
Payment methods: Cash, QR
Highlights
Offers AAA top-shelf cannabis buds, promising quality and satisfaction.
Features a cosy lounge where you can enjoy games and chill.
Other products like CBD oils, gummies, and edibles are also available.
Highly knowledgeable staff; must-visit if you are a beginner to expand your understanding of marijuana.
The smoking lounge has a nice view of the Tha Phae Gate square, which comes alive in the evenings.
Drawbacks
Some products can seem a bit expensive.
Thai Top Shelf Cannabis Dispensary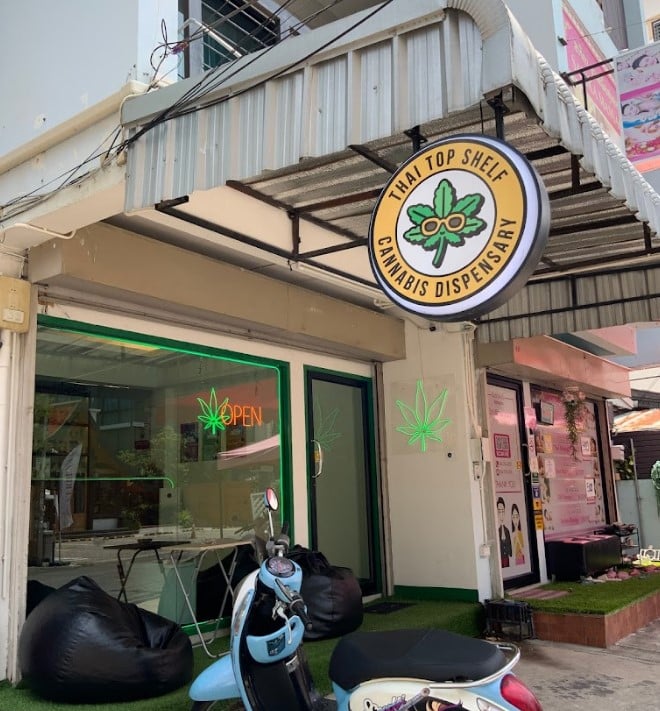 Discover the rich essence of locally grown cannabis at the Thai Top Shelf Cannabis Dispensary. Situated in the vibrant area of Nimman, known for its chic and modern vibe, this dispensary offers a warm environment with its friendly staff and affordable pricing.
Address: 40, 1 Nimmana Haeminda Rd Lane 17, Tambon Su Thep, Mueang Chiang Mai District, Chiang Mai 50200, Thailand
Phone: +66842797126
Payment methods: Cash, QR
Highlights
The dispensary is open till 12:00 am, giving you ample time to make a purchase even late into the evening.
Nestled in a neighbourhood that beautifully combines modernity and tradition, the shop offers quality products and a glimpse into the local culture.
Despite a slightly limited variety compared to others, it has decent options to satisfy your cannabis needs – including gummies & edibles.
Organic, high-quality cannabis strains are available at affordable prices.
Drawbacks
No designated smoking area, so plan your visit accordingly.
Stepping into Thai Top Shelf Cannabis Dispensary is like embracing a home-like and friendly vibe where quality meets affordability. Its strategic location in Nimman makes it an accessible choice for both locals and tourists.
Green Ganesha Cannabis Shop & Wellness Centre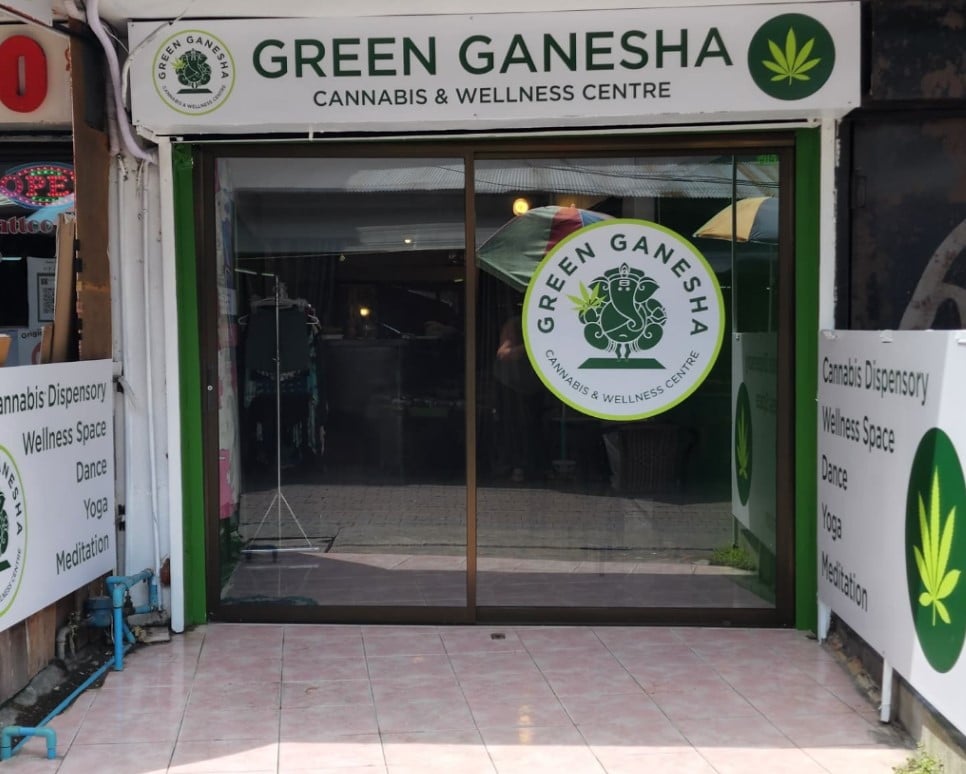 Green Ganesha goes beyond being a mere dispensary; it offers a haven where wellness meets pleasure. Located in Si Phum, a region rich in history and adorned with ancient temples, this dispensary offers the most number of strains you will see in a dispensary.
Address: 4 Moon Muang Rd Lane 6, Si Phum Sub-district, Mueang Chiang Mai District, Chiang Mai 50200, Thailand
Phone: +66947399633
Payment methods: Cash, QR
Highlights
Not just a shop but a wellness centre where you can engage in yoga and meditation, merging recreation with holistic relaxation.
Highly affordable prices, starting at 200 THB per gram of flower.
An extensive range of over 100 strains ensures a product for every preference, including exotic and locally grown organic strains.
Enjoy the unique ambience of a cosy smoking lounge, a space crafted to focus on relaxation and enjoyment.
Drawbacks
It is hard to point out major flaws with this one.
Green Ganesha provides a sanctuary where you can immerse yourself in a peaceful environment, indulging in high-quality cannabis products while also taking a journey towards internal bliss.
High Speed 420 Weed Shop & Medical Cannabis Dispensary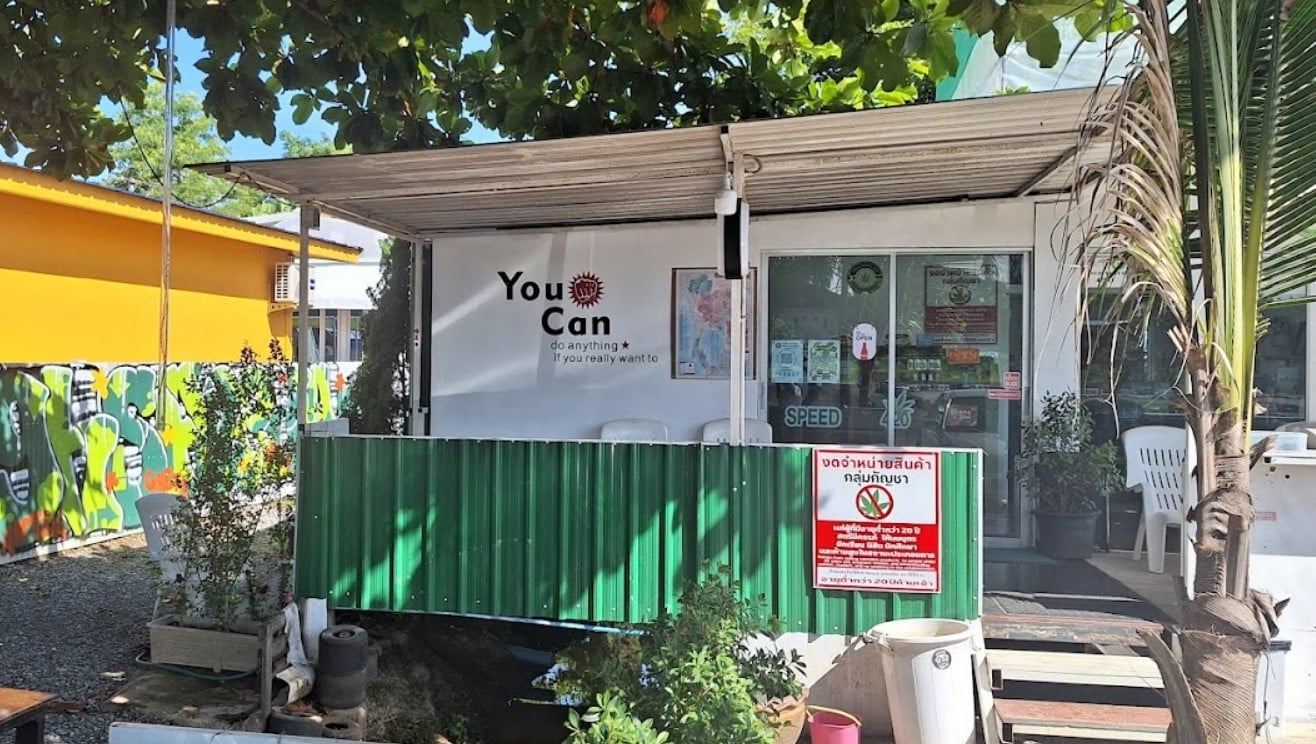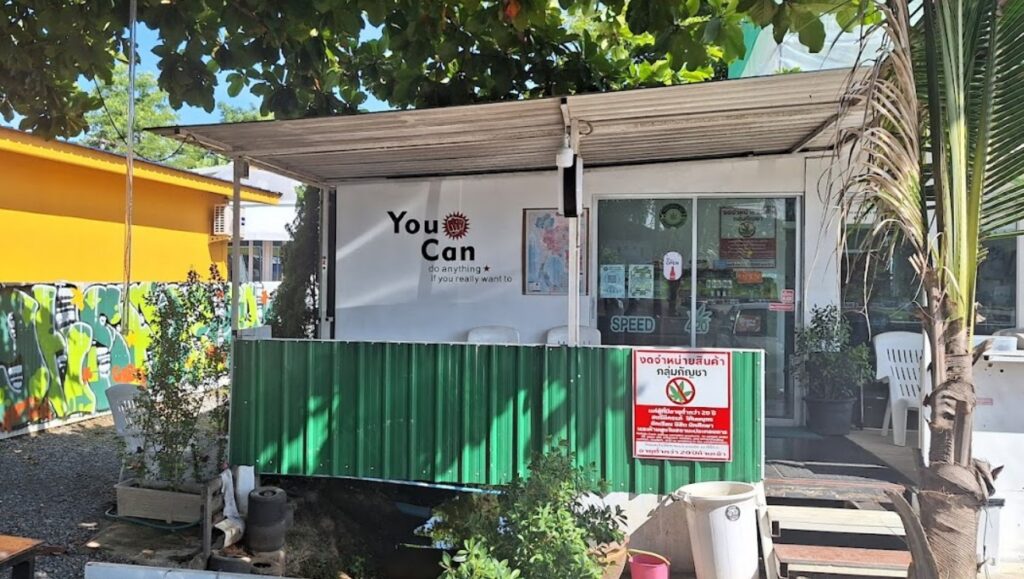 Venture a bit farther from the city center to find the High Speed 420 Weed Shop & Medical Cannabis Dispensary. Situated near a thrilling go-kart track, this dispensary offers not just a wide variety of organic cannabis products but a day filled with excitement and fun.
Address: 209 Rajapruek road, nongkway, Hang Dong District, Chiang Mai 50230, Thailand
Phone: +66897587766
Payment methods: Cash, QR
Highlights
The vicinity of a go-kart track offers a chance for an adventurous day out, coupling fun with a visit to the dispensary.
The place is famous for its medical marijuana recommendations, making it a trustworthy destination for medical cannabis products.
Highly professional and knowledgeable staff.
Other medicinal marijuana products like cannabis oils and CBD tinctures are also available there.
Drawbacks
The place is a bit far from the city, so plan your trip accordingly.
High Speed 420 stands as a unique marijuana dispensary offering not only a wide variety of products but an immersive experience.
The Joint Cannabis Dispensary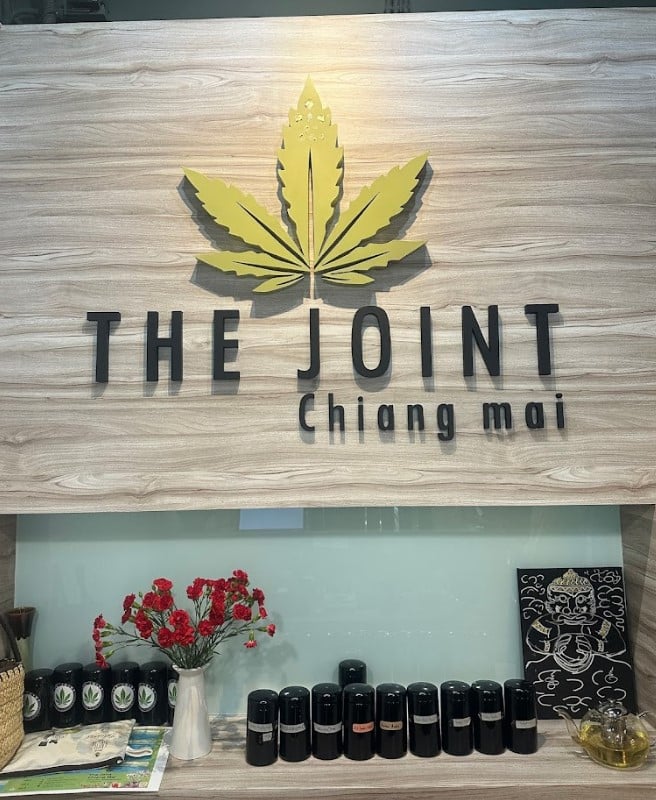 Step into a world of holistic healing at The Joint Cannabis Dispensary, positioned in the heart of Chiang Mai in Phra Sing – an area known for its rich history and scenic beauty. With a broad selection of organic strains and a kind, friendly staff, it promises a fulfilling experience.
Address: 85 Bumrung Buri Rd, Phra Sing, Amphoe Mueang Chiang Mai, Chiang Mai 50200, Thailand
Phone: +66836597896
Payment methods: Cash, QR
Highlights
Offers a rich variety of products, including edibles, gummies, CBD oils, and topicals, providing a comprehensive marijuana experience.
A medical-grade selection of top-shelf weed assuring high quality and purity.
All strains are locally grown and organic.
Courteous & friendly staff.
Drawbacks
Embrace the calm and peaceful environment at The Joint Cannabis Dispensary, a place where quality meets variety.
Cloud Cannabis Shop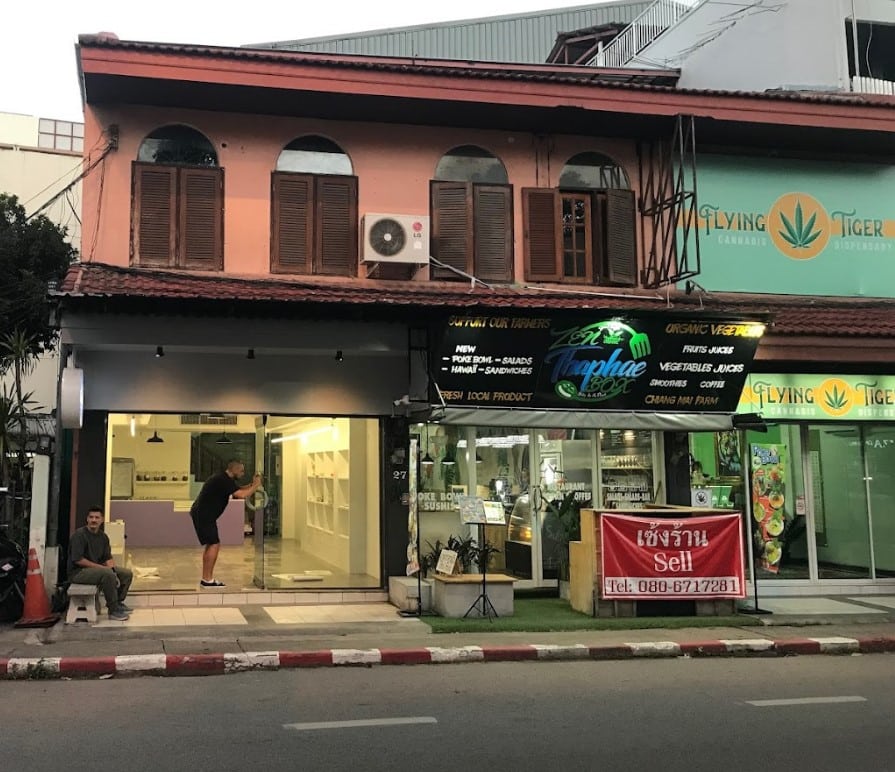 Find your cloud nine at the Cloud Cannabis Shop, located adjacent to the Flying Tiger Dispensary in the vibrant Tambon Chang Moi area. With good prices and a welcoming atmosphere, it stands as a popular choice among locals and tourists alike.
Address: 25 Kotchasarn Rd, Tambon Chang Moi, Mueang Chiang Mai District, Chiang Mai 50300, Thailand
Phone: +66623499445
Payment methods: Cash, QR
Highlights
Features a recreational area equipped with table tennis and PS5, promising a good time alongside fulfilling your cannabis needs.
A friendly owner and staff who are eager to assist you, enhancing your visit with warm service.
Affordable prices, starting at 200 THB per gram and going up to 700 THB per gram.
Holds a favourable reputation among residents and visitors, reflected in their good reviews.
Drawbacks
The seating area could be better.
Cloud Cannabis Shop is the go-to place for a fun and relaxed cannabis shopping experience. You are guaranteed a visit filled with joy and quality service.
How to buy weed in Chiang Mai
Amidst Chiang Mai's scenic backdrop, securing your favourite cannabis products online is a breeze. If you're inclined towards the convenience of digital shopping rather than visiting physical stores, here's your guide to effortlessly ordering top-notch weed in Chiang Mai:
Order via local messaging apps
Many dispensaries in Chiang Mai allow you to order through popular apps like Whatsapp, Facebook, Instagram, or Line. Here's a simple guide:
Download your preferred app and set up your ID.
Find the dispensary and start a chat.
Ask about their products and make your choice.
Provide your address for delivery.
Be clear when giving instructions. Some staff might not be fluent in English. Once you've placed your order, expect it to arrive, usually via Grab, within 1-2 hours. Cash payment upon delivery is the standard.
Shop on online weed stores
For a more familiar shopping experience, you can order from online weed stores. Our curated list of the best online dispensaries will deliver across Chiang Mai. Here's how:
Browse and pick your desired weed products.
Add to cart and proceed to checkout.
Fill in the delivery information.
Choose your payment: For foreigners, cash on delivery or card payments are best, while locals have e-wallet or QR code options.
When you buy weed online, you get more clarity in ordering and a high assurance of receiving what you've chosen.
How to judge marijuana quality
Since Chiang Mai is close to the marijuana-growing hub of Thailand, you will almost always find good-quality cannabis. At the same time, you may also find brick weed if you look hard enough simply because of the numerous weed farmers in the region.
To help you make an informed choice when seeking excellent cannabis flowers, consider these pointers:
Choose reputable stores: High-end establishments like The Dispensary by Taratera grow their weed in dedicated cultivation facilities. Since their flowers are grown in-house, you will find better quality control compared to third-party purchases.
Beware of bargains: Cannabis priced below 200-300 THB per gram may contain stems and seeds, offering a quality similar to brick weed.
When you do find a trustworthy store in Chiang Mai, pay attention to these quality indicators:
Smell: Premium cannabis should emit a potent, pleasant aroma. Seek out strains with a distinct and enjoyable scent.
Appearance: Quality buds exhibit vibrant colours, well-defined structures, and a generous coating of trichomes—those tiny crystals that hold cannabinoids. Avoid excessively dry or overly moist buds.
Freshness: High-quality cannabis should have a slightly sticky texture, striking the right balance between moisture and dryness. Avoid anything that is too dry or brittle.
For a more detailed guide on assessing cannabis quality, consider referring to our marijuana quality guide for additional insights.
How to smoke weed in Chiang Mai?
You may find Chiang Mai to be more relaxing and laidback when compared to Bangkok. Nevertheless, it is good to follow local rules when it comes to smoking weed – especially since this city is close to its traditional and cultural roots.
For example, the city is home to numerous temples and monasteries; it is important to be respectful of such places and not smoke weed in these surroundings.
Here are some guidelines to ensure a pleasant experience:
Steer clear of public spaces: Resist the urge to smoke in open public areas – especially around the temples in the Old City area. It's always better to enjoy your session in designated smoking areas found in some dispensaries, where you can relax without worrying about breaking any rules.
Abide by the norms: Stay informed about the local guidelines related to cannabis use to enjoy a hassle-free experience.
Safety first: Just like any other tourist hub, it's essential to stay alert to avoid unpleasant situations. Being too high in busy areas like night markets may make you an easy target.
Can you smoke in hotels in Chiang Mai?
Hotels and resorts are considered public spaces, making weed smoking illegal there. However, you can smoke it on your private balcony if smoking is permitted. The rule follows the same etiquette as cigarettes – if cigarette smoking is allowed on your balcony, it's likely okay for marijuana, too.
This also applies to Airbnbs, condos, and guesthouses; if they permit smoking, cannabis is usually acceptable. However, some accommodations may explicitly prohibit cannabis smoking; in such cases, stick to their rules.
Remember not to be a nuisance to anyone. Many people do not appreciate the smell of marijuana. It should be fine if you are far away from people or have your own private space.
That said, there are many cannabis-friendly hotels and accommodations in Chiang Mai. This does not mean you can smoke openly there, but if you are discreet and respectful, then it will not be a problem.
Smoking in parks & nature
Given that Chiang Mai is also famous for its nature, it is obvious to wonder if you can smoke weed in public parks or in the greenery. Here is what you should know:
Public parks are a no-go since they are often crowded and visited by family and children.
To enjoy cannabis in the wilderness, you will have to go outside the main city area. Popular places include Huay Tueng Thao Reservoir, Monk's Trail (Wat Pha Lat Hike), and Mae Sa Waterfall.
The rules and etiquette of public smoking still apply. Don't light up a joint if you are around family or crowds. You should also aim to keep your surroundings clean and not litter.
Taking edibles in these places is a much better option as it doesn't bother people and pollute nature.
Conclusion
Chiang Mai is more than just a beautiful city; it's a haven for cannabis lovers. Whether you're looking to buy weed in a traditional setting or prefer a modern, western-style dispensary. Many spots offer a cool atmosphere with games, lounges, and even wellness activities to elevate your experience.
The city is also an excellent place to get closer to nature. Have some edibles and head to an elephant sanctuary or the national park in Doi Inthanon for a spiritual-like experience.
You can also find a weed dispensary in Chiang Mai that delivers right to your door, offering you the quality and convenience of online shopping all at once.
As you explore the cannabis scene, remember to smoke responsibly. Always opt for quality flowers to get the best experience and respect the local rules to enjoy a hassle-free session.