Thai online weed shops 2023
It has never been easier to buy weed online as it is today in Thailand. All cannabis stores listed on this page have top-shelf strains which can be delivered to your home within 1-48 hours.
You can expect one-hour delivery if you're based in the same city as the store's warehouse. All stores listed apart from Prikpot (Chiang Mai) are located in Bangkok.
If you're ordering from an online store and living in Pattaya or Phuket you can expect 24-48 hours delivery.
Best cannabis stores in Thailand
Kief & cannabis weed tea available
Cash on delivery
Locally grown weed, 100% organic & natural
Live chat support
Not enough cannabis oils
No edibles or gummies
No international payment methods (Visa/MasterCard)
Best store for weed
Visit store
T&C apply
When shopping at Prikpot, you agree to the cannabis laws of Thailand.
Professionally grown, exotic strains available
Discounts on higher quantities
Compliance with local cannabis laws
International payment methods like Visa, MasterCard, Paypal available
No edibles or gummies
No cannabis oils or tinctures available
Best store for weed
Visit store
T&C apply
When shopping at OG Thai, you agree to the cannabis laws of Thailand.
Range of edibles: Outstanding
Range of tinctures: Average
Customer service: Average
Mobile usability: Outstanding
Shipping: Average
Payment methods: Visa, MasterCard, Apple Pay
Third party lab tests: Inadequate
Product Info Clarity: Inadequate
Range of flowers: Inadequate
Visit store
T&C apply
When shopping at Cannabox, you agree to the cannabis laws of Thailand.
Featured strain
Benefits
Visit Clinic
Review
T&C apply
Please note that the information presented on this page is intended solely for descriptive purposes and should not be considered as a review or medical advice. The actual effects of the cannabis strain may vary. It is important to use marijuana responsibly, as it can be addictive. We recommend that you consult a healthcare professional before adding cannabis to your health regimen.
Key considerations when choosing a cannabis store
As you browse through our reviews and comparisons, keep these key factors in mind:
Product Quality: The potency, aroma, and overall experience of the cannabis strain are crucial factors in choosing an online store. Look for stores with a wide range of high-quality strains to suit your preferences.
Customer Service: A responsive and helpful customer service team can make all the difference in your online shopping experience. It isn't uncommon that there are issues with delivery. Kerry, EMS, or whatever service the weed shop is using also has bad days. Attentive support can save your day in cases like this.
Pricing: Compare the prices of the cannabis strains you're interested in across different stores to find the best value for your money.
Delivery Options: Consider the delivery options and shipping fees offered by each store. Some stores may offer free shipping or expedited options for an additional cost.
How to order the right strain
There are plenty of weed strains to choose from – so much so that it can be overwhelming.
First, you have the basic three types (which, we believe, is not an accurate way of classifying weed, but it is still popular):
Sativa strains: Buds which give you a mental, cerebral high. Good for parties or for creative situations when some extra energy is needed. Also popular used during the day.
Indica strains: These are THC flowers that give you a body high; often used for sleep, pain relief, and stimulating high. Generally used in the evening since they make you want to sit down and enjoy watching a movie.
Hybrid strains: A combination of the above two
CBD strains: Great for those who do not want to get high, but use the medicinal benefits of cannabis. Great for anxiety, sleep and inflammation.
You have strains cultivated specifically to have desired concentrations of THC, CBD, and terpenes. There are strains which absurdly high THC concentration above 30%. But this is nothing we generally recommend. A stronger strain does not become a better smoking experience.
Outdoor vs. indoor grown
Most of the stores in Thailand sell strains which are exclusively grown indoor. Whether this is a better experience or not is individual, but those cannabis flowers are usually aesthetically better looking. Meaning they are compact, lots of trichomes and vivid colours. Meanwhile, organic outdoor cannabis flowers can look a bit "bushier", not as dense and usually a bit duller in its colours.
We recommend trying out both. A shop which has both indoor and outdoor flowers for sale is Prikpot.
How to pay online
In Thailand, you can easily buy weed online – place an order, and the shops will deliver the buds to your door.
There are very few online stores accepting credit card payments such as Visa and Mastercard. If the store you want to purchase from does not accept cards they'll either have COD (Cash On Delivery – yes that's a big thing in Thailand, even for orders over THB1,000) or local mobile banking.
We have written a guide on how to buy weed as a tourist which we recommend if you want to know how to buy weed online.
Are you buying weed for the first time?
To make your first time as a legal weed consumer go well we do have some tips for you. Both in terms of shopping and smoking/eating it:
Set & settings: The first question to answer is when do you intend to use weed. At home in the evening – then we recommend an indica. At the beach with friends? Go for a sativa-dominant strain.
Do your research of the strain: Before making a purchase, take the time to learn about different cannabis strains, their effects, and flavors. This will help you find the perfect strain to suit your preferences and needs.
Start small: If you're new to cannabis or trying a new strain, it's a good idea to start with a smaller quantity or with lower THC. This allows you to test the strain's effects and potency before committing to a larger purchase. Bigger purchases comes with good discounts. OG Thai dispensary, for example, gives up to 30% discount if you buy more than 50g.
Read user reviews: If you don't trust our words – check out user reviews and testimonials for the online cannabis stores you're considering. This will give you a better idea of the store's reputation, product quality, and customer service. Google Reviews is a good source for all the stores listed at Weed Review, except "OG Thai" which does not have a Google presence.
Smoke responsibly: Do not disturb other people with your smoke. This can cause you a THB 20,000 fine. Smoke at home, or far away from other people, especially children.
Related Posts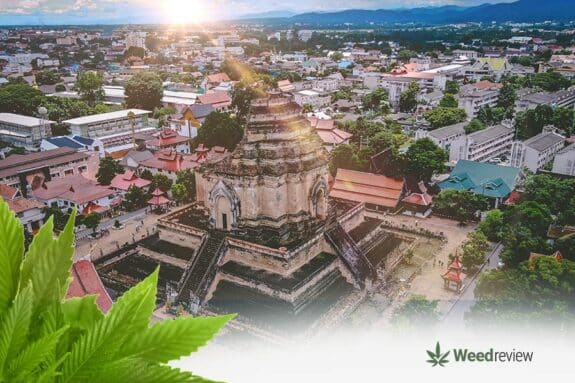 Nestled in a region renowned for cultivating landraces in its mountainous landscapes, the Chiang Mai…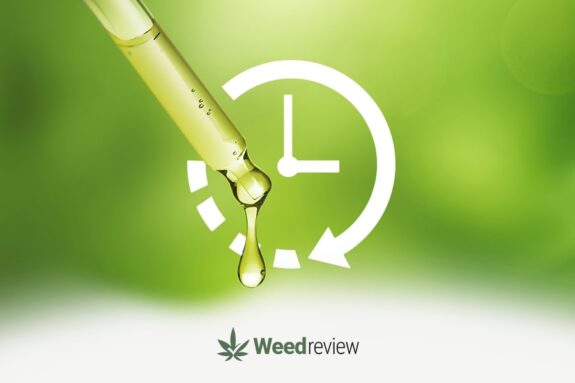 High-quality CBD can be an expensive purchase. You want to make sure that you can…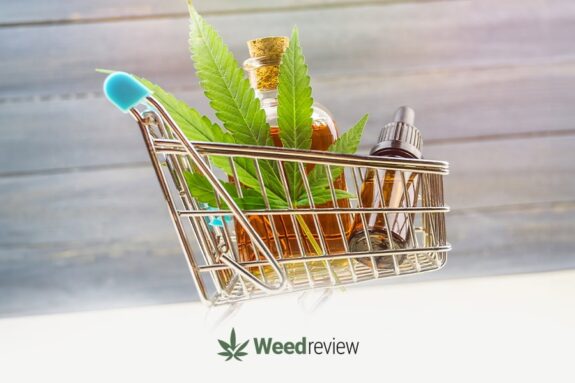 Cannabidiol (CBD) is making waves in the medical world as a promising treatment for a…