10 strains from ฿199
Visit Clinic
---
Kief & cannabis weed tea available
Cash on delivery
Locally grown weed, 100% organic & natural
Live chat support
Not enough cannabis oils
No edibles or gummies
No international payment methods (Visa/MasterCard)
---
When shopping at Prikpot, you agree to the cannabis laws of Thailand.
Overview
---
Unique items:

Kief, weed tea

Strains available:

White Widow, Charlotte's Dream, Blue OG, Amnesia
Prikpot Review
If you want to buy organic weed, Prikpot is the place to go in Thailand. From locally grown premium cannabis to excellent customer support and free delivery, this weed store has it all.
Product range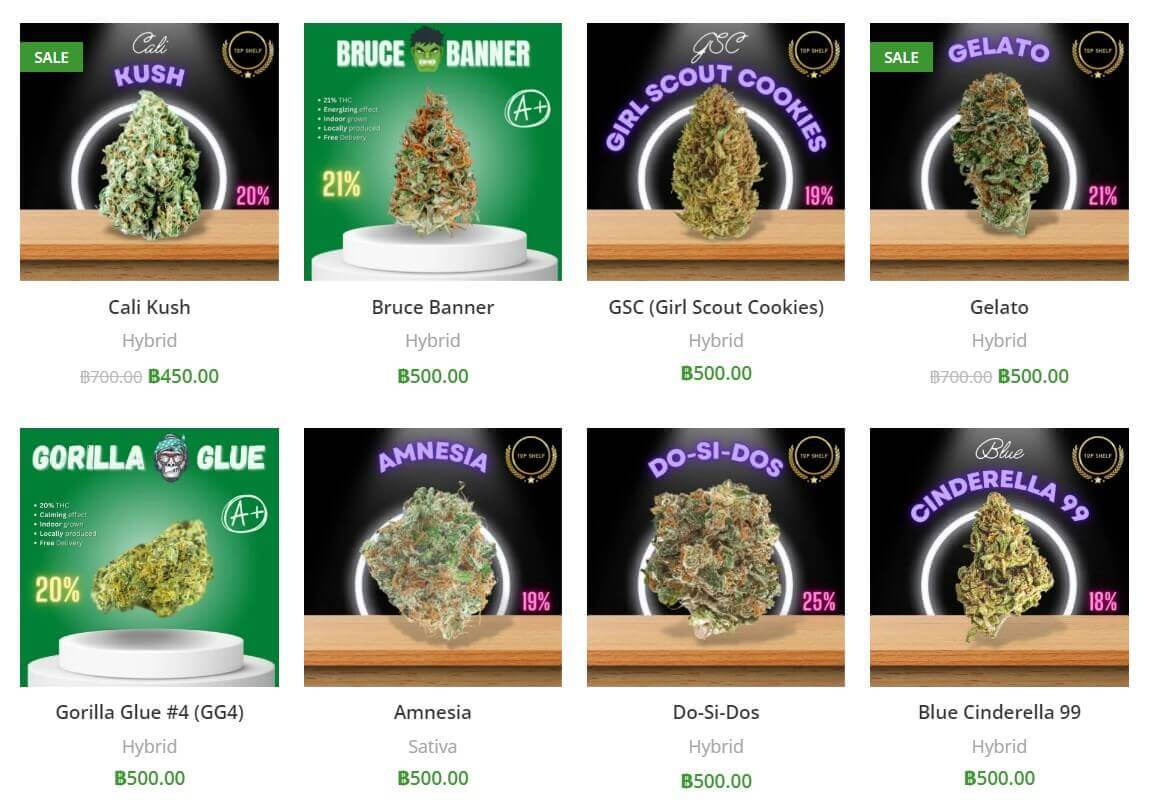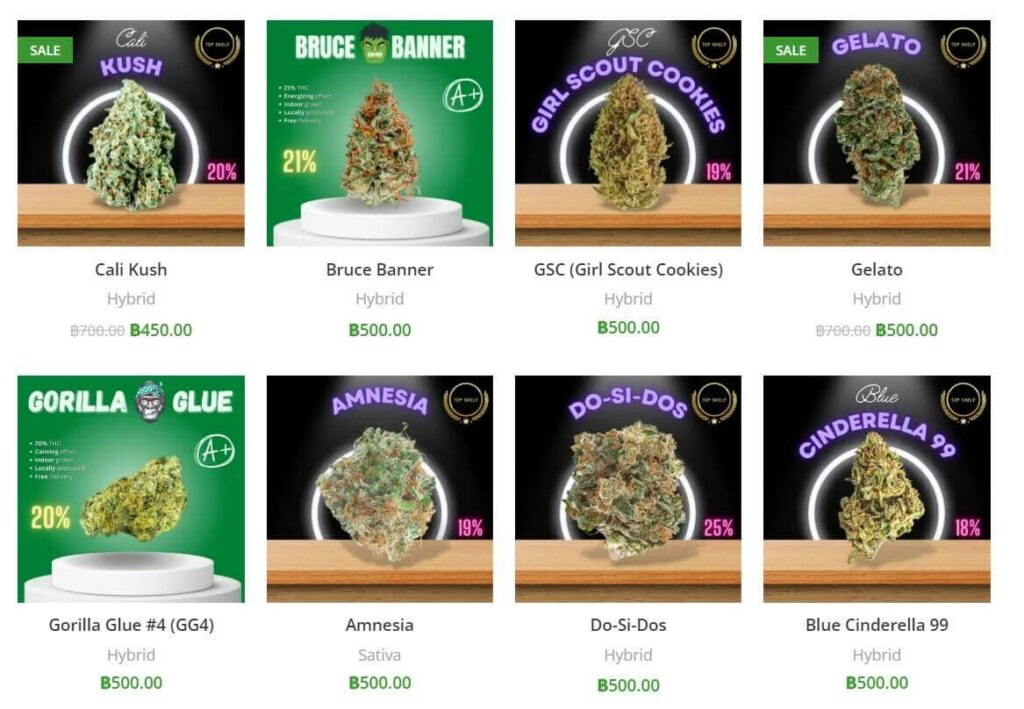 Sativa, indica, hybrids – whatever your preferred weed is, you will find it at Prikpot. 90% of their marijuana strains are top-shelf – which means you get good-quality flowers at highly competitive prices.
For example, you can buy cannabis Big Bud (indica) for just 450 THB per gram, while Amnesia (sativa) is 500 THB. The cheapest strain – Charlotte's Dream CBD – is priced at 199 THB per gram.
There are also plenty of hybrids to choose from; Silky Delight and Do-Si-Dos are among the top sellers as they feature over 25% THC.
Some strains like Gelato, Chili Charlotte, Bruce Banner, and Charlotte's Dream also come in value packs; you get a big discount if you buy 10 grams.
Organic, Thailand-Grown Weed
Granted, many weed stores (like OG Thai, for example) also sell imported strains. However, what makes Prikpot unique is that they sell only locally-grown cannabis. With Prikpot, you can take pride in supporting local farmers.
Moreover, most of their strains are indoor grown – all organic and natural.
You get the best of mother nature in all its glory; all weed flowers are free of synthetic chemicals or pesticides. As a result, Prikpot's cannabis is also suitable for medicinal use – but Weed Review recommends speaking to a doctor before adding it to your routine.
Kief
Another area where Prikpot gets full marks in this cannabis store review is their selection of kief. At this point in time, Prikpot is the only online weed shop in Thailand that sells kief.
The price may be higher at 1,490 THB for 1 gram of kief, but the experience will be much more potent than smoking a regular joint. You can buy kief collected from popular strains like Blue OG, Gigabud, and Megamix (a mix of multiple strains available during preparation).
Dip Trip cannabis tea
If kief and its exciting selection of cannabis flowers do not intrigue you, then perhaps, Dip Trip will.
It is a one-of-a-kind product available only at Prikpot – after all, it is their creation.
Dip Trip box features 24 cannabis tea pouches with THC levels varying from 16-20%. It is weed tea that gets you high. Alternately, you can also use this product as snus – keeping the pouch under your upper lip, and you will feel the effects in an hour or so.
With no smoking in the picture, Dip Trip weed tea is ideal for those who want the goodness of marijuana without harming their lungs.
Checkout & payment options
The buying and checkout experience is smooth, with no real problems.
Payment-wise, there are two options:
Cash on delivery (COD)
Bank transfer
Credit & debit card through Wise.com where you need to open an account.
The order will be processed and delivered within 1-3 working days; you will also get a tracking ID for your shipment. If you're based in Chiang Mai you can get it the same day with Grab.
In case of any problems, you can always contact their prompt & professional customer service team.
Customer support
Unlike other online cannabis shops, Prikopot has a dedicated live chat feature on its website. The team usually responds in under an hour; they are polite and knowledgeable.
You can also get in touch with Prikpot via:
All in all, Prikpot is worth a try for any marijuana lover – especially those looking for new, exciting products.
FAQ
What is kief?

For the newcomers, kief is basically cannabis dust – and it is really strong. If you have ever used a grinder to crush weed, the middle chamber collects the weed flowers you put in joints, while the dust-like item in the bottom chamber is kief. It contains trichomes and other small particles that carry plenty of THC.

Kief is usually stronger than your regular weed flowers, containing up to 70% THC.

Usually, collecting kief takes plenty of time and effort as you have to grind several flowers – to get one gram of kief, you may have to use 15 to 30 grams of flowers. You can skip that by simply buying kief online at Prikpot.

Are there edibles or gummies on Prikpot?

Prikpot specialises in Thailand-grown, premium cannabis strains. While they do sell kief and cannabis tea, there are no edibles or gummies like brownies and chocolates.

Can you pay with international cards on Prikpot?

Currently, you can place your order on Prikpot with Cash on Delivery and Bank Transfer only.