Best store for CBD oil & edibles
Visit store
---
Wide array edibles & gummies
Diverse range of CBD oils
Pet-friendly CBD oil available
Lab tested products
Offers cash on delivery
Fast shipping; 1-3 days
Does not sell cannabis flowers
---
When shopping at Bloom, you agree to the cannabis laws of Thailand.
Overview
---
Unique products:

THC cookies, gummies, pet CBD oils
Bloom
Bloom pioneered the Thai marijuana scene online, becoming one of the first to sell cannabis products in the e-commerce model. Since the country first decriminalised weed, Bloom has thrived alongside the evolving cannabis landscape, offering items suitable for every need. Dive deeper with our hands-on Bloom review as we break down the ins and outs of their online store and buying experience.
Product range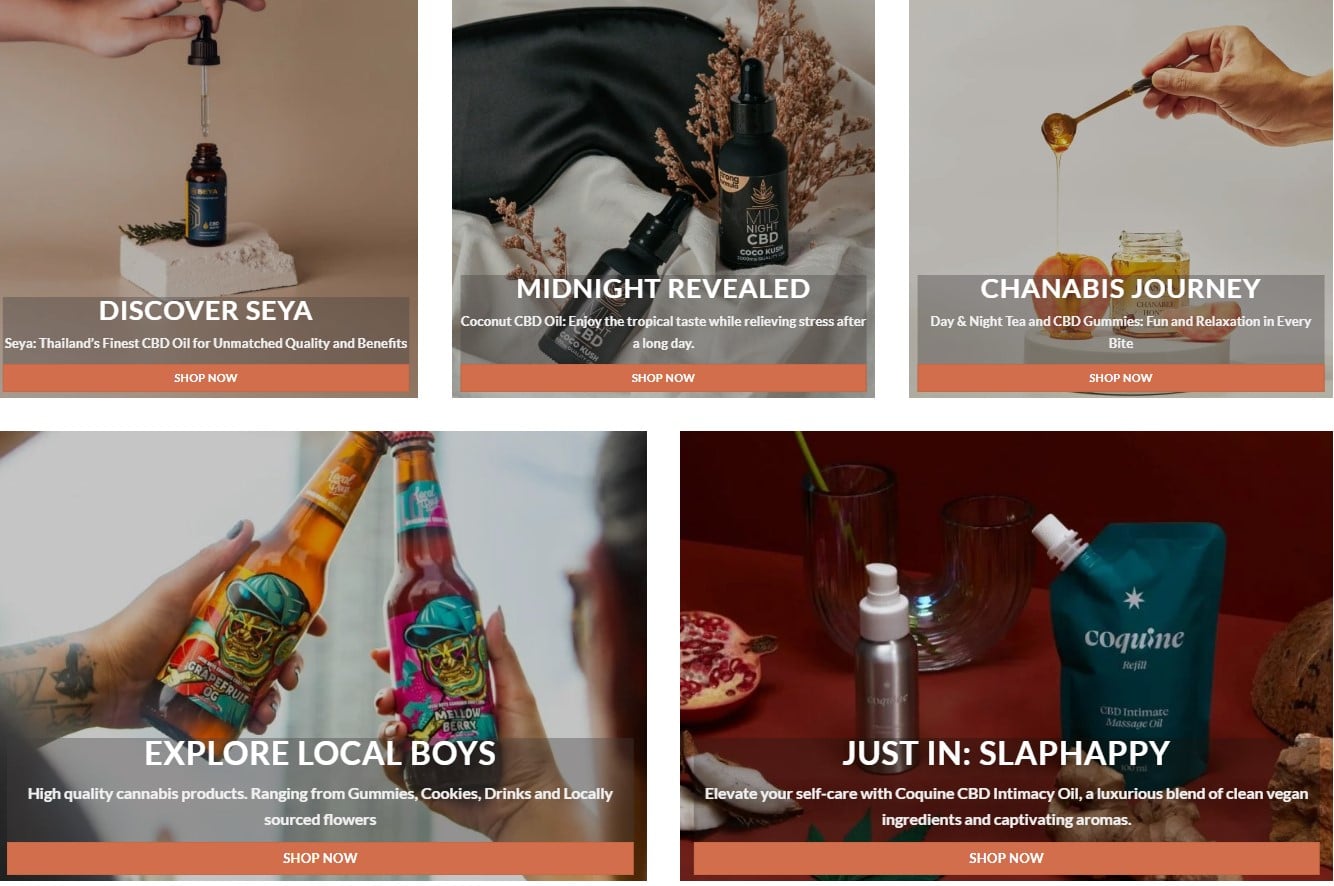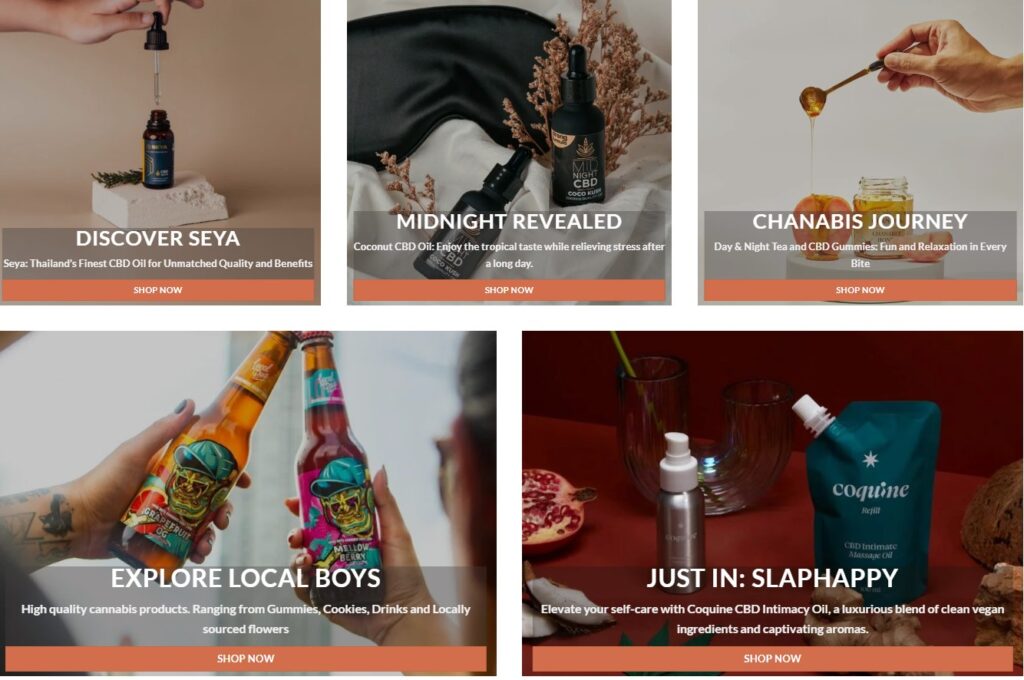 Whether you're new to cannabis or an experienced user, there's something at Bloom for you.
Bloom offers a wide variety of legal cannabis products for everyone. They sell edibles, CBD oils, pet products, topicals, and even weed-infused beverages and teas. Their products are made here in Thailand, so you can take pride in supporting local communities and regional farmers.
Edibles
For those with a sweet tooth, Bloom's selection of cannabis-infused edibles is both tempting and diverse. Their branding is also unique and highly professional, setting them apart from the plenty of other brownies or chocolates you see in weed shops.
Starting with their cookies, they've thoughtfully categorised them based on the effects of the strains – Sativa, Indica, and hybrid. They come infused with unique flavours — Chocolate for Sativa, Cinnamon for Indica, and Lemon for the Hybrid variety.
Each cookie has 2.5 mg to 5 mg THC. For those wanting just a taste, individual cookie packs are available. There is also a four-pack option, although the pricing is slightly higher for the latter. You may find it cheaper to purchase multiple one-packs instead.
Bloom further shines with their THC-infused chocolate bars and novelty items like THC sodas and CBD teas.
Gummies
You have to give points to Bloom for being the leading brand for CBD gummies in Thailand.

If you have been to dispensaries in any major city, you may have come across Chanabis CBD Gummies – in dark blue and cream-coloured packaging. These are from Bloom; the two flavours are Blueberry (25 mg) and Magoo & Lychee (15 mg).
You also have THC-infused gummies: Local Boys Chewables – Indica & Sativa gummies. These contain less than 0.2% THC, making them in coherence with the Thai marijuana laws.
We suggest you check out our detailed reviews of these cannabis gummies before you try them.
CBD oil
At Bloom, you can find CBD oils from SEYA and Midnight.
They have isolates ranging from 100 mg to 3,000 mg, which is great for both new and regular users – especially if you are not fond of THC. Every oil comes with a third-party lab test certificate, so you know it's genuine.
Their latest product is SEYA's FDA-approved Full Spectrum CBD Oil with 1500 mg of CBD. It is one of the three top full-spectrum tinctures in Thailand, just like the ones from Raksa and Mellow Organic.
Each product is meticulously detailed with essential information, such as dosage guidelines and precautions. It is nice to witness this commitment to raising awareness, setting them apart from many of their counterparts.
While Bloom boasts a commendable collection of CBD tinctures, they could benefit from introducing flavour varieties, much like what is offered by Diip and Mellow.
Topicals
Bloom has done well to leverage Thailand's love for cosmetics.
CBD has shown promise in improving skin health, so the current range of topicals on bloom are CBD-infused. This includes massage oil, daily use face serums, massage balm, and cannabis-infused soap. You will also find cannabidiol-rich intimate oils if you want to add some spice to your sex life.
Similarly, Bloom offers cannabis terpenes-related products that can be mixed with a beverage, added to a cosmetic product or base carrier oil. These are pure terpene extracts, free of THC or CBD.
Pet CBD oil
This is another area where Bloom shines wonderfully in our review since there are not plenty of brands that offer dedicated CBD products for pets.
They offer specialised pet CBD oils that bring together the benefits of both Salmon and CBD. Available in two concentrations, 500 mg and 150 mg, these are isolate oils, ensuring your pets get a pure experience free of THC or any other cannabinoid.
The inclusion of Salmon not only makes it tasty for pets but also adds the nutritional advantages of omega fatty acids.
Accessories
You can also browse for your favourite brands, upgrade your wardrobe with some funky tees, or shop for deals.
Checkout & payment options
Everything is smooth when it comes to the checkout and payment experience.
You can get the products delivered anywhere in Thailand or pick them up at their physical store (only in Bangkok).
You will receive the email confirmation shortly after placing the order. Within 24 hours, you will also get the tracking ID to track your order.
Coming to the payment, you have multiple options:
Bank transfer
Credit/debit cards
Cash on delivery
E-wallets: ShopeePay, TrueMoney, Alipay, and WeChat
As tourists, cash on delivery or credit card are the best options as you do not have to worry about losing your money and dealing with refunds if the order does not come through for whatever reason.
What to consider:
A 50 THB delivery fee is added to the order if you don't pick up your order yourself from their shop in Bangkok.
Kerry Express Thailand delivers the order within 1-2 working days
Customer support
Bloom has a live chat feature on their website. They are also available on Line (download here). Their id is @bloom.asia; you can contact them there for any queries.
Similarly, you can find them on Facebook and Instagram.
They are highly responsive, and if you have any questions about your order, you can drop them a line with your order ID.
Bloom House Cannabis Store
They have a dispensary in Bangkok called "Bloom House Cannabis Store" with a 4.9 rating on Google Maps.
What separates them from the rest is their exceptional product selection and ambience.
You will find their entire online selection at the store. The budtenders are knowledgeable and will answer your queries surrounding the flowers, CBD, extracts, and everything else.
Address:

174/1 Ratchadaphisek Rd, Khwaeng Khlong Toei, Khlong Toei, Bangkok 10110, Thailand
Frequently asked questions
Does Bloom have any membership rewards?

No, but they run frequent promotions so make sure to check your Line app when they text you.

What is the delivery time?

1 hour in central Bangkok. 1-2 days in the rest of Thailand.

How does the packaging look like?

Bloom ship their products in typical brown boxes and the sender is labelled "Tropical Bloom". There is nothing on the box which indicate what's in the box.