Best Cannabis Dispensaries in Hua Hin: Top Rated Weed Stores & Online Delivery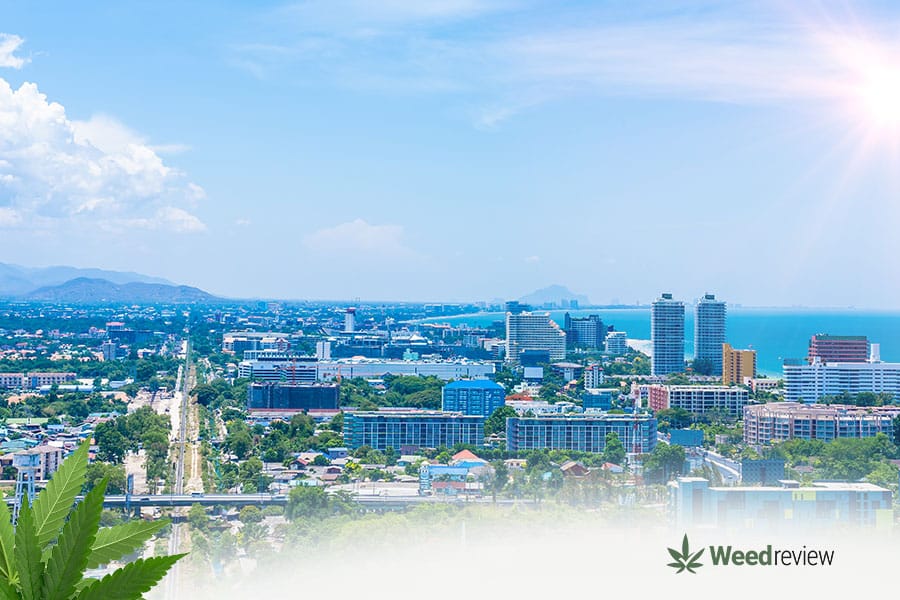 Hua Hin, with its tranquil seaside ambience and royal heritage, is taking a spirited leap into the world of cannabis. Known for its sweeping beaches like Hua Hin Beach and the historical Hua Hin Railway Station, the city is blending its laid-back charm with the progressive wave of cannabis legalization in Thailand.
As dispensaries begin to dot the landscape, Hua Hin is positioning itself as a destination for those seeking both peaceful, beachside relaxation and a taste of the blooming Thai cannabis market. Many of these stores are enhancing their reach by offering convenient online delivery services, ensuring that whether you're lounging by the sea or exploring the city, premium cannabis is just a click away.
In this article, we will introduce some of the top marijuana dispensaries in Hua Hin. Plus, we'll guide you on how you can have high-quality cannabis products delivered right to your accommodation.
Physical weed shops in Hua Hin
As we explore the physical weed shops in Hua Hin, we focus on three key attributes:
The authenticity and quality of the cannabis products.
The shop's location, offering ease of access whether you're near the iconic Hin Lek Fai Hill or the bustling Cicada Market.
The customer experience, ensuring a visit that's as memorable as it is satisfying.
Whether your preference lies in artisan edibles, premium buds, or a luxurious cannabis-buying experience, Hua Hin's dispensaries cater to every inclination.
Thaikanya Medical Cannabis Clinic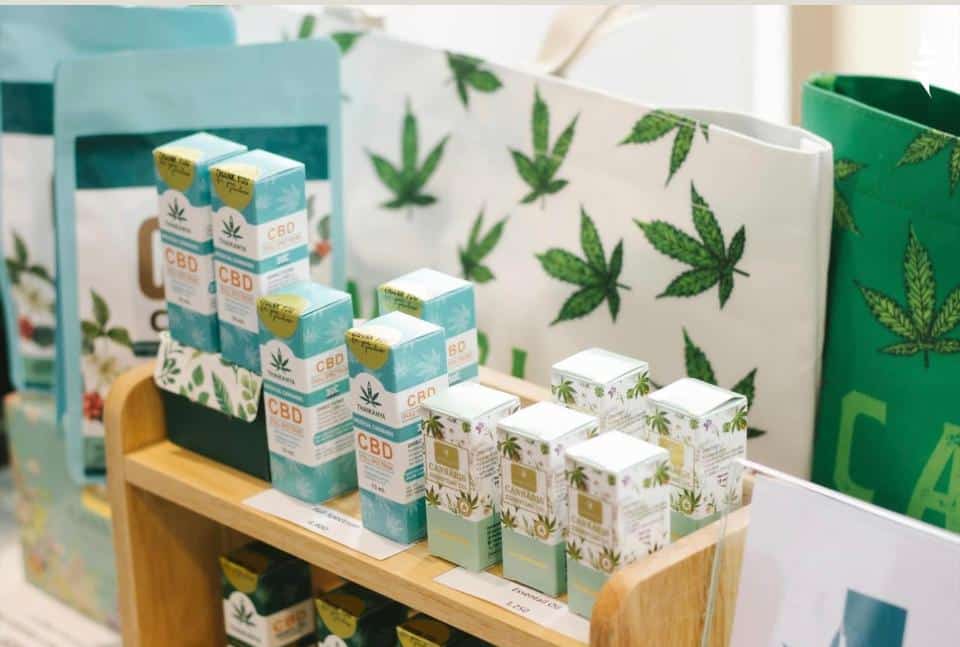 A sophisticated spot nestled in Prachuap Khiri Khan, the Thaikanya Medical Cannabis Clinic offers a serene escape for those looking for premium medical consultation. This clinic isn't just about cannabis products; it's a haven for those seeking medical consultation and high-quality CBD remedies to enhance sleep.
Highlights
Medical cannabis dispensary with in-house doctors.
Appointment for medical marijuana treatments.
A broad range of medical cannabis products – THC oils, CBD oils, topicals, and balms.
FDA-approved CBD coffee & tea.
Drawbacks
Flowers might not be of top quality.
Pricing may be on the higher side.
Thaikanya is the place to go if you need medical weed under expert guidance to ease your conditions. You can speak to doctors for a thorough consultation and the best advice. You may also find their products in other dispensaries across Hua Hin.
ร้านกัญชา หัวหิน Highnabis Hua Hin (Weed Dispensary)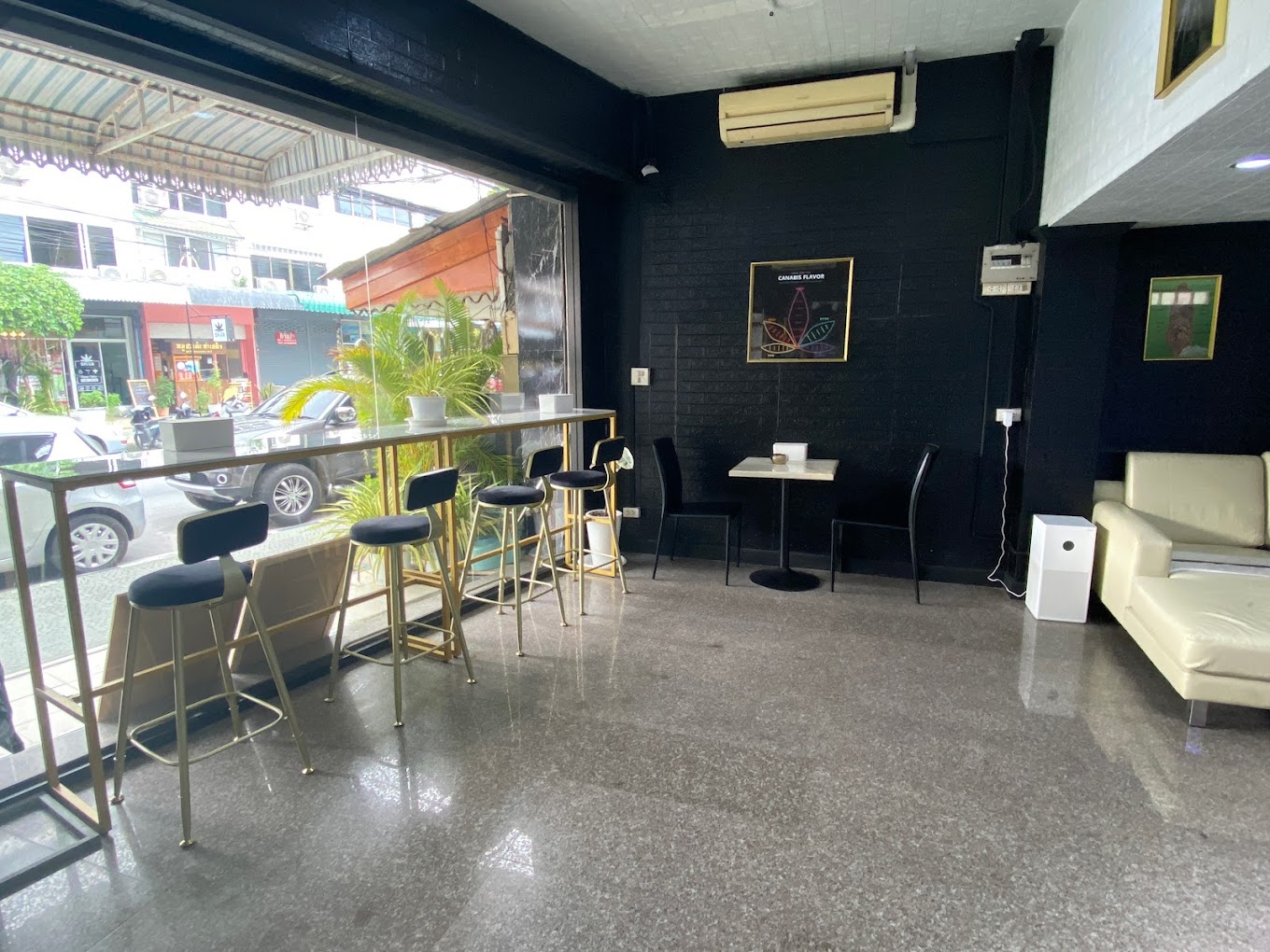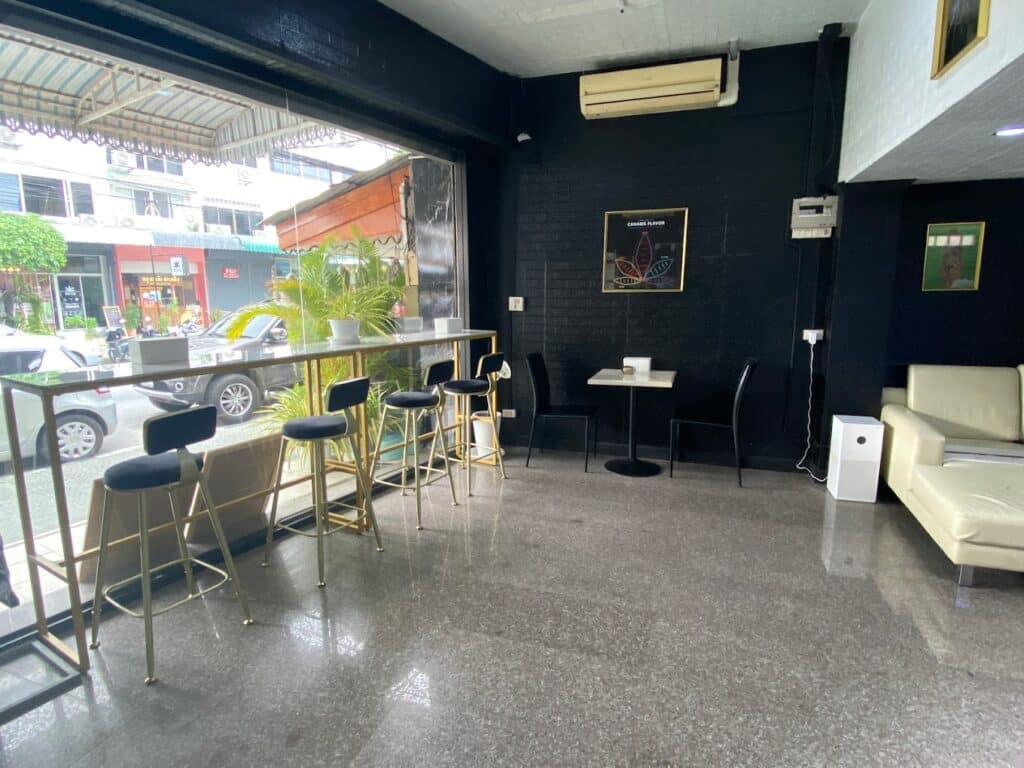 Centrally located on Naebkehardt Rd, Highnabis is a top-rated dispensary in Hua Hin, making it convenient and a must-visit shop for quality-seeking enthusiasts. This dispensary isn't just about quality but also about a welcoming experience.
Phone: +66884346835
Payment methods: Cash, QR
Highlights
Spacious smoking lounge.
Good price with AAA quality products.
Friendly and knowledgeable staff.
Unique strains on offer.
Rotating inventory; new strains added depending on the season.
Drawbacks
It is hard to point out any flaws with this store.
Good cannabis, good variety, and a welcoming staff – the Highnabis Hua Hin is a good representation of the friendly weed culture of Thailand.
Shiva Cannabis – Weed & Bar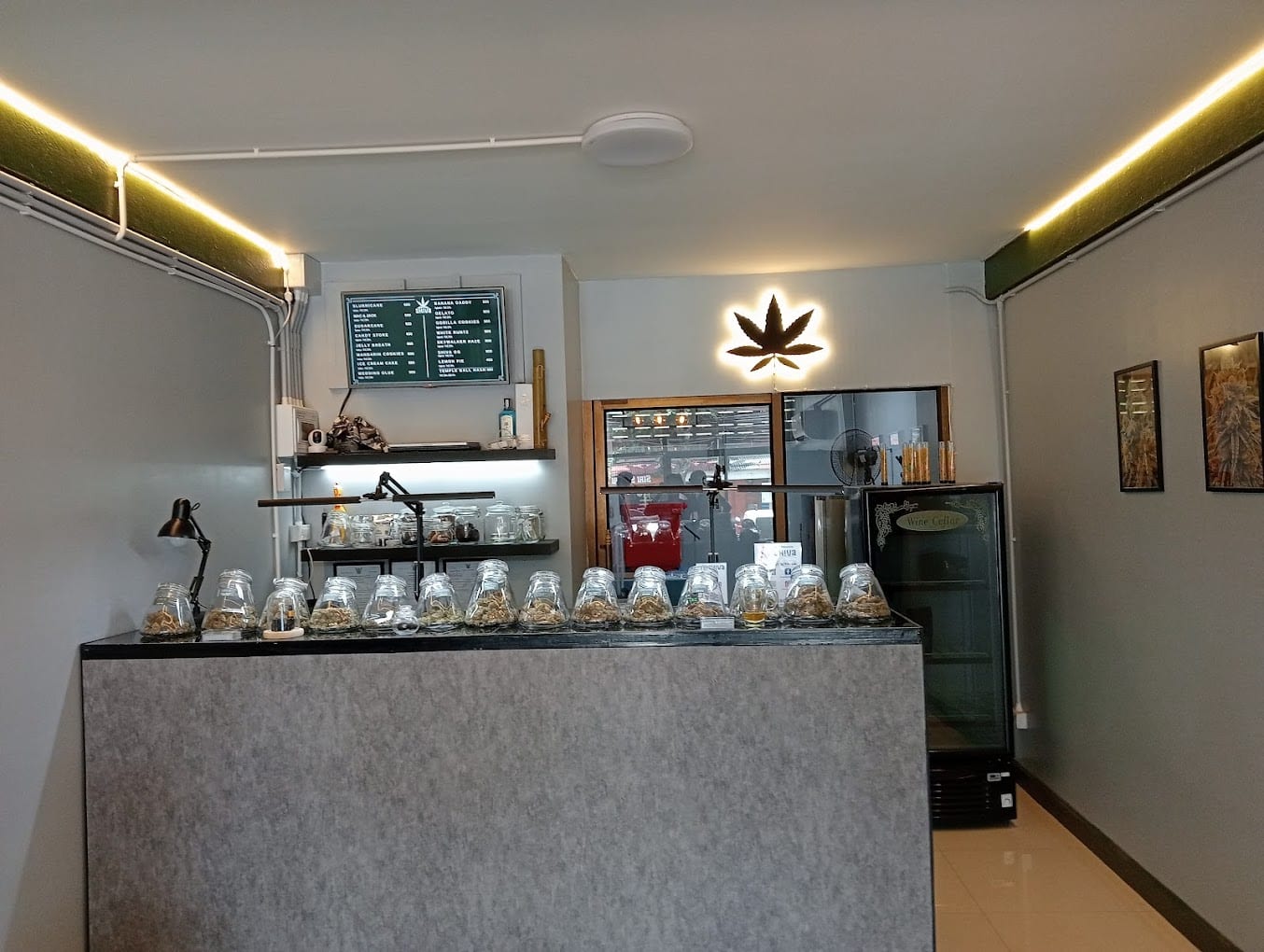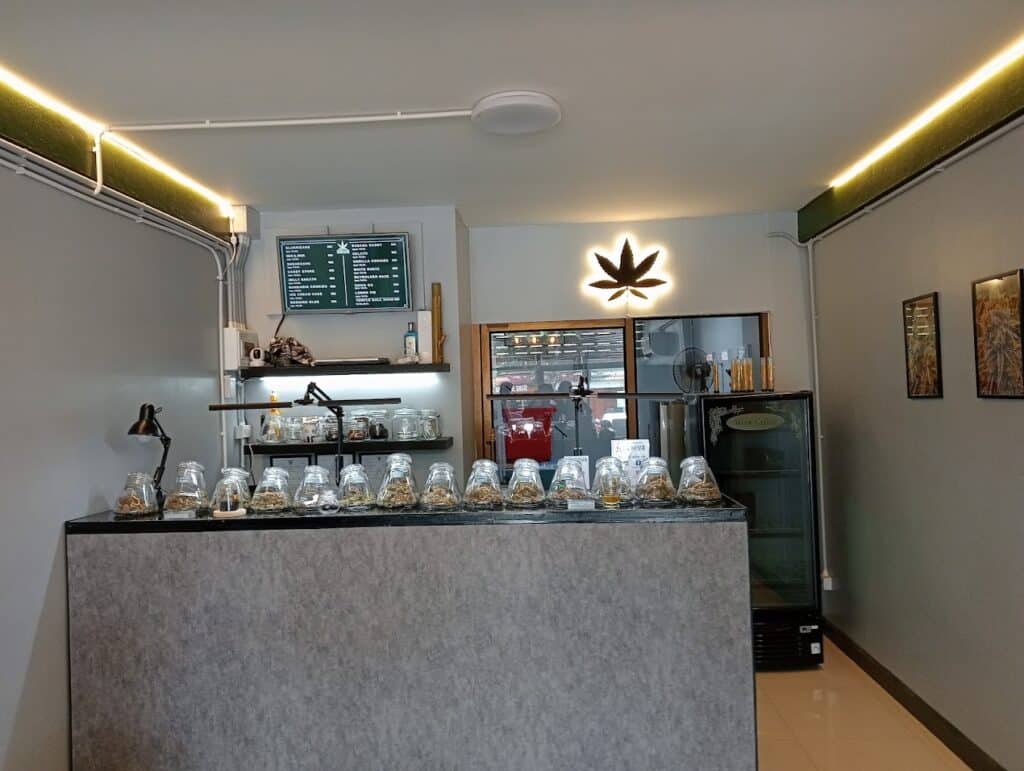 Shiva Cannabis is the go-to spot for locals and tourists. Positioned at a prime location, this dispensary is about top-shelf flowers and a homely ambience.
Address: 94, 7 Naebkehardt Rd, Hua Hin, Hua Hin District, Prachuap Khiri Khan 77110, Thailand
Phone: +66951603420
Payment methods: Cash, QR
Highlights
Top-shelf flowers at attractive prices, starting at 450 THB per gram.
Excellent service and knowledgeable staff.
Close to the lively part of Hua Hin; ideal pit-stop when exploring city's nightlife.
Drawbacks
Limited space in the smoking area.
If you need a good shop to buy quality cannabis buds, Shiva Cannabis is the place to go. Stock up on some fine flowers and enjoy the sights of Hua Hin.
Fat Jim Premium Cannabis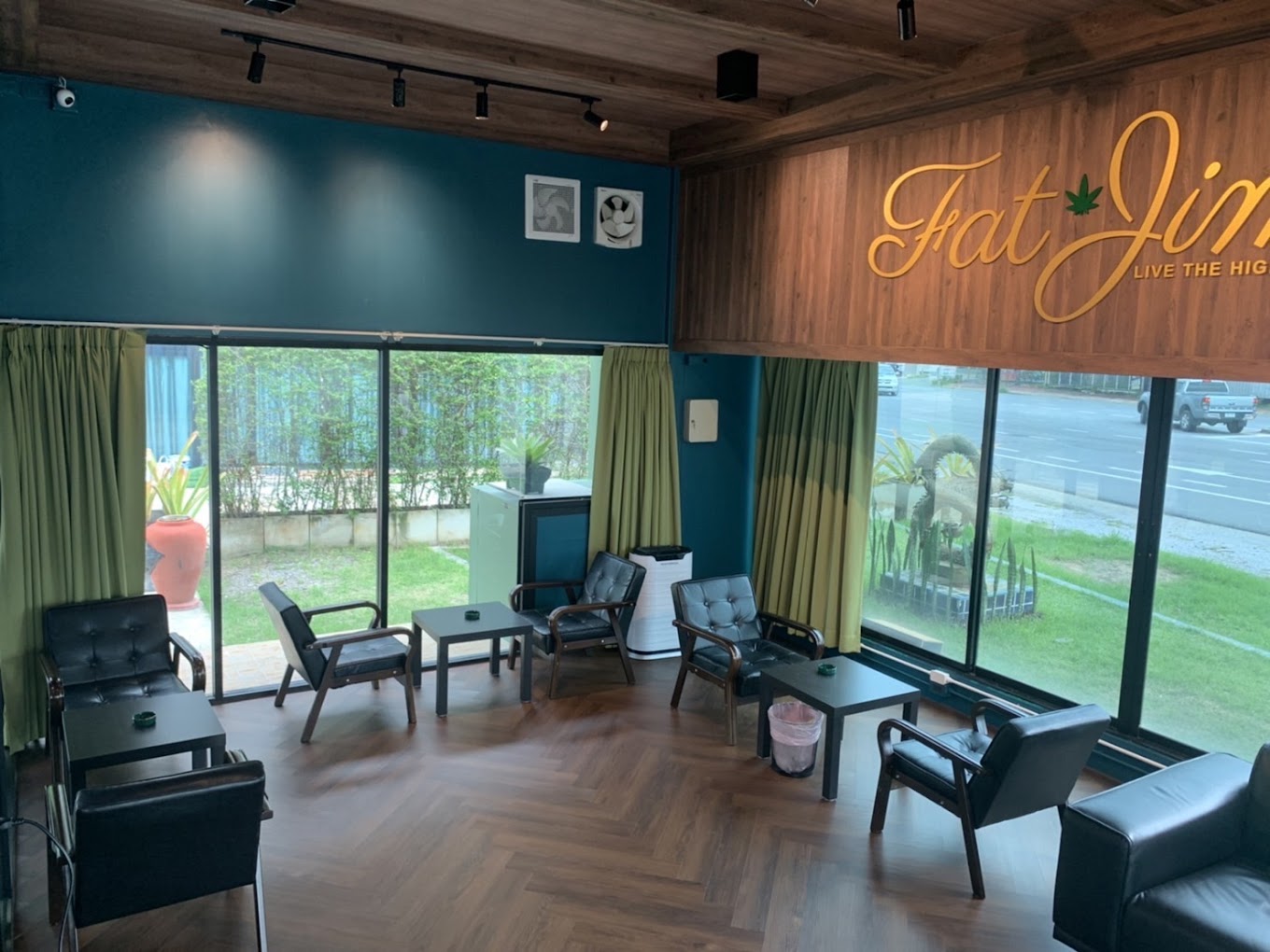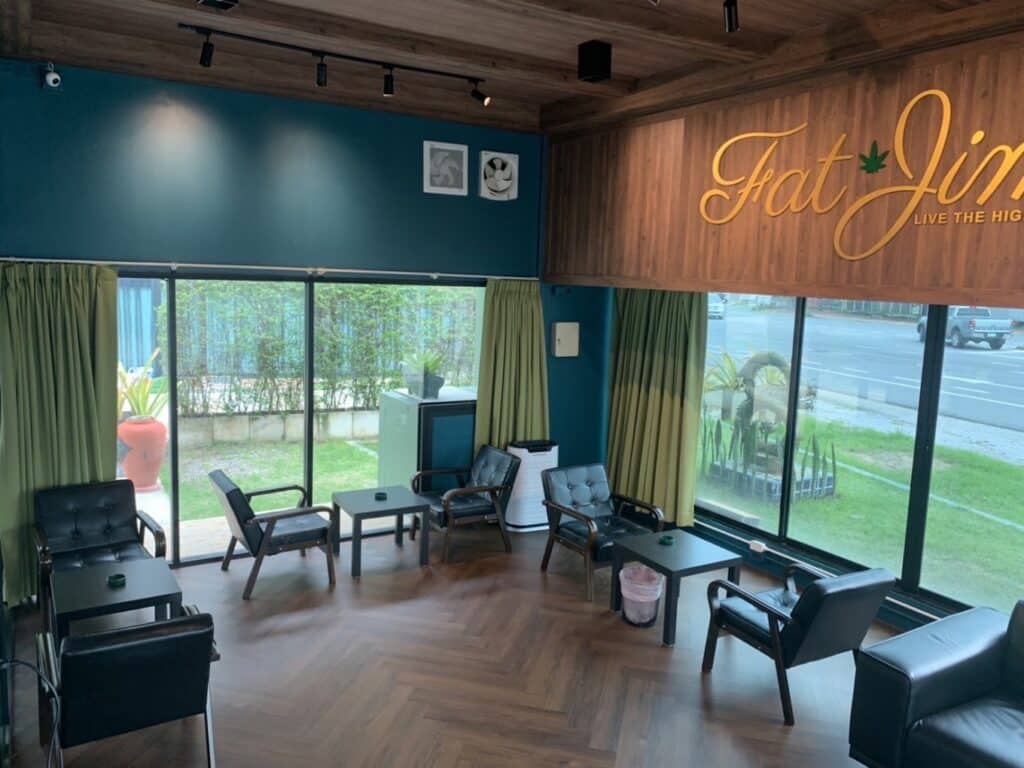 Located just a short walk from the tranquil beaches of Hua Hin, Fat Jim Premium Cannabis offers the perfect blend of relaxation with its high-quality products. The dispensary boasts a laid-back, comfortable setting where you can unwind after a day at the beach or get in the groove before hitting the waves.
Address: JX82+C7R, ซอย 5/3, Hua Hin, Hua Hin District, Prachuap Khiri Khan 77110, Thailand
Phone: +66934799919
Payment methods: Cash, QR
Highlights
Spacious, relaxing smoking lounge.
Very close to the beach.
AAA top-shelf flowers.
Located close to Highway No. 4 (Phet Kasem Road).
Edibles & gummies are available.
Drawbacks
Slightly on the pricier side.
You can't go wrong with Fat Jim – especially if you want to combine beaches with buds.
Wine and Weed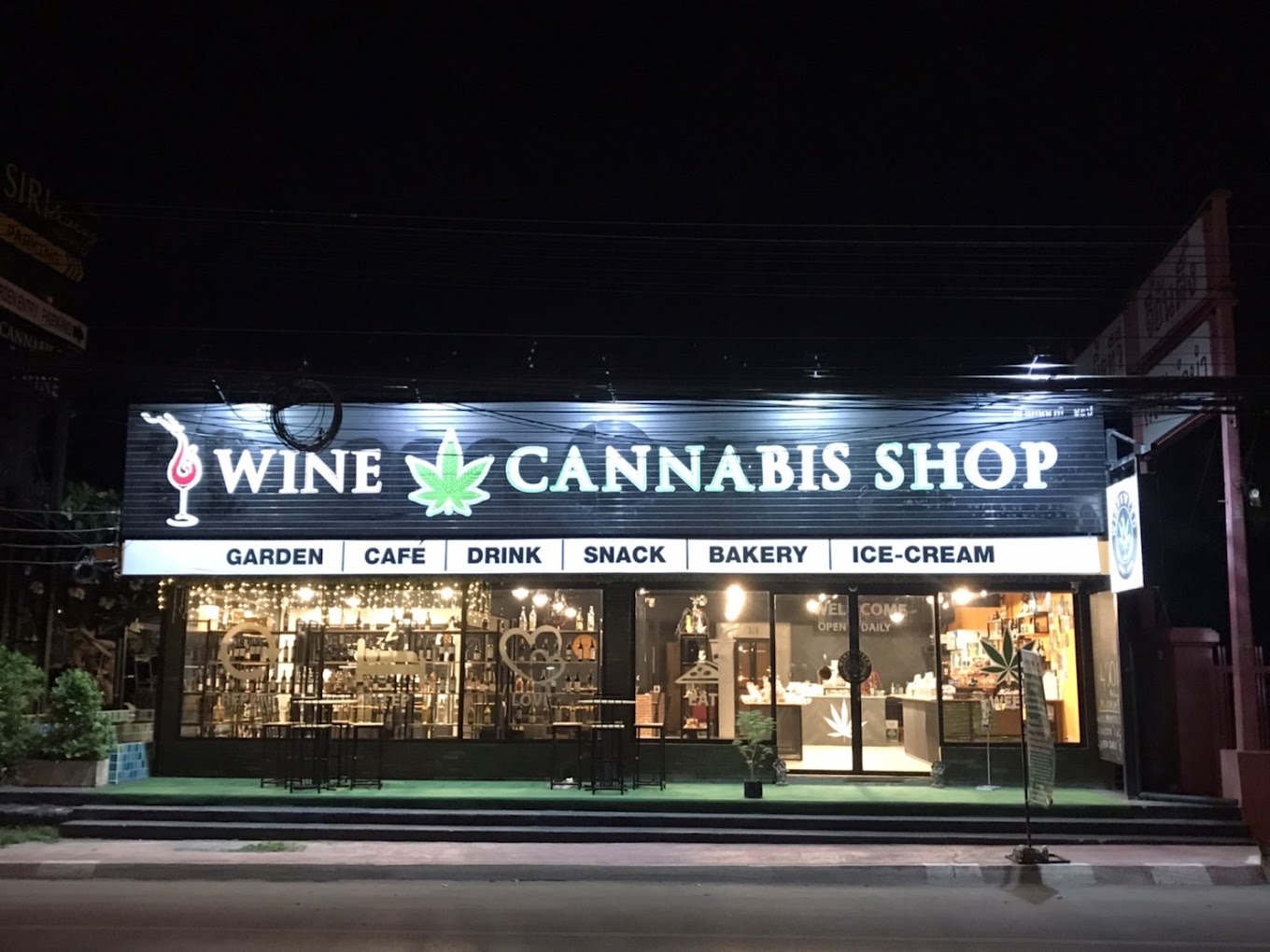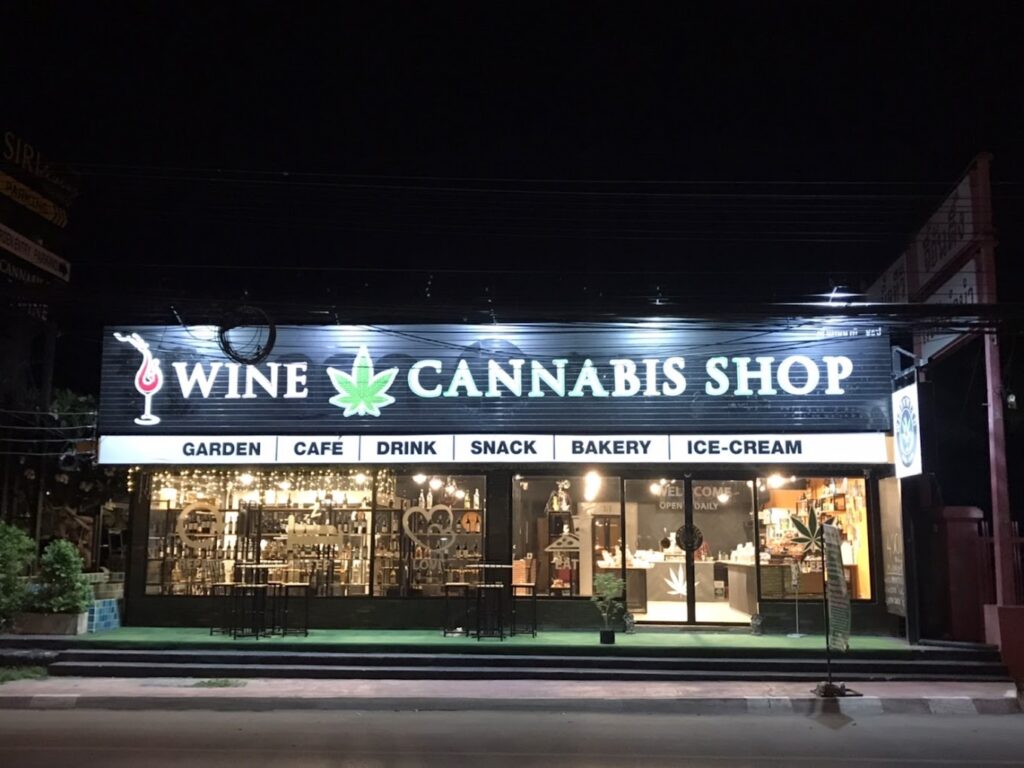 Located on Phet Kasem Rd, the central artery of Hua Hin, Wine and Weed offers an unparalleled blend of Thai wines and top-notch cannabis. It is relatively new in the city's marijuana scene but don't underestimate its ability to bless you with a warm, relaxing evening.
Wine lovers who also toke regularly – or tokers who enjoy wine – will want to visit this place.
Phone: +66905525104
Payment methods: Cash, QR
Highlights
Spacious store with a vast selection of wines and flowers.
Plenty of accessories and CBD-related products are available.
Charming interiors.
A nice setting to enjoy wine and food alongside cannabis.
Drawbacks
Expect the pricing to be on the higher side.
Wine and marijuana have a lot more in common than people think; this store will help you realise just that.
Weed Point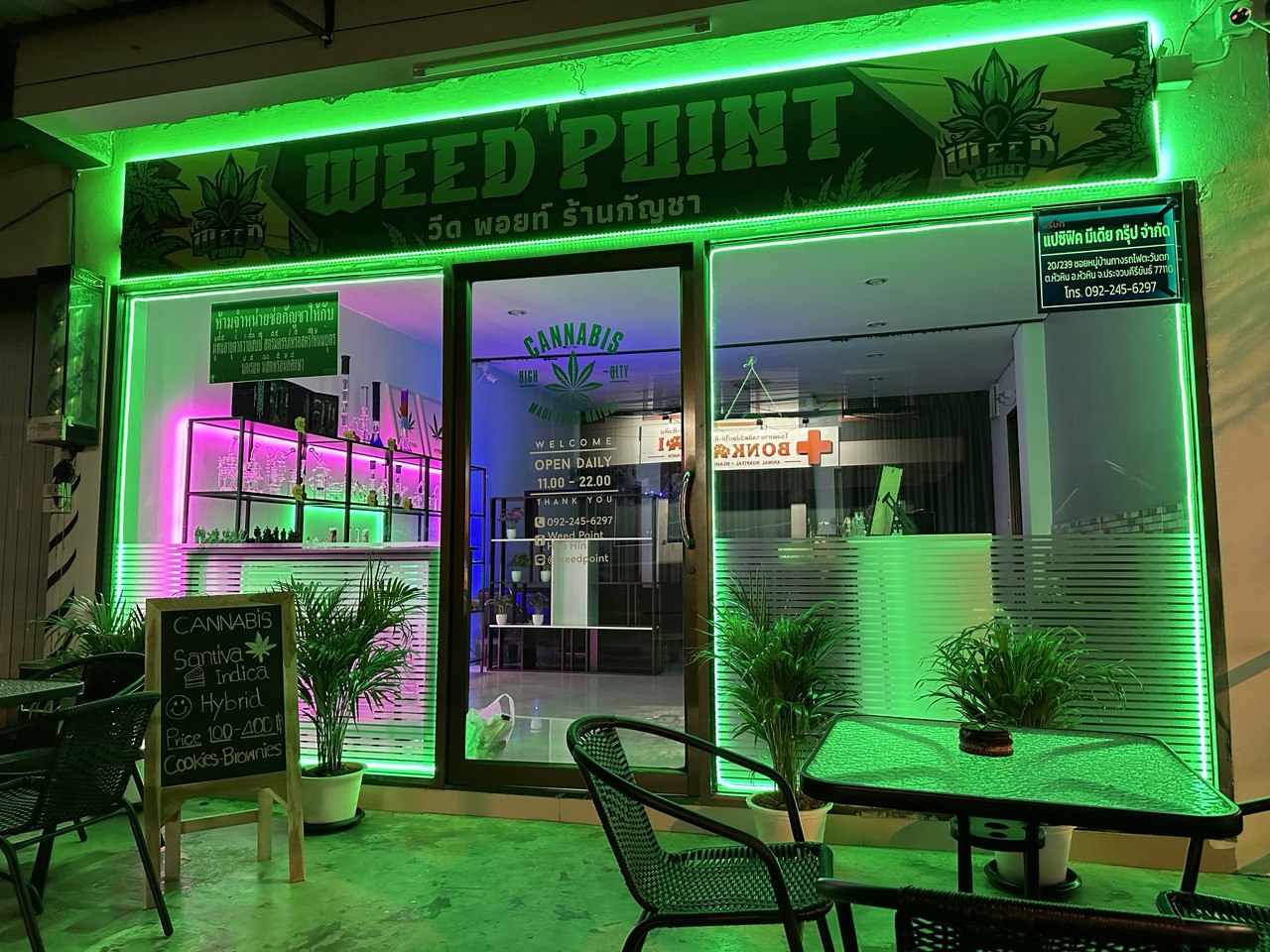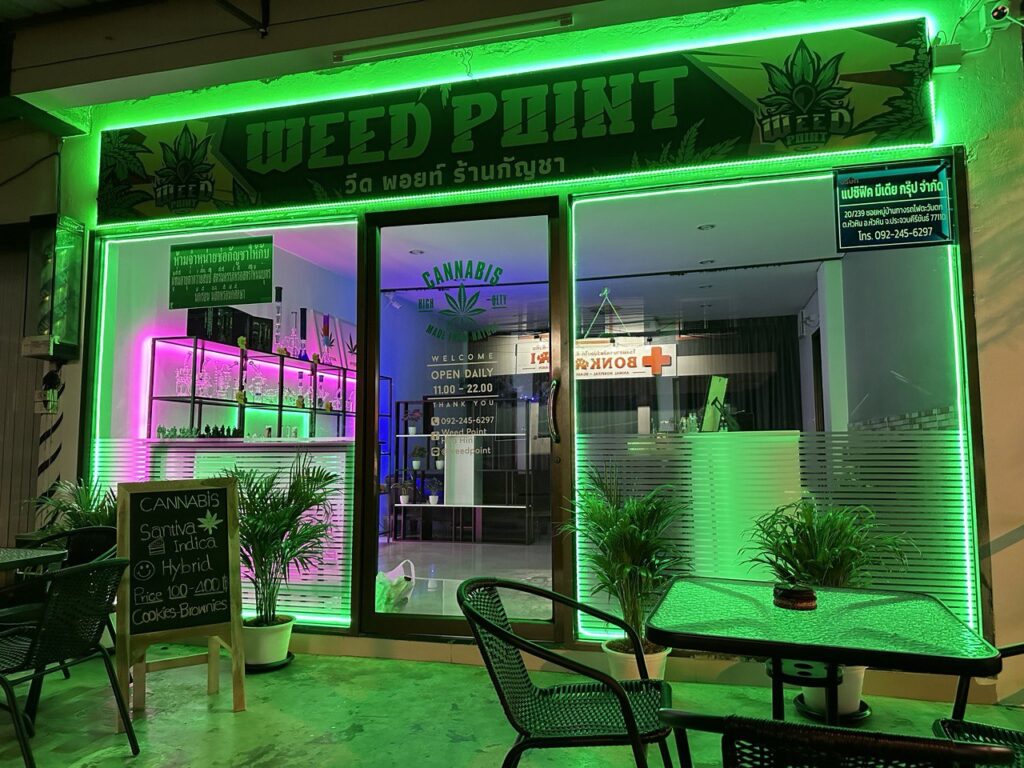 Just off the route to the picturesque Khao Hin Lek Fai viewpoint, Weed Point is the ideal pitstop for quality cannabis before a scenic gaze. With a simplistic yet cosy ambience, it's a relaxing place to hang out and sample the goods.
Highlights
Conveniently located on the way to Khao Hin Lek Fai viewpoint.
No-nonsense approach with AAA top-shelf flowers.
Friendly, knowledgeable staff.
Good selection of edibles & gummies.
Great value for money.
Drawbacks
Can seem a bit outside the main city area.
Dispensary Patrón Hua Hin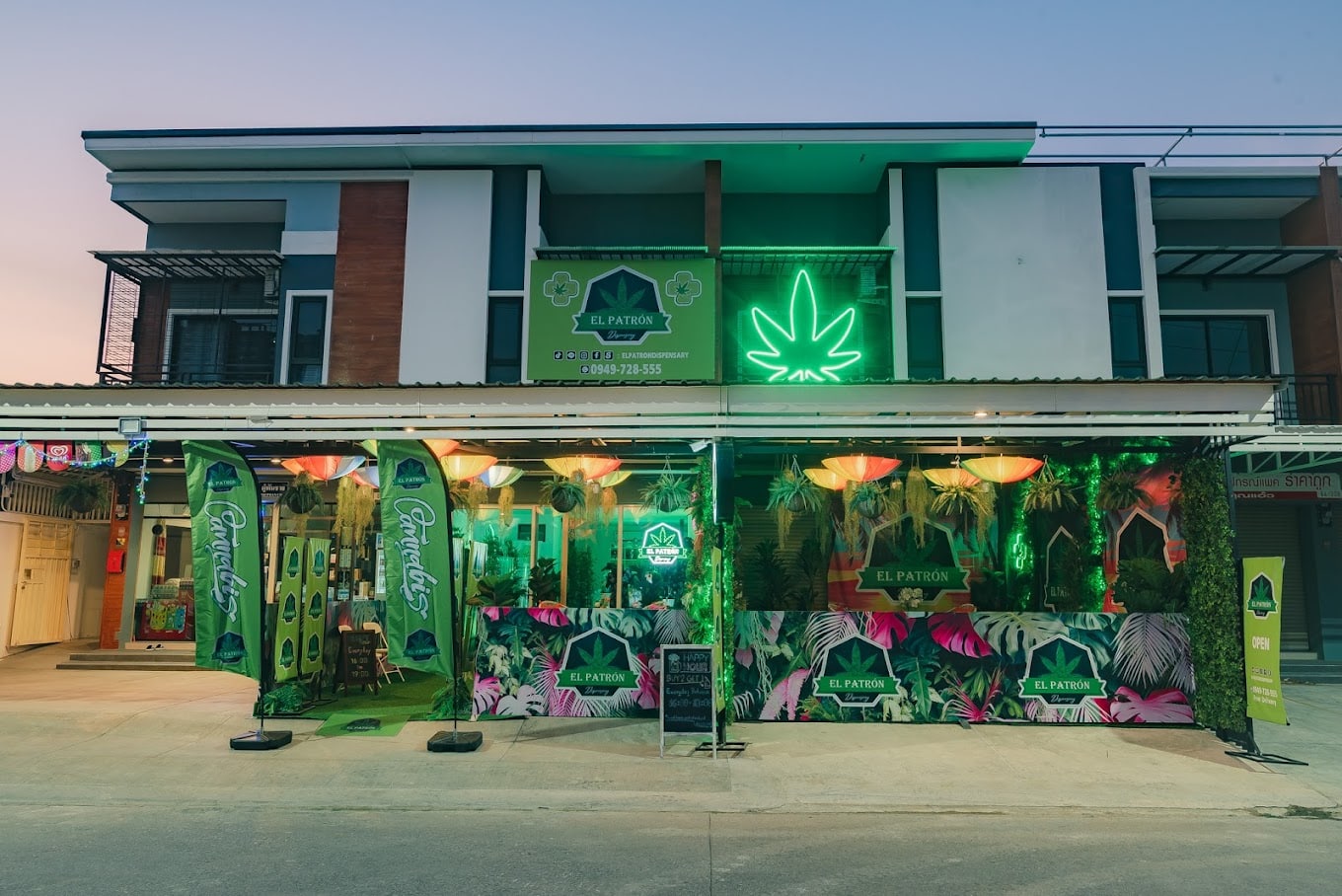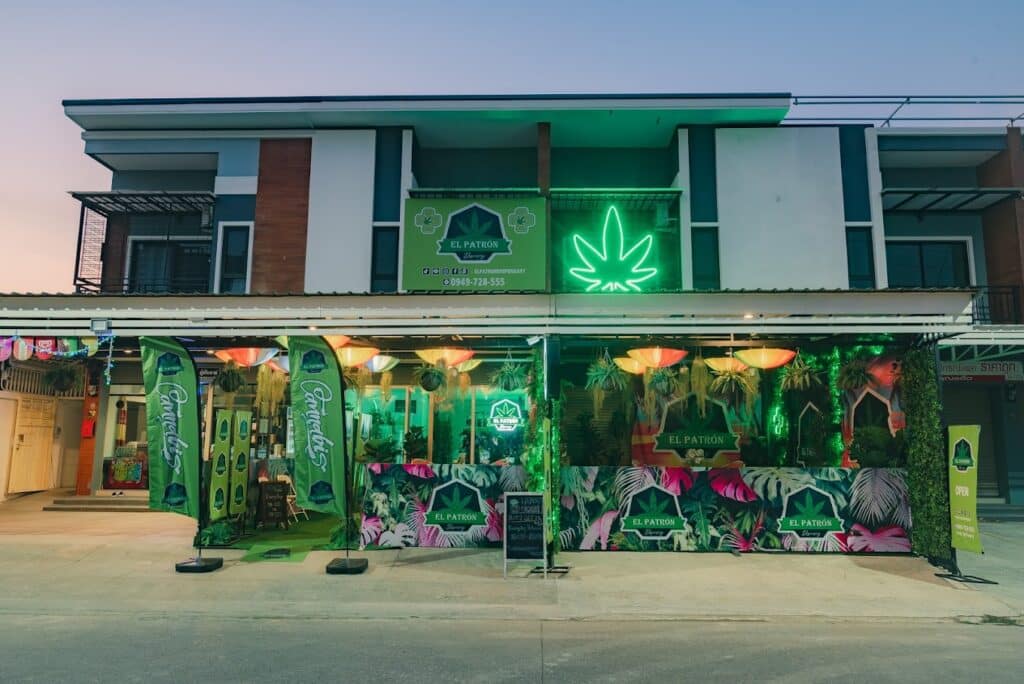 Patrón blends Mexican vibes with top-quality cannabis, making it a festive spot to chill, enjoy, and fulfil your post-weed munchies. If the idea of cannabis with a side of nachos appeals, this place is your go-to!
Phone: +66824868696
Payment methods: Cash, QR
Highlights
A Mexican-themed dispensary with a diverse selection of flowers and accessories.
Excellent range of Mexican dishes like tacos, quesadillas, and nachos.
Locally grown top-shelf buds.
Close to the Cicada Market.
A lively, party-like atmosphere with great cocktails on offer.
Drawbacks
The place can seem costly.
Greenfields Farmers Cannabis Shop Dispensary Grow Shop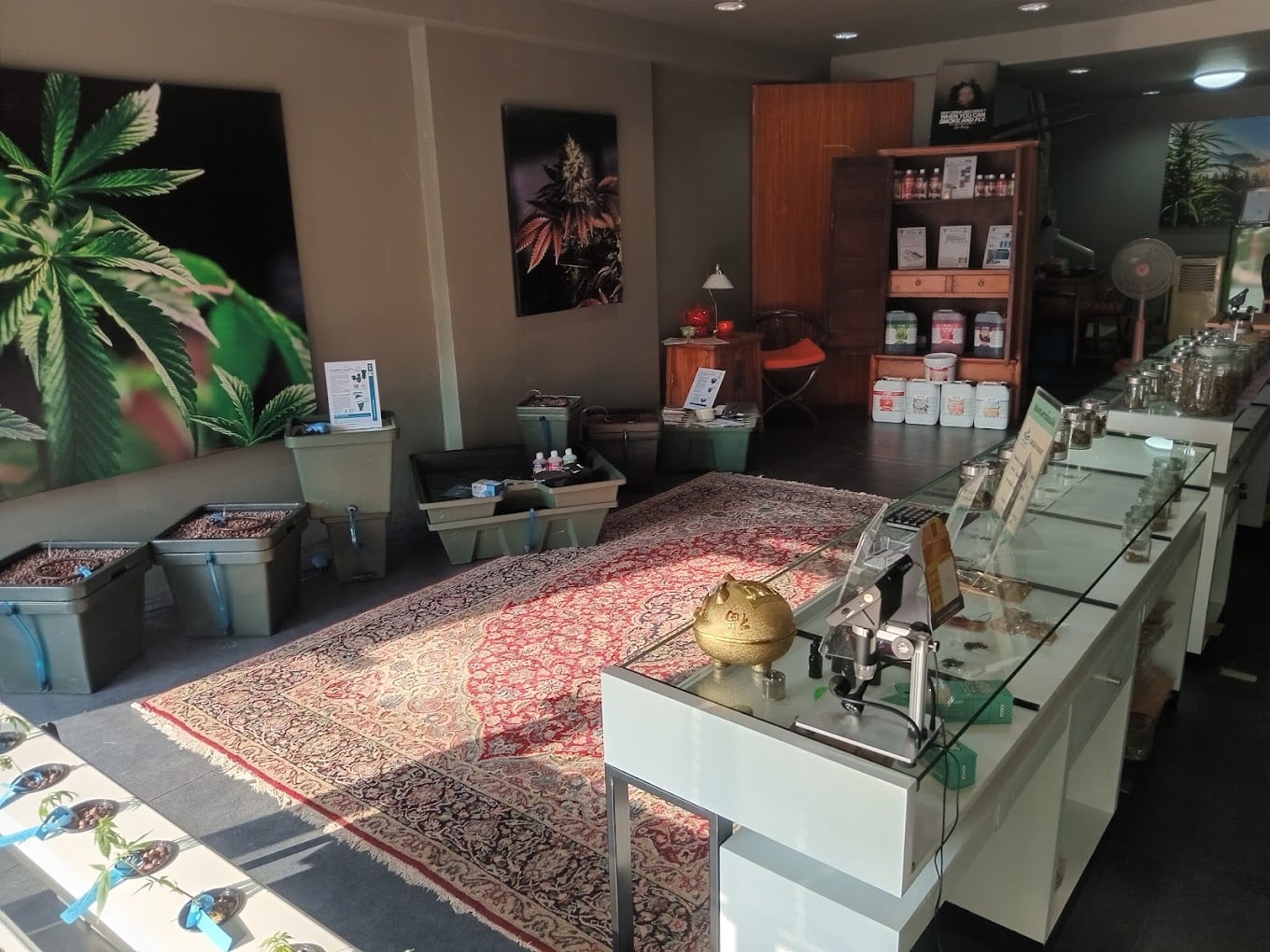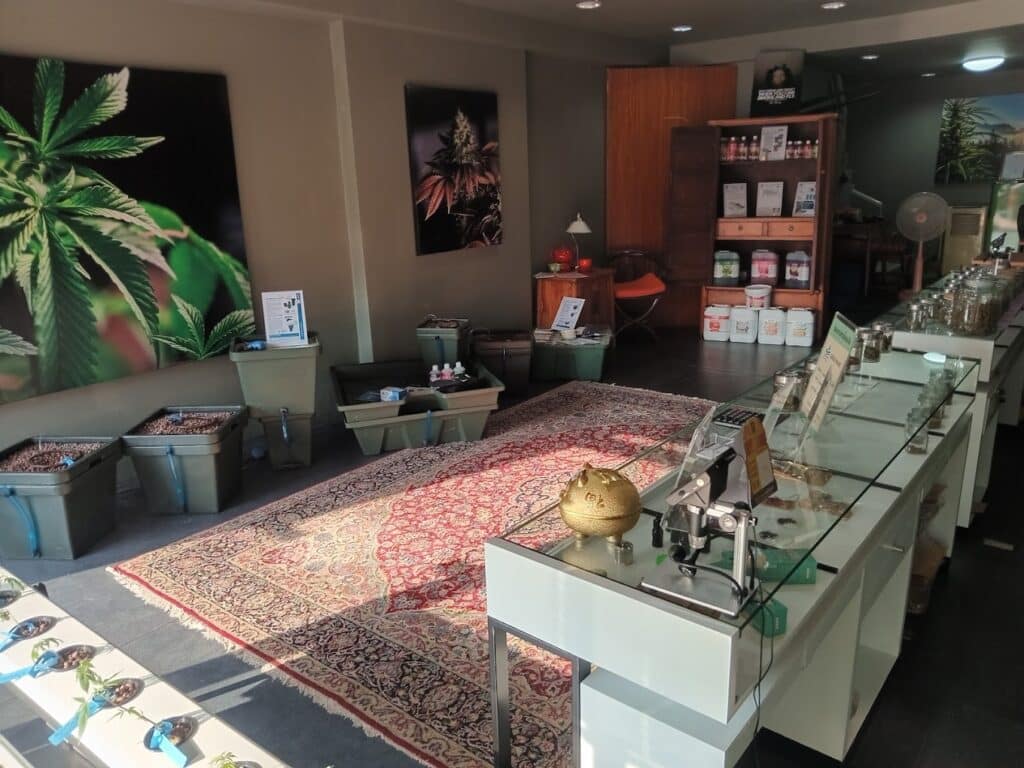 Located on the bustling Phet Kasem Rd, Greenfields isn't just a dispensary but a hub for those passionate about organic farming. Specialising in in-house-grown organic strains, it's the spot for enthusiasts and budding growers.
Phone: +66928599742
Payment methods: Cash, QR
Highlights
Good selection of growing equipment and nutrition.
Organic in-house-grown cannabis flowers.
Highly knowledgeable staff for growing supplies and consultations.
Drawbacks
Primarily a grow shop, prices might be on the higher side.
For those curious about how cannabis is grown and the amount of care the plants need to flourish, visiting the Greenfields Farmers Cannabis Dispensary can be a rewarding experience.
Let's Roll Cannabis Shop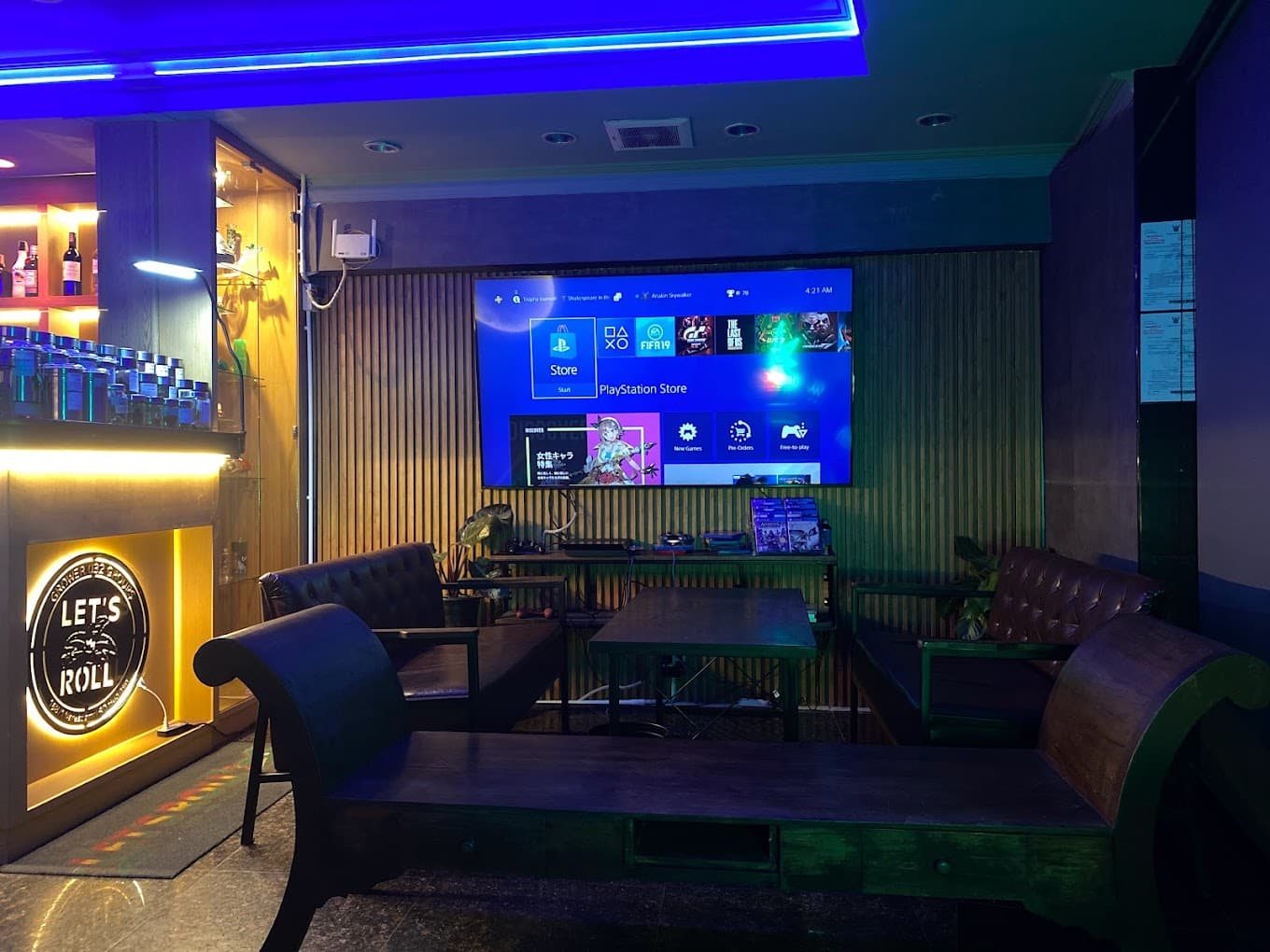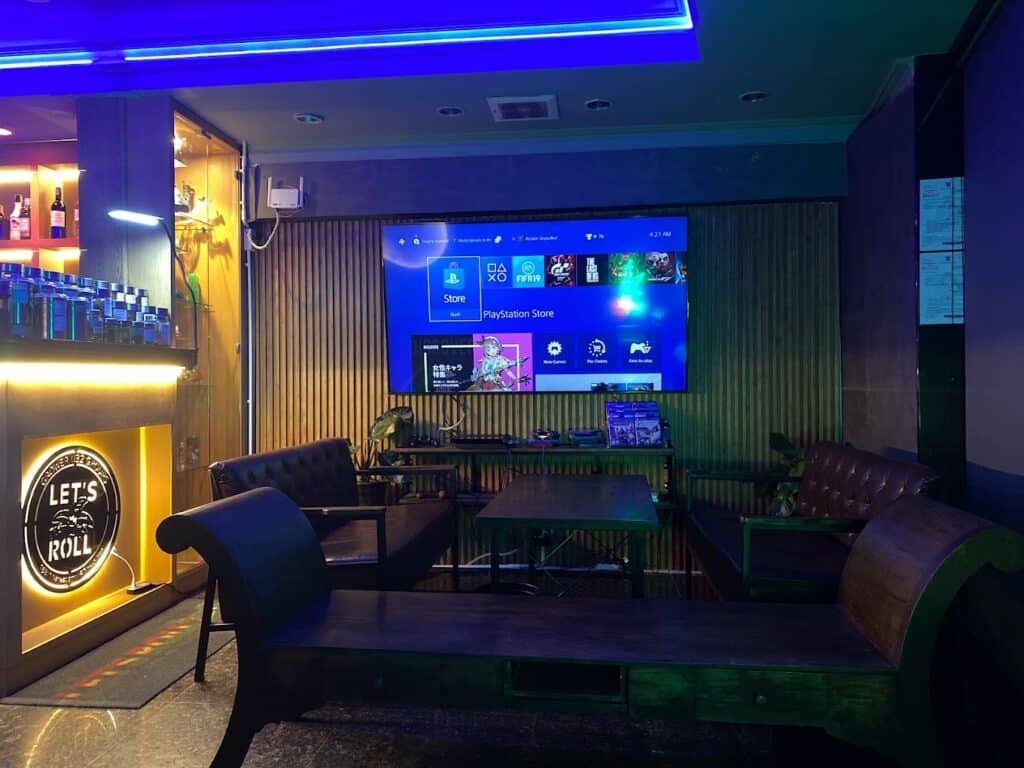 Set on Naresdamri Road amidst the vibrant nightlife of Hua Hin, Let's Roll provides the perfect pub setting to enjoy your cannabis.
Whether you're in the mood for a game of pool or to party with weed, it's the place to be.
Phone: +66816972114
Payment methods: Cash, QR
Highlights
Pub-like ambience with a variety of games and activities.
A vast selection of drinks to complement the cannabis experience.
Spacious, relaxing smoking lounge.
Often visited by locals and expats alike.
Drawbacks
Drinks and flowers may be on the expensive side.
Cocktails, flowers, games, pool, party – Let's Roll dispensary has something for every weed fan to have a good time.
How to buy weed in Hua Hin
Nestled between the rolling waves and serene landscapes, Hua Hin presents an easy route to buying your preferred cannabis products.
For those inclined to online convenience over physical store visits, here's your quick guide to getting quality weed in Hua Hin:
Ordering via chat apps
Like in Phuket or Bangkok, many Hua Hin dispensaries are reachable through popular social apps such as Facebook, Instagram, or Line. To place an order:
Install the app and set up your profile.
Search and connect with the chosen dispensary.
Browse their offerings and decide what you want.
Provide your address for delivery.
Use clear communication, especially if you don't speak Thai. Be clear, simple, and precise in what you want and the quantity.
Delivery, often via local services like Grab, typically arrives within 1-2 hours. Cash on delivery is the standard payment method.
Shopping on online weed stores
You can also experience traditional e-commerce with our selected online cannabis stores serving Hua Hin and beyond. To shop:
Visit the online shop and pick your products.
Add them to your basket and proceed to checkout.
Enter your shipping details.
Choose how to pay: Cash on delivery or cards are recommended for tourists; locals might prefer digital wallets or QR codes.
Grading the quality of cannabis
Whether you are in Hua Hin or Chiang Mai, the principles of judging weed quality remain the same throughout Thailand. Price doesn't always equate to quality, but here are some signs of good weed:
Strong, pleasant smell indicating freshness and potency.
Bright, well-formed buds with visible trichomes.
A slightly sticky, not-too-dry texture suggests proper curing.
How to smoke cannabis in Hua Hin
When indulging in Hua Hin's cannabis scene, respect local customs and regulations. Here are some considerations:
Public Spaces: Refrain from smoking in public areas. Opt for private spaces or designated smoking areas in dispensaries.
Local Laws: Stay informed of the latest cannabis laws in Hua Hin to enjoy trouble-free experiences.
Discretion: Hua Hin is a family-friendly destination; always consider your surroundings. If you are tempted to light a joint in the open, be cautious and avoid the public eye.
Etiquettes for smoking weed at the beach
Hua Hin's beaches are inviting, but it's wise to be careful.
Public smoking is not encouraged or allowed. Seek out secluded spots if you light up, ensuring you don't disturb others. This means potentially walking a bit along the Hua Hin Beach till you find a quiet, people-free spot.
A solution could be to try some edibles or gummies and relax by the beach.
Can you smoke weed in your hotel?
Hotels and resorts typically ban public smoking – which includes cigarettes and cannabis. They may have a dedicated smoking area – usually applicable only for cigarettes.
However, private balconies or gardens may be exceptions. If you can smoke a cigarette on your room's balcony, chances are it should be fine to light a joint, too.
That said, always follow the establishment's rules – some accommodations may explicitly prohibit cannabis smoking. As said above, a good solution to this is to opt for edibles or visit a local dispensary to have a relaxing session in their lounge.
Conclusion
Hua Hin is a good place if you are looking to unwind and enjoy some cannabis. It's a peaceful town by the sea that's starting to be known for its great cannabis shops. You can visit spots like the Thaikanya Medical Cannabis Clinic for professional advice or chill out at Dispensary Patrón for fun vibes.
And if you'd rather stay in, ordering what you need online is easy peasy. Just remember to use it wisely, respecting the local ways and the peace of the town.
As you check out Hua Hin's cannabis scene, keep in mind that the best times with cannabis are had when you're thoughtful about it. With friendly shops and lovely views, Hua Hin makes sure your visit is as enjoyable as it is unforgettable.