CBD Flowers 2023
Welcome to our collection of CBD flowers available in Thailand. Dive into the rich world of high-CBD strains and buds in our comprehensive 2023 catalogue. Explore, review, and shop with confidence.
Explore the specifics of any strain that with just a click. Our detailed reviews help you find the best CBD hemp flower, with info on which shop to buy it online.
How to use Weed Review's CBD strain index
Every strain you see on this page is accompanied by two main indicators:
Name: You may have heard about the flowers from your friends or come across them while browsing online or visiting a dispensary.
CBD & THC concentration: This is a rough estimate of how much cannabidiol and tetrahydrocannabinol are present in the strain. Strains like Harlequin have 4-7% THC, and they can give you a mild buzz. Meanwhile, CBD flowers like ACDC and Remedy contain 1-2% THC and over 10% CBD, making them a go-to choice for those who don't like the high.
The 'Review' button takes you to our detailed analysis of the particular strain. On our strain review, you will find a world of information:
Effects: The most common effects you may experience after smoking the flower. It can be anything from hungry and giggly to talkative and relaxed.
Benefits: We also highlight the potential medicinal benefits of the strain, like pain relief, appetite boost, improved sleep, and lesser anxiety.
Onset: A quick look into the kind of experience you can expect and, thereby, a suggestion on when you should use this flower.
Flavour & smell: Citrusy, pungent, diesel, and earthy – cannabis flowers have a broad spectrum of aromas and tastes. Our review pinpoints the major notes you may encounter while smoking the bud.
Terpene profile: We also provide information about the different terpenes which shape your experience. For example, myrcene-rich strains can help you sleep more, while limonene-rich strains can ease your anxiety.
Origins: You will learn how the strain came to be and which buds are its parents.
Growing info: Our review concludes with a short section on growing times and yields, should you choose to grow this CBD variety yourself at home.
Where to buy: The 'Visit Clinic' button takes you to our partner cannabis store, where you can buy CBD flowers online.
Each strain has different features. Some can help your insomnia, while others can improve your concentration. Their different tastes also make for a unique smoking experience. As you start your journey with CBD, you will discover a diverse world of possibilities tailored to your specific needs and preferences. Exploring the various strains and their effects will allow you to find the perfect match for your desired outcomes.
You can also explore our full list of marijuana strains if you are looking to add some variety to your CBD routine.
CBD: Nature's wellness companion
CBD, or Cannabidiol, is a natural compound found in hemp & marijuana plants.
CBD is non-intoxicating, non-addictive, and safe to use. It is shaping the wellness industry, mainly for its ability to deliver the healing benefits of marijuana without the high.
The sections below provide a closer look into the world of CBD flowers.
Origins
The history of CBD is deeply rooted in the historical uses of the cannabis and hemp plant. Throughout millennia, various cultures have used marijuana for medicinal, religious, and industrial purposes.
As for CBD itself, it came into the picture only in the last century. American chemist Roger Adams isolated CBD from a variety of wild hemp in the United States in the 1940s. However, its comprehensive understanding took time to develop as the isolation of THC by Raphael Mechoulam – the godfather of cannabis research – took the attention away from CBD.
In the latter part of the 1900s, scientists learned more about CBD and how it doesn't make you feel high. Subsequent research has been undertaken to study the impact of CBD on various processes like sleep, pain, anxiety, stress, and epilepsy.
Are CBD flowers legal in Thailand?
CBD is completely legal in Thailand. Cannabidiol flowers and derived products fall under the scope of medicinal marijuana, which is permitted in Thailand as per the existing cannabis laws.
Where to buy CBD flowers?
There are a few options available when you are looking to buy CBD flowers online or in person.
Online
To help you streamline the buying process, we have shortlisted some of the best cannabis stores in Thailand. These online shops are legal; rest assured, you will find only the highest-quality strains here.
We have reviewed every store listed on the page in great detail to help you make an informed choice and provide a clear, transparent picture of the retailer.
Dispensaries
Apart from this, you can also check out your local medical marijuana dispensaries and weed shops, as they may carry CBD flowers.
Exploring farmers' markets in certain regions could also lead to discovering vendors offering locally-grown CBD flowers.
One brand to look out for is Raksa, by the famed Golden Triangle Group; they are among the largest producers of CBD in Thailand.
How to choose the best CBD strain?
There are a few things you can consider if you are planning to buy CBD hemp flowers for the very first time.
At the top of your list should be the quality of the bud. Visual cues like the scent, frosty appearance, and colour of the buds can tell you a lot about the strain's freshness. For best results, you want a vibrant, lively flower instead of something that is dark, mouldy, and has an unappealing smell.
To that end, we recommend you check out our weed quality guide to learn more about identifying and buying the best buds.
Apart from this, here are some other tips to follow:
Identify your goals: What do you need from CBD? Do you want to focus better, sleep more, or reduce your pain and anxiety?
Check CBD-to-THC ratio: Look for strains with higher CBD and lower THC levels, especially if you want the benefits without feeling high.
Consider terpenes: Terpenes are natural compounds that contribute to a strain's aroma and effects. Research terpenes associated with your desired effects.
Read reviews: Look for user reviews and experiences to get insights into how a strain has worked for others with similar goals.
Look for source: Choose organically grown flowers, free from synthetic chemicals, for a purer experience.
Check lab tests: Opt for brands that provide lab-tested CBD flowers, ensuring you're getting a safe and accurately labelled product.
Trust your body: Pay attention to how your body reacts to different strains. Everyone's response is unique, so choose what feels best for you.
Experiment and learn: Finding the perfect CBD strain might take some trial and error. Be open to experimenting until you discover your ideal match.
Benefits of CBD: How can cannabidiol help you?
CBD is a popular choice for those seeking the therapeutic benefits of cannabis without the mind-altering effects of THC.
Research shows CBD can help with many health conditions. To list a few, it can:
Ease anxiety and stress
Relieve pain and discomfort
Promote better sleep
Reduce inflammation
Improve mood
Support focus and clarity
Manage seizures & epilepsy symptoms
Aid in skincare
Alleviate nausea
Side effects of CBD
Nature's gifts come with guidelines. While CBD is a gentle giant in the therapeutic world, it's essential to approach it with mindfulness:
Changes in appetite
Digestive issues
Interaction with medications
Then, there are the side effects arising from the act of smoking itself. These include lung irritation and the potential for lung-related problems like coughing, shortness of breath, or bronchitis.
When should you smoke CBD?
Since CBD is non-psychoactive and does not impair your senses greatly, it can be taken throughout the day. It all boils down to what exactly you are seeking from cannabidiol. Here's an estimate of what you can achieve by taking CBD at different times of the day.
Morning: Start your day with CBD to set a calm tone.
Midday: Boost focus and relaxation during the day.
Pre-Exercise: CBD can aid in muscle relaxation before a workout.
Evening: Wind down with CBD for better sleep.
How much CBD should you take?
There is no standard dosage or guideline on how much CBD you should smoke. For best results, begin with a single puff or inhalation. Wait 15-30 minutes to gauge the effects. Adjust gradually with small puffs until you find your comfort zone.
As you become more experienced with CBD, you may ask yourself what exactly you want to achieve from your CBD experience.
To help you fine-tune your session, we have prepared this CBD dosage guide which gives a detailed look into how much CBD you should take for different use cases like sleep or pain relief.
Ready to try CBD? Explore and buy CBD flowers online today!
Related posts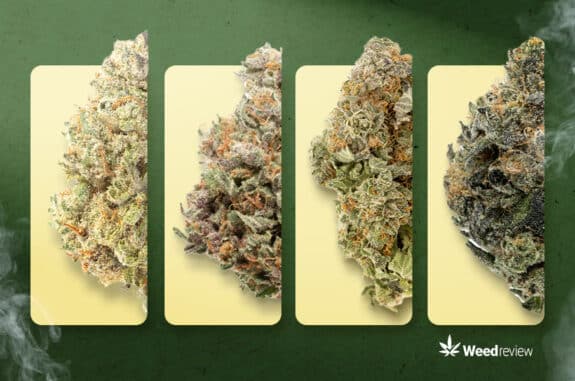 For those already familiar with cannabis's beauty, a desire for more potent, mind-blowing experiences is…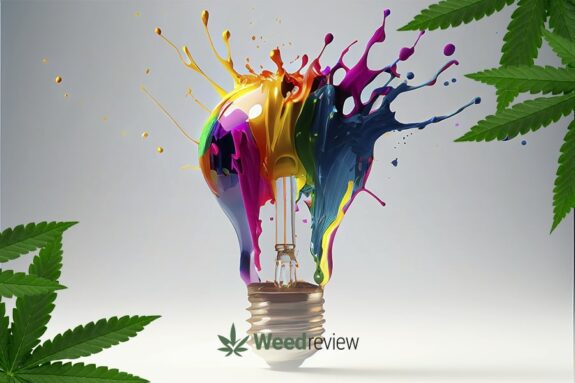 Cannabis has been celebrated for centuries for its ability to spark creativity. Getting into a…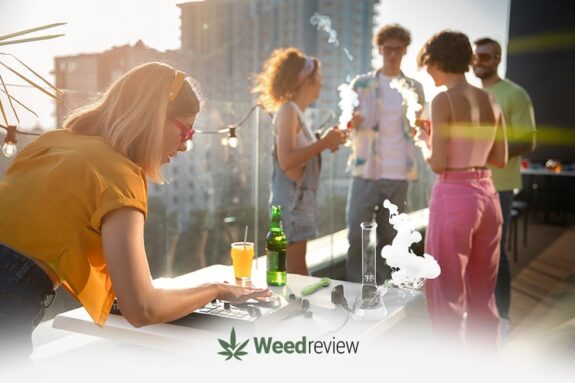 Stepping into a party scene requires the right mood. And what's better than using some…