CBD oil, starting 1,250 THB
Visit store
---
Flavoured CBD oil
Full-spectrum tinctures
2 third-party lab tests for each batch
Organic, natural ingredients
Quick customer service
Cash on delivery payment only
More products can be added
---
When shopping at Mellow Organic, you agree to the cannabis laws of Thailand.
Overview
---
Price range:

฿850 onwards

Products available:

CBD oil, topical balm
Mellow Organic Review
Mellow Organic is a brand you need to know if you are in the market for natural and organic CBD products in Thailand.
This CBD shop makes its products using only the highest quality, locally sourced ingredients, They are also among the rare players to sell full-spectrum oil and flavour tinctures to users.
Read on to see what Mellow Organic has to offer in our review of this online store.
Product range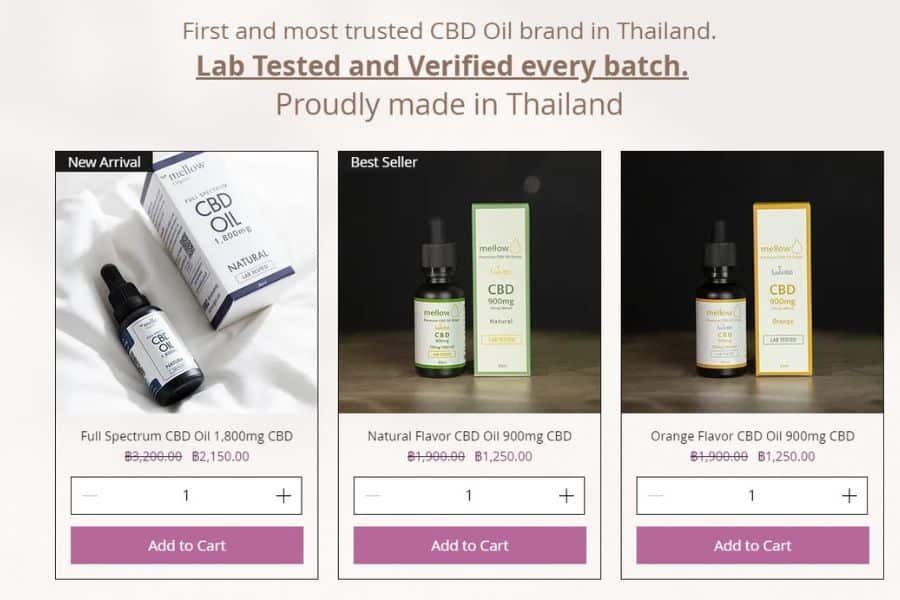 Our team first discovered Mellow Organic when we came across their orange-flavoured CBD oil. Upon reviewing the tincture, we became an instant fan. The oil's delicious and unique taste immediately caught our attention. It was unlike any other CBD oil we had tasted before.
We also have to give points to the brand for consistently following local cannabis laws and regulations. Whether it is the dropper design, third-party lab test results, or dosing instructions, Mellow has definitely set the standards for others to follow. From what we have seen, Diip and Bloom are the only other CBD brands that match these expectations.
Here's a quick glance at why Mellow Organic makes the cut:
No psychoactive effects
Made in Thailand as per international manufacturing standards
2 Third-party lab tests for every batch
CBD sourced from local farms
No toxic residue
No pesticides/heavy metals/additives
Detailed instructions on how to use
CBD oil
There are three varieties of cannabidiol oil you will find on Mellow Organic: 900 mg isolate (orange and natural flavour) and full-spectrum 1,800 mg. All tinctures come in 30 ml bottles.

Here is our take on the three oils:
Mellow Organic's full-spectrum CBD oil stands as one of the few legal, certified products available in Thailand – other notable brand being Raksa. We believe that this version is better due to its affordable price, high quality, and potency.
For 2,150 Baht, you get 1,800 mg of CBD with other beneficial compounds like terpenes, CBC, CBN, and THC (less than 0.2%). Your body benefits from the entourage effect without getting you high.
The isolates serve as a good starting point for newcomers who have never tried CBD extracts before. The 900 mg variant offers a gentle dose. The orange flavour is recommended for those who do not like the earthy, strong taste of cannabidiol.
CBD balm
Another area where Mellow Organic outperforms its competitors is in the topicals segment. There is only one product at the moment and it is well worth a try.
The Mellow Topical Soothing CBD Balm features vanilla-scented shea butter infused with cannabidiol. You can use it to reduce your body pain – a bit like your regular pain balms, except this is more soothing and free of chemicals.
Just gently massage the affected area, and you are good to go.
The topical balm is priced at 850 THB for 50 grams, which is a steal, considering the long-lasting effects and relaxation it provides.
Payment & checkout
The checkout process is smooth and trouble-free. Enter your contact and delivery details, proceed to the payment option, and voila.
Speaking of payment, Mellow Organic only offers cash on delivery for the time being.
Compared to other online cannabis stores, there is room for improvement here as they can expand the payment to other methods like credit/debit cards and Thai QR banking.
Lastly, a delivery fee may be added depending on where you are in Thailand.
Customer support
Facebook, Line, and Instagram – you can get in touch with Mellow at any of the three channels.
We found them to be highly responsive, as they replied to our questions in under 30 minutes. If you message them on the weekend or outside of working hours (9:00 am – 5:00 pm), then you may have to wait for the next working day.
You can also drop them an email at [email protected] or fill in the form on their 'Contact' page if you want to get in touch with their support.