Best store for weed
Visit store
---
Professionally grown, exotic strains available
Discounts on higher quantities
Compliance with local cannabis laws
International payment methods like Visa, MasterCard, Paypal available
No edibles or gummies
No cannabis oils or tinctures available
---
When shopping at OG Thai, you agree to the cannabis laws of Thailand.
Overview
---
Strains available:

Obama Runtz, Kush Mints, Orange Romulan
OG Thai
OG Thai is a simple, no-nonsense online cannabis store that sells quality weed buds and accessories by the book. On first look, it can seem a bit underwhelming as you will not find a lot of strains – but sometimes, less is good. You will find reasonably priced exotic and local varieties, offering good value for money.
A pioneer in industry compliance
It is relatively easy to buy marijuana online in Thailand as stores are yet to enforce the cannabis laws to their full extent.
While OG Thai is in the same category, it is leading the way on how to be compliant with the local norms.
The website asks for age verification to ensure that the person looking to browse or purchase the buds is over 20. This verification is done via Line (a popular social media app) or SMS. If you have a Thai number, you should install Line, as it will make your life easier.
In short, you cannot just click on a pop-up that says 'I'm over 20 years old' or something similar to access the store. You must be of age, which OG Thai will verify via Line. It is also via this app that you will log into your OG Thai account.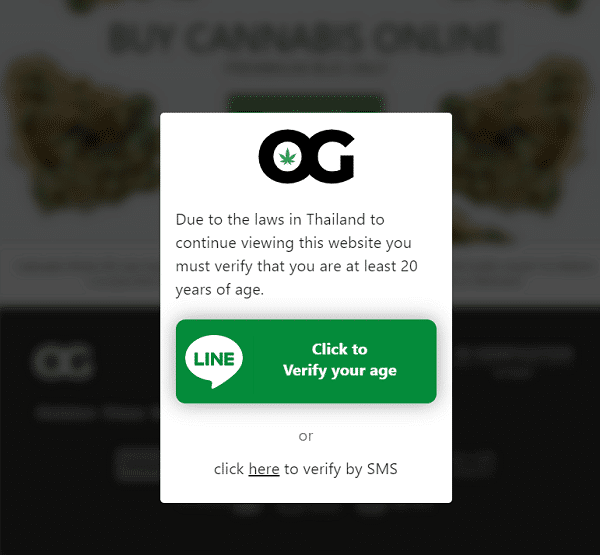 After you have selected the cannabis flowers and are on the checkout page, OG Thai's compliance with the weed laws picks up to the next level.
Unlike other stores like Organic Village, where you do not have to upload documents for age verification or even provide a medical reason to buy weed, OG Thai requires you to provide them with this information.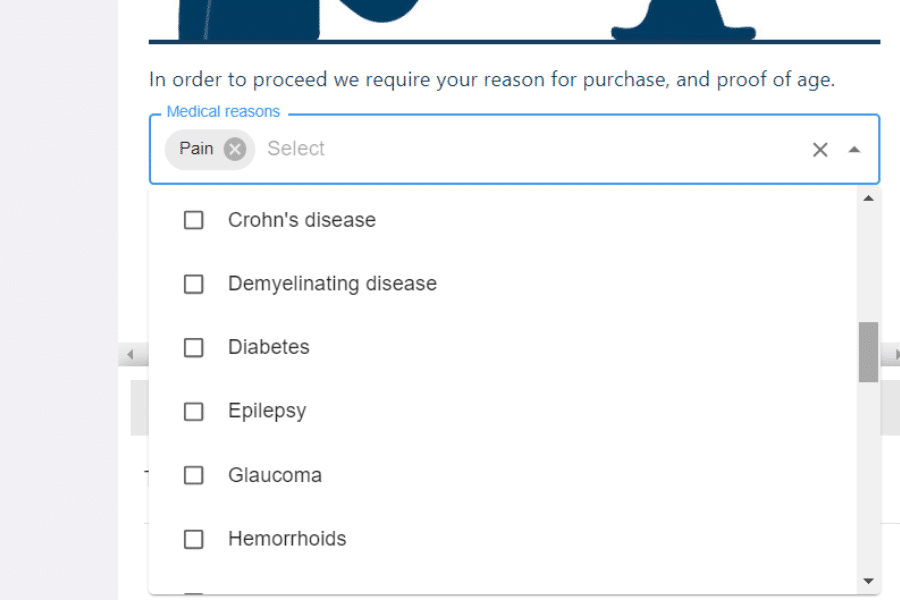 At the checkout, a neat dropdown appears where you must select a medical reason for buying weed. These range from epilepsy, Crohn's disease, and diabetes to chronic pain, inflammation, glaucoma, and more.
This is followed by age verification, where you must upload the front page of your passport (for international folks) or Thai Blue ID (for Thai citizens).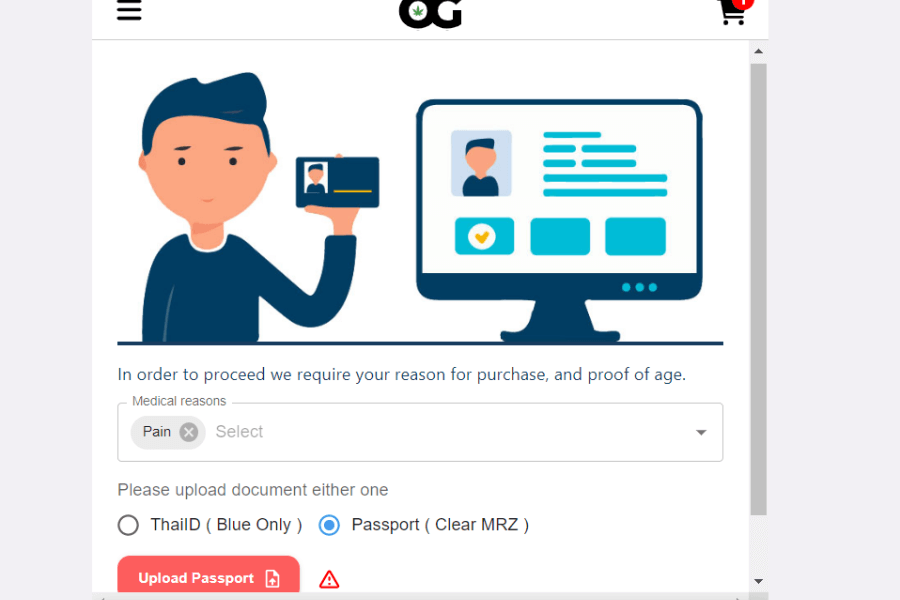 In many ways, OG Thai is an online persona of how the medical marijuana scene looks in Thailand.
Available products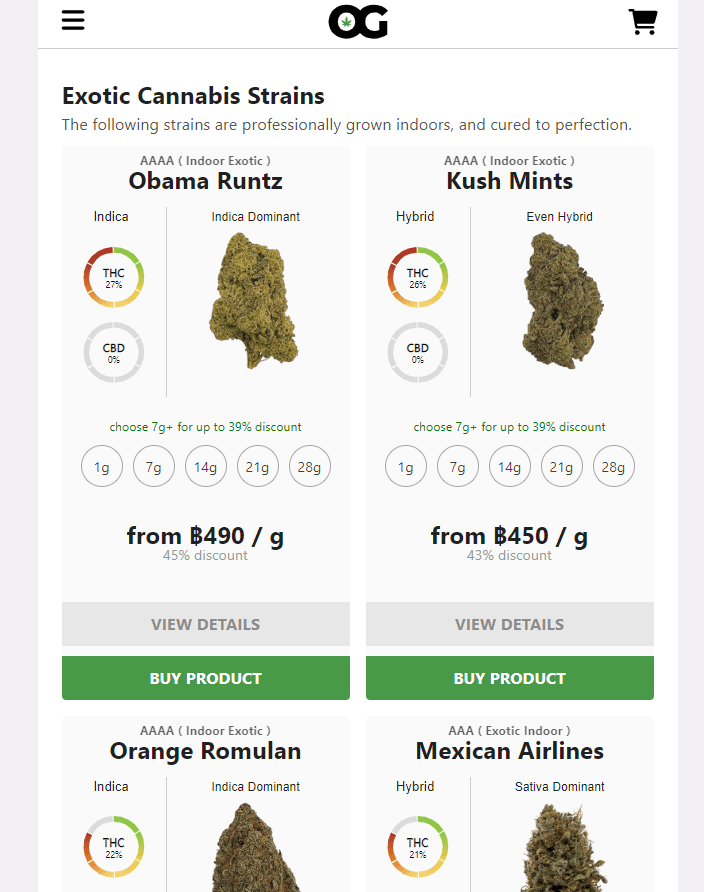 THC flowers
Compared to big players like Bloom – where you can buy cannabis tinctures & oil, THC edibles, and more – OG Thai presently offers weed flowers, pre-rolls, and a few accessories. As stated earlier, it is a no-nonsense, pure weed shop.
The selection of strains is updated regularly with new products – what you see today may not be available the next month. This is where buying from OG Thai regularly pays off, as you try new strains every now and then.
Another thing worth noting about OG Thai is that the more weed you buy, the larger the discount you will get.
For instance, 1 gram of Obama Runtz costs 800 THB, but if you choose 7 grams and more, you are paying just 500 THB per gram – almost 40% off.
In addition, you will find grinders, silicone pipes, cones, and rolling papers. Not an exciting selection of products, but for seasoned cannabis users who know what they want, OG Thai makes the cut quite nicely.
Checkout & payment options
After you have added the medical reason for buying weed and uploaded your ID proof, you will be directed to the payment page, where you have two options:
International credit & debit cards like Visa, MasterCard
Thai QR payment (requires a Thai bank account)
Paypal
Once you finish the payment, you will receive a payment confirmation invoice in your email in PDF. You can also track your order by jumping into your account and visiting 'My Orders.'
Do note that the final amount will include VAT; therefore, the price will be slightly higher than what is shown on the product pages.
Your order will likely be delivered in 3-5 working days in discreet packaging.
Customer support
OG Thai has no dedicated customer support or live chat on its website. If you want to get in touch with them, you must use Line. Here is their Line handle.
Does OG Thai offer cash on delivery?

There is no cash on delivery for orders on OG Thai. To complete your order, you must pay in advance via Paypal, Thai QR, or an international credit/debit card.

Can you buy CBD oil or edibles on OG Thai?

OG Thai currently specialises in premium, exotic, indoor-grown cannabis flowers and smoking accessories. There are no cannabis tinctures, extracts, or food products available in the store.

How do I get in touch with OG Thai's customer support?

OG Thai is active on Line; you can find them by visiting their Line link listed on the website. The support team responds to queries in one-two hours.