---
Range of edibles: Outstanding
Range of tinctures: Average
Customer service: Average
Mobile usability: Outstanding
Shipping: Average
Payment methods: Visa, MasterCard, Apple Pay
Third party lab tests: Inadequate
Product Info Clarity: Inadequate
Range of flowers: Inadequate
---
When shopping at Cannabox, you agree to the cannabis laws of Thailand.
Overview
---
Unique items:

Weed gummies, cookies, brownies, and chocolates

Price:

80 - 1,300 THB
Cannabox Store Review
Cannabox is an online cannabis store specialising in the holy trinity of flowers, edibles, and tinctures. Their collaboration with local dispensaries and taking their products online – especially edibles – makes them stand out from the rest. It is why Cannabox has quickly become one of the best stores for edibles.
Product range
At first look, it may seem like you can find flowers, edibles, and extracts in the same place. A closer look tells you that you can only purchase CBD oil and edibles from Cannabox. In fact, they are among the few online stores in Thailand with a broad range of cannabis-infused food items.
Cannabis flowers
As of January 2023, Cannabox is no longer selling weed flowers. While they have a comprehensive list of strains on the website, they are for informational purposes only.
It can give you an idea of the Thai marijuana scene and what kind of buds you can find in the market. The strains mentioned are from leading physical dispensaries like DANQ, Phuket High, The Old Weed Man, and The High Supply Co.
The reasoning behind not selling the flowers may be due to the recent changes in the Thai marijuana laws – which now prohibit online sales of marijuana buds. This new amendment is not strictly enforced yet, which is why many other stores continue selling THC strains online.
If you want to buy weed from the comfort of your home, you may can check out other online cannabis stores like Bloom, OG Thai, and Prikpot. You can read our reviews of these online cannabis stores for more information.
Edibles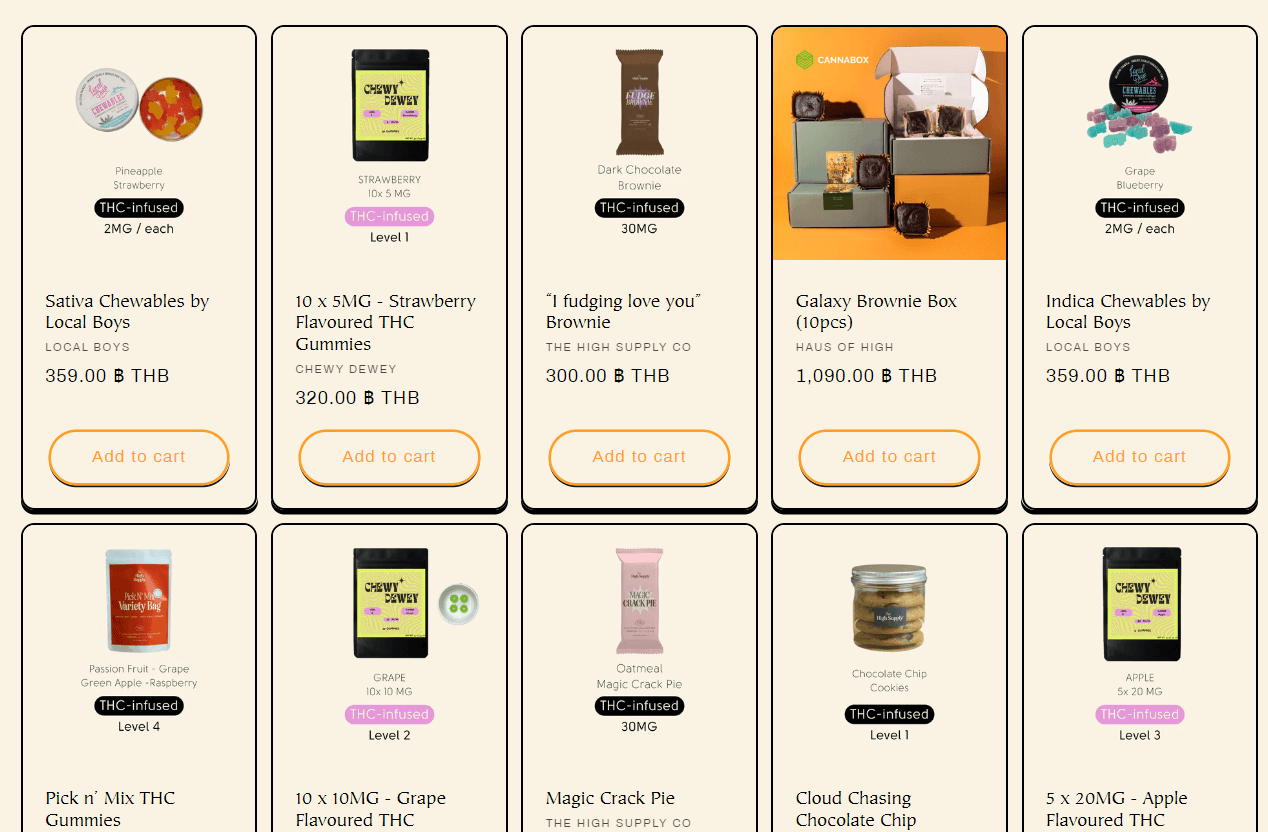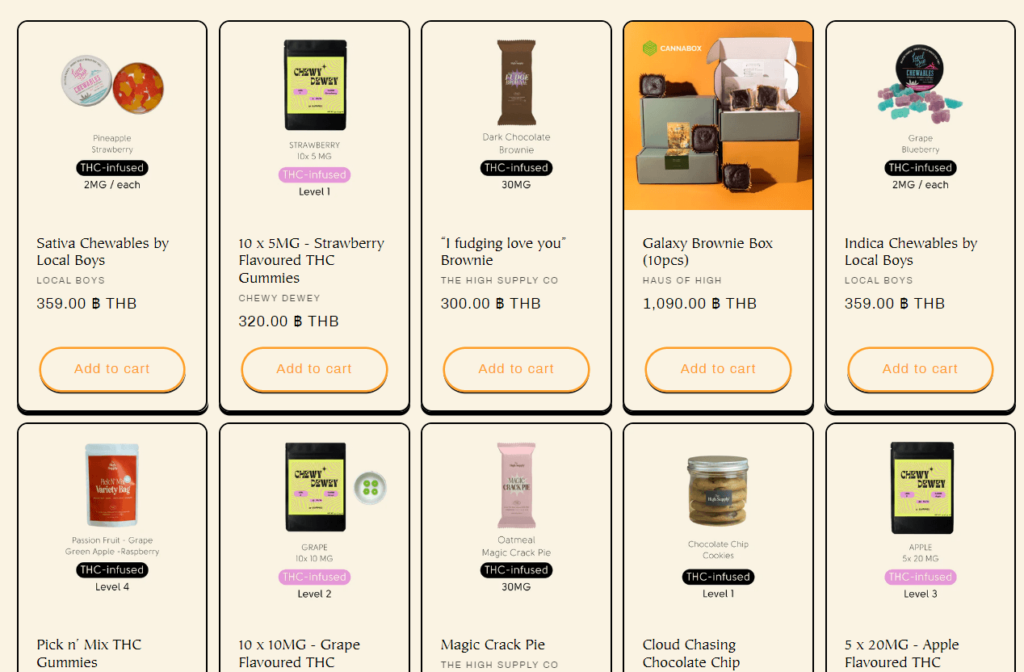 Cannabox makes up for the lack of flowers with an interesting array of edibles. From weed-infused gummy treats to pot brownies and chocolates, there is more than enough to get you really, really baked.
It certainly makes for an interesting shopping experience, considering that the edibles market in Thailand is still developing and the variety of products is not as diverse as flowers yet. By bringing several providers together, Cannabox has offered a fresh perspective on edibles.
Certain products have THC content as high as 47 mg per piece, so you must be mindful of the amount when eating these edibles. You will also find various gummies – 2 to 20 mg – and flavours like grape, strawberry, and apple.
The prices are also appealing, starting at 80 THB and going up to 1,300 THB – depending on the product and concentration.
Caution
Some edibles listed on Cannabox Store contain THC over the prescribed legal limit of 1.6 mg THC per unit. As a result, they are not deemed legal as per the present Thai marijuana laws. Weed Review recommends exercising caution when buying such products which are outside the scope of law.
CBD oil
Cannabox prides itself on selling lab-tested, legal cannabis tinctures. The current selection includes Mellow Organic's CBD oil; you can find a detailed review here. You may want to check out other online shops like Bloom if you want a broader selection of weed oils.
Lastly, there are the accessories where there is definitely a lot of room for improvement. The only stand-out product is the stylish teak wood bong – starting at 1,100 THB.
Checkout & payment options
Standard payment options include Visa, MasterCard, American Express, Shopify credit, and Apple Pay. Free shipping is offered on orders exceeding 1,500 THB. Otherwise, a standard 100 THB delivery fee is levied on all orders.
Customer Support
You can get in touch with Cannabox on Facebook and via their live chat on the website. Their contact number (as seen on Facebook) is +66-95-862-6362.
However, their response time is quite slow compared to other shops on Weed Review.
FAQs
Can you buy cannabis flowers on Cannabox?

The Cannabox store is not offering weed flowers for online purchases owing to the recent amendments in the Thai weed laws.

Who are the partner brands of Cannabox?

Cannabox is affiliated with several Thai dispensaries like DANQ, Phuket High, The High Supply Co, The Old Weed Man, Local Boys, CannaKancha, and Haus of High.

What edibles are available on Cannabox?

Gummies, cookies, chocolates, brownies – Cannabox has various weed-infused treats for edibles lovers. However, some of these contain THC more than the legal limit of 1.6 mg per unit.