White Widow
Consuming marijuana can be addictive and responsible use is strongly encouraged. The content on this page is for information purposes only and does not comprise medicinal advice. If you are looking to supplement your health routine with cannabis, consult a doctor.
Quick info
Distinctive terpenes
Myrcene, caryophyllene, pinene
Helps with
Stress, anxiety, pain, depression
When to use
Afternoon/evening
Effects
Happy
Relaxed
Focussed
Talkative
Benefits
Thought to be a combination of two landraces: a Brazilian sativa and a South Indian indica, White Widow is a timeless classic in the cannabis community. This indica-dominant hybrid won the High Times Cup in 1995, shortly after it was created, and has remained a staple in dispensaries around the globe ever since. With THC levels varying from 16-20%, it features mentally stimulating effects while leaving your body in a state of pleasant relaxation. In addition to CBD, it also contains some CBG, measuring in at 1%.
Onset
This flower is adored for its ability to deliver a smooth, mellow high that appeals to everyone, as proven by its popularity. White Widow strikes the perfect balance between relaxation and mental stimulation, making it an ideal introduction to the world of cannabis. It kicks off with a powerful burst of energy and euphoria. It is also the perfect companion for social gatherings since it stimulates both conversation and creativity. You will still be able to function normally but with much more simplicity and optimism. Users with mood and attention deficit disorders highly appreciate these mood-lifting effects and the improved ability to focus.
As the high progresses, the indica effects start to dominate, leading to a deep sense of bodily relaxation. You may eventually get quite drowsy, so this strain is best suited for afternoon/evening use.
If this balanced hybrid appeals to you, you may enjoy similar effects with Pineapple Express.
Uses
Due to the high content of both sativa and indica, this strain can provide both mental and physical benefits. White Widow can aid low-grade stress, anxiety and depressive symptoms thanks to its cerebral effects. In addition, people with attention deficit disorders will enjoy the increased ability to concentrate this flower produces.
However, remember that high-THC flowers may make you more stressed and anxious. Be mindful of your limits and take it easy.
For those with body conditions, the high indica levels can help those with moderate pain. It can also act as an anti-inflammatory agent due to caryophyllene.
Side effects
Paranoia and dizziness have been reported while using this strain, as it can have your mind running in all directions. Users have also experienced dry mouth and eyes.
As the high progresses, it transforms into a relaxing body experience, and it may make you sleepy. Therefore, White Widow is not recommended for morning use.
Taste & Smell
Skunk
Spicy
Earthy
Pine
The White Widow flowers are a sight to behold, boasting an appearance sure to captivate the senses. The densely packed buds and leaves are coated with a stunning array of crystal trichomes that will shimmer and glow when in the light. The white sticky resin giving the name to the strain makes this flower extra gluey.
When it comes to the scent, this strain emits a skunky smell, accompanied by spicy and earthy pine undertones. Similarly, the smoke delivers earthy flavours with a subtle touch of fruit and spice – quite similar to AK 47.
Remember that this strong and pungent odour of the smoke may be a concern if you are trying to keep your consumption discreet.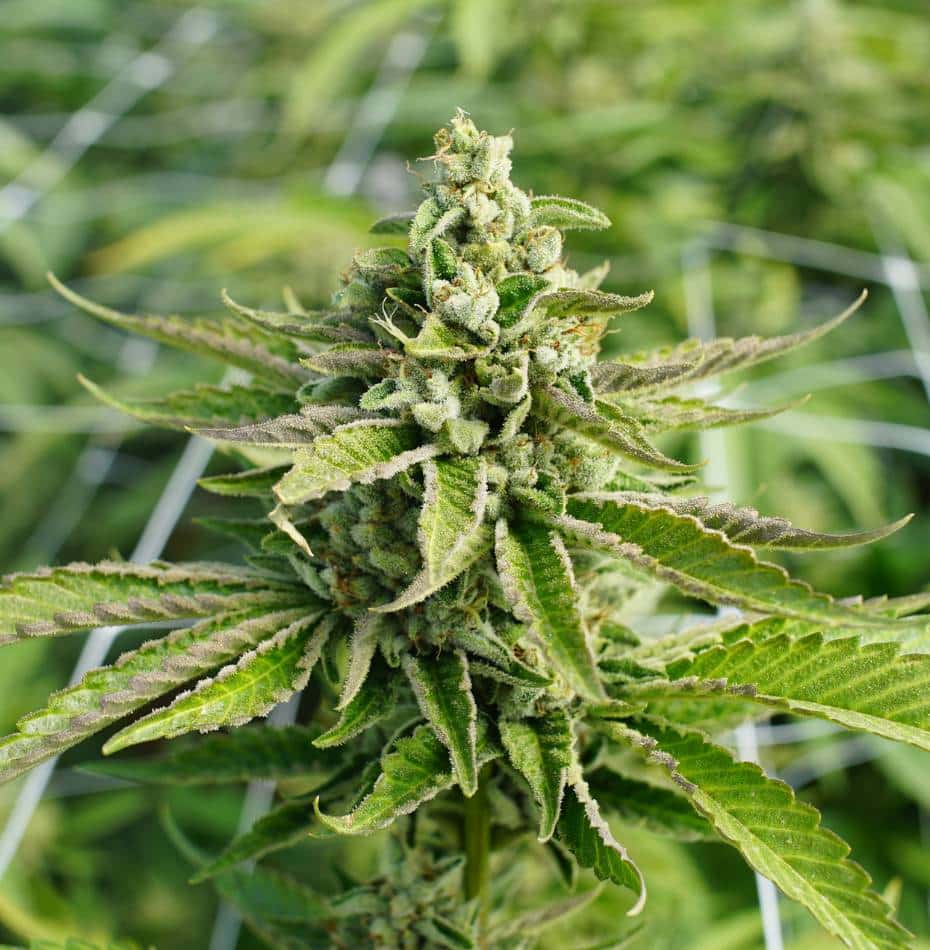 Origins
This exceptional strain is the brainchild of Scott Blakey (also known as Shantibaba, recommend going to his Wikipedia to learn more about this man), one of the most prolific cannabis breeders. It was eventually developed and perfected by Green House Seeds in Amsterdam, the world's marijuana capital.
While the exact origins of the plant have not been confirmed, it was likely a cross between Brazilian landrace sativa Manga Rosa and a resin-heavy South Indian landrace indica that resulted in this sticky, frosty bud.
Growing conditions
White Widow is an easy strain to grow and can be cultivated even by those with little experience. While it was designed to be grown indoors, it can also thrive outside in warm, sunny climates such as Thailand. Due to its indica-dominant genetics, White Widow plants tend to be bushy. Indoor plants typically only grow to a maximum height of 1 metre, while outdoor plants can reach a little higher in the 1.5-1.8 metres range.
As a bonus, the strain is highly resistant to disease, making it low-maintenance for growers. Within 8 to 10 weeks, you could be rewarded a yield of around 450-500 grams per square metre indoors and 550-600 grams per plant outdoors.