Slurricane
The information presented on this page is intended solely for descriptive purposes and should not be considered a review or medical advice. The actual effects of the cannabis strain may vary. It is important to use marijuana responsibly. We recommend that you consult a healthcare professional before adding cannabis to your health regimen.
Quick info
Distinctive terpenes
Caryophyllene, limonene, myrcene
Helps with
Pain, anxiety, insomnia
Effects
Tingly
Uplifting
Relaxed
Benefits
Like the hurricane it is named after, the Slurricane strain doesn't hold back in unleashing its magnificent effects. This Indica-dominant hybrid — born from the union of Purple Punch and Do-Si-Dos — packs a punch with a THC content regularly, soaring between 20-28%. Each toke of this strain carries the essence of its lineage, manifesting a nuanced bouquet of potent therapeutic action complemented by a mouth-watering taste.
Onset
The onset of Slurricane's effects is swift and powerful, as can be expected of a strain with up to 28% THC. It comes on as a surge of blissful euphoria that awakens your senses, making you appreciate your surroundings. You may initially experience some intense thought processes and creativity, but they soon give way to pronounced physical effects. Starting with a tingling sensation spreading down your body, Slurricane makes you feel warm and fuzzy, destroying all negativity and tension. You will feel like you are floating on a cloud – light, dreamy and without a care in the world. Therefore, it is best recommended for evening use on your own or in the company of close friends, with whom you can feel at ease and release all the pressure of the day.
Uses
Like many other hybrid strains, Slurricane possesses notable medicinal properties that can provide therapeutic benefits. If smoked at night, this lightly sedative strain can clear your mind of worries and prepare you for a great night of sleep.
The strain also possesses high quantities of anti-inflammatory CBG (1%) and caryophyllene, making it effective for various pains, ranging from headaches and migraines to menstrual cramps and fibromyalgia.
Side effects
Slurricane's high potency makes it easy to consume too much, leading to possible unwanted side effects. Headaches and dizziness have been reported, alongside the usual dry eyes and mouth. While anxiety and paranoia are rare, it is crucial to remember the potential of high-THC flowers to induce them, especially if you are already prone to these conditions. Start with low doses and gradually build it up if necessary.
Taste & Smell
Berry
Fruity
Earthy
Slurricane offers an experience that delights all your senses, starting with the beautiful appearance of its buds. They manifest as dense, dark green nuggets adorned with purple streaks and a crown of frosty white trichomes. The scent of sweet berry notes intermingling with the earthy undertones will transport you into a summer forest full of fresh fruit.
The flavour profile complements this fantastic sensory experience, delivering a splendid sweet, fruity mix of grapes and berries on the inhale and a herbal, earthy exhale with a dash of spice.
Check out the Blueberry and Grape Ape strains for similar, spectacular taste sensations or browse our large weed strains inventory to find many more delicious hybrids.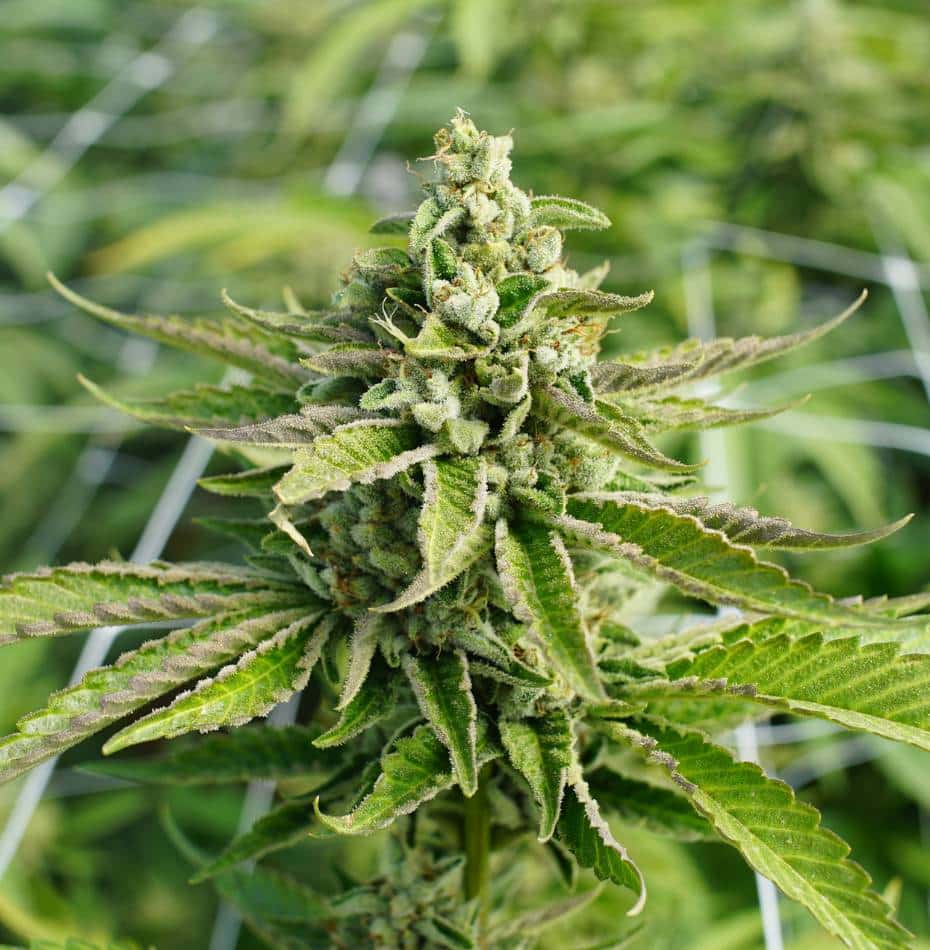 Origins
Slurricane is a new addition to the cannabis strain market, created a few years ago by the US-based In-House Genetics. The skilled breeders combined two award-winning, popular hybrids: Do Si Dos and Purple Punch, resulting in a blissful, deliciously fruity relaxing strain, bound to be legendary. It has quickly captured the attention and appreciation of weed lovers worldwide, and we can only expect its popularity to grow even more.
Growing conditions
As an easy strain to cultivate on your own, Slurricane is recommended to both novice and experienced growers. The plants are compact, reaching 1-1.5m on average, which makes them suitable even for those with limited space. Slurricane will do well both indoors and outdoors, as long as it is provided with plenty of warmth and sun.
Patience is required when growing the strain, as it takes 9-10 weeks to flower on average. However, this is compensated by a high yield of around 450 grams per outdoor plant and 400-450 grams per square metre indoors.