Mango Kush
The information presented on this page is intended solely for descriptive purposes and should not be considered a review or medical advice. The actual effects of the cannabis strain may vary. It is important to use marijuana responsibly. We recommend that you consult a healthcare professional before adding cannabis to your health regimen.
Quick info
Distinctive terpenes
Myrcene, caryophyllene, humulene
Helps with
Pain, stress, insomnia
Effects
Happy
Relaxed
Talkative
Benefits
Born out of the lap of the mystical Hindu Kush range and the enchanting tropics, Mango Kush is a strain that captivates the senses while offering a soothing embrace. This indica-dominant hybrid is loved for its refreshing tropical aroma and flavour of a ripe mango. With an average THC level between 10 and 20%, it provides a mellow, soothing euphoric experience reminiscent of a lazy, sunny day at the beach.
Onset
Mango Kush has a smooth and gentle onset, teasing the mind with gentle stimulation before unfolding into deeply soothing physical relaxation. While it makes you relaxed, it is definitely not a strain that will entirely bind you to a couch. Instead, it allows an exploration of mellow activities and easy-going creativity. Mango Kush is a great strain to smoke with friends because it makes you cheerful, chatty and sociable. You will feel in harmony and deeply at peace, appreciating the world around you. 
This strain will be an excellent companion at the end of the day when you want to release all the tension and have a good time. As it usually has a low to moderate THC content, it will be a good choice for those new to the world of cannabis. Nevertheless, always start slowly and responsibly, especially if you are a beginner.
Uses
Mango Kush is not only a sensory delight but also a great medicinal remedy. Being a potent relaxant, it shines in the treatment of stress and tension. Moreover, thanks to a high content of anti-inflammatory humulene and caryophyllene, the strain is a superb painkiller, helpful in various conditions such as migraines, muscle spasms and cramps to even chronic pain and arthritis.
With its potent mood boost, Mango Kush will temporarily relieve depression and anxiety symptoms. Lastly, if you struggle with insomnia, time your smoking session 1 to 2 hours before bed to get a good night of sleep.
Side effects
Mango Kush usually has very few side effects, limited to the cases of cottonmouth and dry eyes most of the time. However, in case of overconsumption, some slight dizziness, as well as paranoia, can occur. Therefore, it is necessary to start with small doses and gradually build up your consumption if needed.
If smoked too early in the day, Mango Kush may make you feel sluggish, so keep it to the evenings.
Taste & Smell
Earthy
Woody
Pine
Mango Kush is a sensory delight, offering a rich bouquet of aromas and flavours that transport you to a tropical paradise. 
Myrcene is the most prevalent terpene in this strain, also found in high quantities in the mango fruit. The terpene determines the strain's aroma, a delightful combination of ripe mango with subtle earthy hints. This enchanting fragrance extends beyond the buds, filling the room with a lingering perfume once they are opened.
Mango Kush's flavour combines mango and woody, earthy undertones, courtesy of its Kush lineage, and it leaves behind a bit of piney aftertaste. As per appearance, many thick, fluffy orange pistils intersperse the light yellow-green buds.
For more fruity goodness, check out Pineapple Express and Strawberry Banana, or browse through our collection of cannabis strains.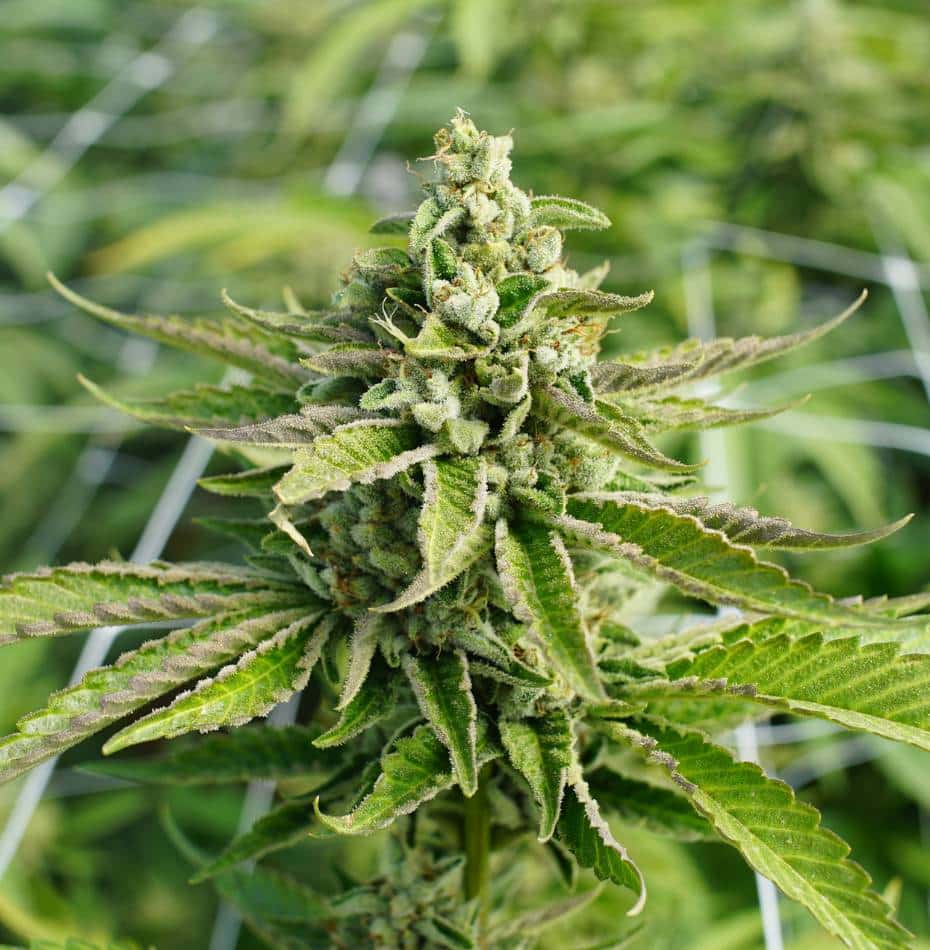 Origins
Mango Kush is a beautiful melding of the East and the Tropics, combining the iconic Hindu Kush from the Asian mountain range with mango, a sunny, tropical indica. This fusion has given birth to a strain that boasts a unique combination of effects, flavours, and aromas – truly reminding you of the fruit it has been named after.
Growing conditions
Cultivating Mango Kush is a pleasant journey for novice and experienced growers alike. This strain flourishes in warm environments with plenty of sunshine, reminiscent of its tropical origins. As such, this strain should do quite well in your garden in Thailand.
In addition, it exhibits high resistance to common moulds and pests, making it a relatively low-maintenance option. The only thing you will need to do is a bit of trimming for support, as its buds can get quite heavy. 
After 8 to 9 weeks of cultivation, growers can expect a yield of around 400 grams per square metre indoors and about 450 grams per plant outdoors.